(Edmonton) -The 3rd annual In Her Shoes Gala 2018 will be held on June 15, 2018 at the River Cree Resort and Casino Hotel. It will be an evening of raising awareness, hope and healing for those suffering from domestic violence and abuse.
Powerful stories and inspiration from survivors will be shared. You will hear stories of resiliency and inspiration from Ashley Callingbull, former Mrs. Universe. Ashley will be sharing her experiences of the suffering she has endured, as well as sharing her journey of courage to give hope and inspiration. In support of the event, Joel & Ashley "First Nations Sensations & MRS. UNIVERSE" of Amazing Race Canada will be attending.
The In Her Shoes Gala 2018 will include a plated dinner, silent auction, networking, live entertainment, jigging contest and high heels jigging event for men. Former, St. Albert Mayor Nolan Crouse will be emceeing. Funds raised from the event will go to support Edmonton's WIN House, which provides emergency shelter and comprehensive support to women and children fleeing domestic abuse. The shelter specializes in culturally sensitive services and is the largest charitable, non-profit agency of its kind in the greater Edmonton region. The shelter operates 24 hours a day, 365 days a year.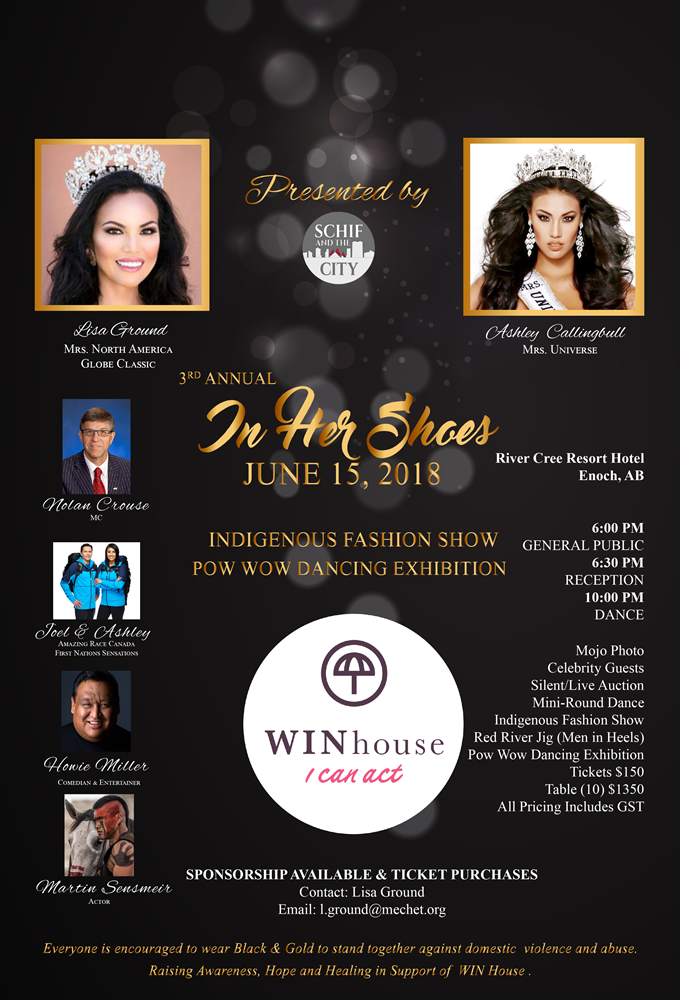 Lisa Ground, Mrs. North America Globe Classic 2015 is the Event Chair and Founder of the In her Shoes Gala. Lisa, from the Enoch Cree Nation, was the first First Nations woman to claim the title and has since been acting as a national spokeswoman for Mrs. Globe's partner charity, the WIN Foundation.
Ground feels a personal connection to WIN, a non-profit organization founded by Dr. Tracy Kemble in 1996, that specializes in the "healing and empowerment" of women. Throughout Edmonton and area, for nearly five decades, WIN House has given women and children of all ages and cultures a safe place to flee. From passionate professionals and volunteers, to dedicated donors and champions of the cause, they are committed to providing safety, support, relief and resources for abuse victims. WIN is particularly focused on helping women overcome domestic abuse – a situation Ground is well aware of as she was in a violent relationship for over five years.
"As a survivor of domestic violence and abuse," said Lisa, "I want to help stop the cycle and let the healing begin. The goal of this event is to create awareness and give courage to those currently suffering from domestic violence and abuse."
Guests are encouraged to wear BLACK & GOLD to stand together against Domestic Violence and Abuse. Any colour of ribbon shirts and skirts are also most welcomed.
In raising awareness about domestic violence and abuse, "Real Men" will participate in the jigging event while wearing high heels. The event will close with a round dance.
To become involved as a sponsor, donor or to purchase tickets, contact Lisa Ground at [email protected] or at 780.993.8932.
For ticket information or to make a donation to the gala, visit eventbrite.ca/e/3rd-annual-in-her-shoes-gala-tickets-44231867707