(ANNews) – June 21 is National Indigenous Peoples Day. This is a time for all Canadians to recognize and celebrate the unique heritage, diverse cultures and outstanding contributions of First Nations, Inuit and Métis peoples. The Canadian Constitution recognizes these three groups as Aboriginal peoples, also known as Indigenous peoples.
Although these groups share many similarities, they each have their own distinct heritage, language, cultural practices and spiritual beliefs.
In cooperation with Indigenous organizations, the Government of Canada chose June 21, the summer solstice, for National Aboriginal Day, now known as National Indigenous Peoples Day. For generations, many Indigenous peoples and communities have celebrated their culture and heritage on or near this day due to the significance of the summer solstice as the longest day of the year.
National Aboriginal Day was announced in 1996 by then Governor General of Canada, Roméo LeBlanc, through the Proclamation Declaring June 21 of Each Year as National Aboriginal Day. This was the result of consultations and statements of support for such a day made by various Indigenous groups: In 1982, the National Indian Brotherhood (now the Assembly of First Nations) called for the creation of National Aboriginal Solidarity Day. In 1995, the Sacred Assembly, a national conference of Indigenous and non-Indigenous people chaired by Elijah Harper, called for a national holiday to celebrate the contributions of Indigenous Peoples. Also in 1995, the Royal Commission on Aboriginal Peoples recommended the designation of a National First Peoples Day.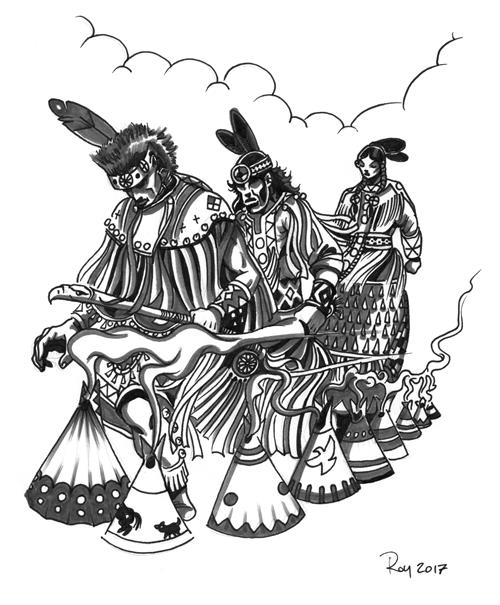 On June 21, 2017, Prime Minister Justin Trudeau issued a statement announcing the intention to rename this day National Indigenous Peoples Day.
He said, "Every year, we join together on this day to recognize the fundamental contributions that First Nations, Inuit, and the Métis Nation have made to the identity and culture of all Canadians. The history, art, traditions, and cultures of Indigenous Peoples have shaped our past, and continue to shape who we are today.
"No relationship is more important to Canada than the relationship with Indigenous Peoples. Our Government is working together with Indigenous Peoples to build a nation-to-nation, Inuit-Crown, government-to-government relationship – one based on respect, partnership, and recognition of rights.
"We are determined to make a real difference in the lives of Indigenous Peoples – by closing socio-economic gaps, supporting greater self-determination, and establishing opportunities to work together on shared priorities. We are also reviewing all federal laws and policies that concern Indigenous Peoples and making progress on the Calls to Action outlined in the Final Report of the Truth and Reconciliation Commission.
"On behalf of the Government of Canada, I wish everyone a happy National Indigenous Peoples Day. I invite all Canadians to take part in the activities in their community and to learn about the history, cultures and traditions of Indigenous Peoples."
Setting aside a day for Indigenous Peoples is part of the wider recognition of Indigenous Peoples' important place within the fabric of Canada and their ongoing contributions as First Peoples. As former Governor General Adrienne Clarkson said, "It is an opportunity for all of us to celebrate our respect and admiration for First Nations, for Inuit, for Métis — for the past, the present and the future."
The day is part of the annual nationwide 'Celebrate Canada' period with celebrations centering around National Indigenous Peoples Day, but continuing through St. Jean Baptiste Day, Canadian Multiculturalism Day and concluding with Canada Day.
Actually, there are National Indigenous Peoples celebrations taking place in Edmonton and the surrounding area for a week. On Wednesday June 20, Alberta Indigenous Relations is hosting a celebration at Edmonton City Centre Mall West (Street Level, West Side – Hudson's Bay) from 11:30 am to 1:15 pm. The event will celebrate traditional and/or contemporary arts and culture, such as dancing, drumming, Métis fiddling and jigging. Join the celebration; bannock and tea will be served.
On Thursday June 21, from 11 am to 8 pm, Edmonton's Indigenous Peoples Festival will be held at Victoria Park, in Edmonton's River Valley (12030 River Valley Road). Come and celebrate National Indigenous Peoples Day in Edmonton's river valley! First Nation, Métis and Inuit peoples and cultures will be celebrated through interactive experiences, cultural demonstrations, artisans, cuisine and live concerts. Celebrate some of Edmonton's best Indigenous and Métis performers as they take the stage, including a mini powwow demonstration and three-time Grammy Award-winner Bill Miller.
No public parking or drop-off is available at Victoria Park, but free and convenient Park and Ride services are available from Re/Max (formerly Telus) Field and a free festival shuttle is available from Coliseum Transit Centre, connecting to the LRT and ETS buses, during festival hours.
For more information, visit eipfestival.ca, contact Morgan Bamford at 780-496-1028 or email [email protected].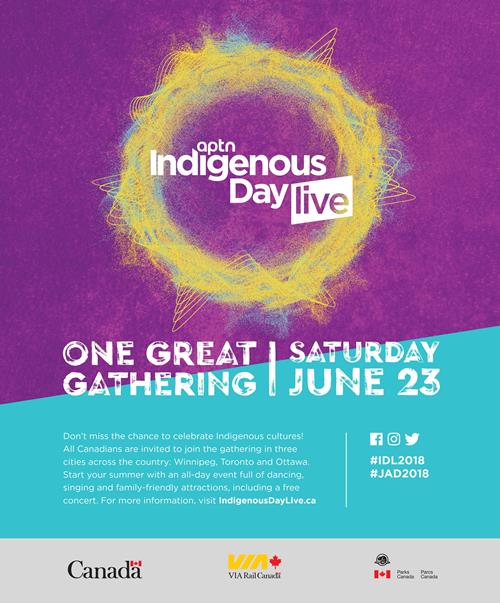 On Thursday June 21, Indigenous Services Canada – Alberta Region is hosting a very special event in downtown Edmonton at Canada Place (9700 Jasper Avenue).
This year's theme is "Our Children, Our Future", and will mark the 23rd year of hosting events at Canada Place in Edmonton.
The day will feature children activities, Indigenous artisan vendors, and a cake and bannock give away. The main event will take place from noon – 1 pm, which will include a Grand Entry, keynote speaker: Grand Chief Wilton Littlechild, and a youth hip hop performance along with fiddling.
For more information, visit aadnc-aandc.gc.ca.
Also on June 21, The Red Road Healing Society is hosting an event at RJ Scott School (11610 38 Street) from 3 – 9 pm.
And IndigiSoulstice will be held at Mercury Room (11575 – 114 Street) at 8 pm. This event is for ages 18 and up. There will be traditional drumming, dancing, entertainment, cultural teachings, crafts, local vendors and much more!
On Friday June 22, from 8:30 am to 9 pm at the Heritage Park and Pavilion in Stony Plain, there will be a free event including cultural teachings, crafts and games, BBQ lunch, soup and bannock dinner, Metis dancing and singing, Mini Pow Wow with Specials and numerous vendors.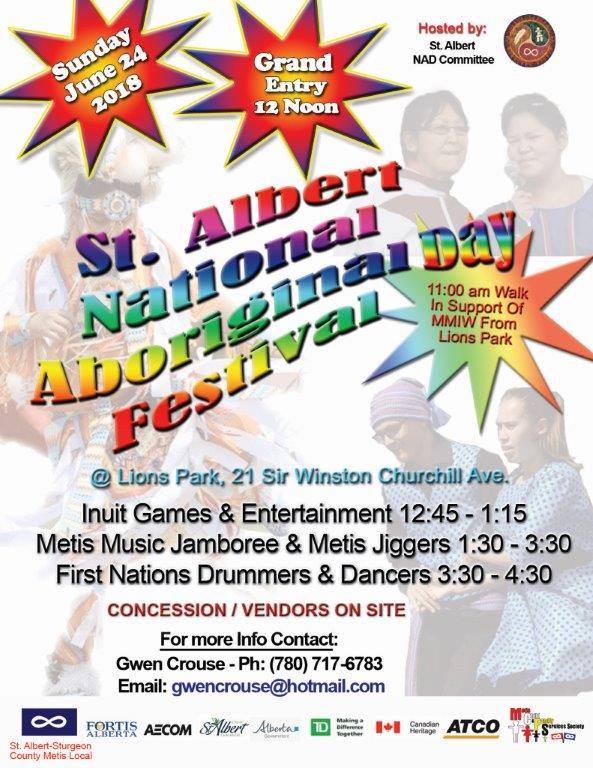 On June 23, Indigenous Live will be celebrated in Toronto, Winnipeg and Ottawa featuring some of the country's top Indigenous performers. A five hour live show will be broadcast nation wide on APTN starting at 7 pm EST.
On Sunday June 24, Indigenous Day celebrations will be held in St. Albert at Lion's Park (21 Sir Winston Churchill Ave.) A grand entry will be held at noon, Inuit games and entertainment will take place from 12:45 to 1:15 pm. A Metis music jamboree with Metis jiggers will take centre stage from 1:30 to 3:30 pm followed by First Nation dancers and drummers from 3:30 to 4:30 pm.
In addition to Indigenous Day celebrations the St. Albert Indigenous Day Celebration Society is supporting a walk-in support of the Missing and Murdered Indigenous Women and Girls. This walk is organized by a grade 11 student who is passionate about this cause. The walk will start at 11 am from Lion's Park and then join the Grand Entry at noon.
For more information, contact Gwen Crouse, President, St Albert National Aboriginal Day Celebration Society at 780-717-6783 or email [email protected].
For other events taking place in the province visit indigenousalberta.ca.