(ANNews) – The stunning art on the cover of the April 2023 Alberta Native News is Kaskatinowipîsim – Frost Moon by multidisciplinary treaty iskwew scholartist Lana Whiskeyjack. It is part of an exhibit that was on display at Art Gallery of Alberta this summer.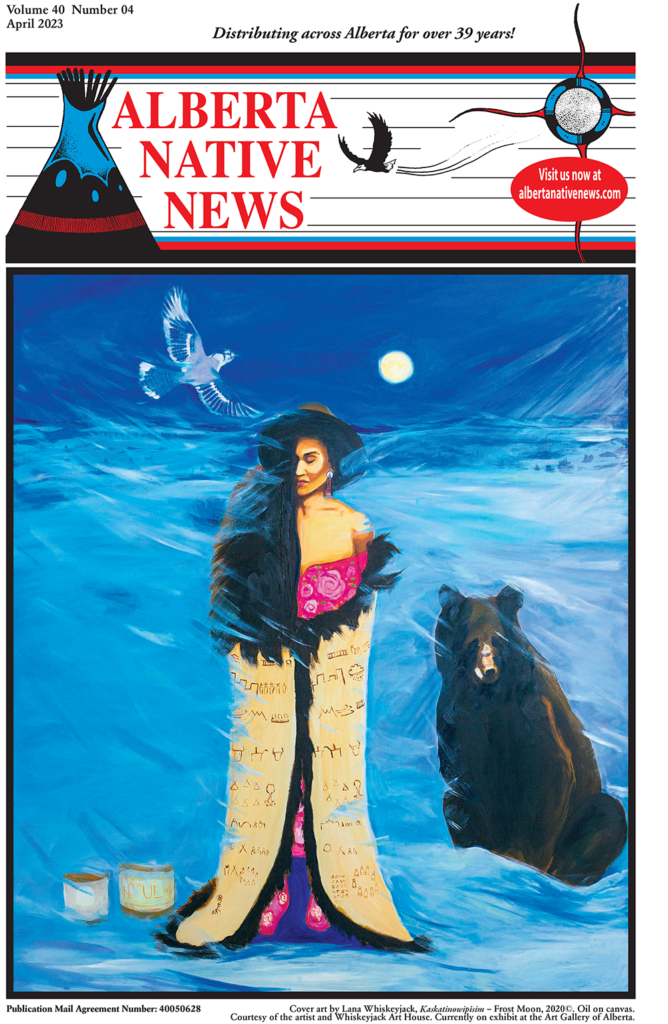 kisikayastew ᑭᓯᑲᔭᐢᑌᐤ…when the night shines like the day features works by Whiskeyjack and is an exploration of the nêhiyaw teachings of the Thirteen Sacred Moons. Within the nêhiyaw (Cree) annual calendar, the year is divided into thirteen moons, each with their own teachings and spiritual significance. Passed on in ceremony and from community knowledge keepers, the teachings remind iskwêwak (women) and diverse genders of their sacred role to nurture and safeguard the culture and lifestyle of the community.
The exhibit was organized by the Art Gallery of Alberta and curated by the AGA's Adjunct Indigenous Curator MJ Belcourt Moses. It was presented by the Poole Centre of Design and the Capital Power Indigenous Art Fund.
Lana Whiskeyjack is from Saddle Lake Cree Nation, Treaty Six Territory, Alberta. Guided by her grandmother's advice, "Go to school, travel, and see as much as you can. Then return home to share what you learned, but do not forget where you came from." After graduating high school, the young mom moved to Red Deer to attain her Art & Design diploma, then moved to Ottawa with her growing family, attaining B.A. (Honours) and M.A (Canadian Studies) degrees. The story continues with returning to work near her home community and attain her doctorate degree at university nuhelot'įne thaiyots'į nistameyimâkanak Blue Quills (UnBQ) in iyiniw pimâtisiwin kiskeyihtamowin, the first Indigenous owned and operated educational institution in Canada. Prior to 1970, UnBQ operated as Blue Quills Indian Residential School, where two generations of her maternal family attended.
Lana's research, writing, and art explores the paradoxes of what it means to be nehiyaw (Cree) and iskwew (woman) in a Western culture and society; and, how she and other Indigenous peoples are reclaiming, re-gathering, and remembering their ancestral medicine (sacredness and power). Her art is passionate and expressive, born from the deep roots of her culture, history, and intergenerational relations. Through the examination of sometimes difficult subjects, her art reflects the intrinsic beauty of her interconnections with the earth, nêhiyawêwin (Cree language) and wahkohtowin.
Lana brings her leadership and knowledge in nêhiyaw (Cree) arts-based practices, community-engaged research, and scholarship into her role as an assistant professor in the Women's and Gender Studies Department, Faculty of Arts, University of Alberta.  Her decolonizing learning and being at UnBQ grounded within nêhiyaw (Cree) ceremony, nêhiyawêwin (Cree language) and nêhiyaw worldview is foundational to her creativity, research, teaching and community service practices. Her current research projects explore issues re-matriation, (re)connecting to the spirit of nêhiyawêwin; and nêhiyaw diverse gender worldviews and rites of passage.