(ANNews) – Summer in Alberta is always a musical treat. In addition to powwows there are some wonderful festivals in both Edmonton and Calgary that continue to delight music lovers of all ages.
Always a highlight of Alberta summer festivals, Edmonton's Interstellar Rodeo takes place in the beautiful Amphitheatre at Hawrelak Park from July 20 – 22. This year the lineup really showcases Indigenous artists, who make up one-third of Interstellar Rodeo's total lineup, and represent a broad range of genres including roots, folk, electronic, pop and blues. Friday night headliners include the wonderfully powerful and energetic Tribe Called Red followed by Feist, with soulful Metis singer songwriter Celeigh Cardinal as an interlude performer.
Saturday night headliners are Margaret Glaspy and Juno Award Winning July Talk with Edmonton Music Awards Singer Songwriter of the Year Jay Gilday as the interlude performer. Sunday night headliners are renowned singer songwriter Alejandro Escovedo and Australian Indie Rock Star Courtney Barnett with acclaimed Inuk throat singer and musician RIIT as the interlude performer.
Other Indigenous performers to watch for are Diga, frontman of award-winning band Digawolf from the Tlicho First Nation and Blues rocker Josh Q from Iqaluit who performs with the popular Jerry Cans and also the acclaimed Trade Offs.
Interstellar Rodeo is proud of their new initiatives that promote diversity and inclusivity on stage and on site. This year "Building community is at the heart of what we're about at Six Shooter. This extends to Interstellar Rodeo, where we aim to be as inclusive as possible of all the people in our community," says label/festival boss Shauna de Cartier. "Working towards cultural and gender parity is an important part of our values, and informs how we program and operate the festival."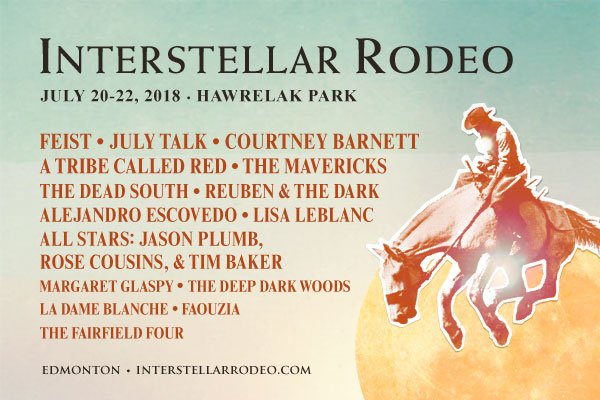 Interstellar Rodeo is thrilled to name the two iHuman performers who join this year's Interlude bill. Jesse Jams and the Flams is a young artist who fuses a punk rock ethos with hip-hop bravado. Now teamed up with members of The Wet Secrets, Jesse Jams is an energetic blast of lo-fi mumble punk. With just a guitar and soaring vocals, Jayden brings emotions to life while making you tap your feet. Drowned in sweeping melodies, Jayden represents the very best of talent and resilience that Edmonton can offer. Interstellar Rodeo also announces the iHuman Studio, a new on-site space where the community non-profit will showcase graffiti and beading workshops, break dancing demos and more.
The Jerry Cans and Riit, recent additions to festival producer Six Shooter Records' artist management roster, have just announced a very special pre-party in conjunction with Interstellar Rodeo. Northern Rodeo will take place July 19 at the Starlite Room. The Jerry Cans, recent two-time JUNO nominees, also celebrate the release of a new song called "Ilinnut" ("For You"), available worldwide on Friday, June 22. The song features guest vocals from Josh Q.
Interstellar Rodeo also shares news of a special design collaboration with local artist Jason Carter. Carter, a member of the Little Red River Cree Nation, is a celebrated sculptor/painter/illustrator whose work has been shown at the Royal Alberta Museum, Art Gallery of Alberta and beyond. Carter is working on an exclusive limited edition Interstellar Rodeo t-shirt for 2018.
Click here for a look at the full line-up and schedule.