(June 2019) – On June 22, Turtle Island will rock across the nation as well-known artists and new emerging talent unite to celebrate National Indigenous Peoples Day at APTN Indigenous Day Live (IDL). Live and on location from Winnipeg, Whitehorse and, for the very first time, Calgary, IDL will showcase solo and collaborative performances on one spectacular night, demonstrating how Indigenous culture and identity is thriving.
This year, Indigenous Day Live will be part of Calgary's week-long celebration taking place during Aboriginal Awareness Week Calgary (AAWC), beginning June 17 and ending with Indigenous Day Live on June 22 at Fort Calgary (Moh'kins'tsis). The Kwanlin Dün Cultural Centre in Whitehorse is hosting a day of festivities for National Indigenous Peoples Day on June 21, and will be providing onsite activities during Indigenous Day Live on June 22. Winnipeg's Indigenous Day Live will be held at The Forks, an important historical meeting place for Indigenous Peoples for over 2,000 years.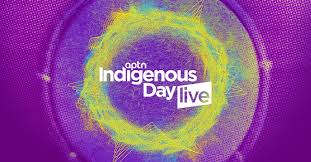 The Calgary celebration will start at 9 am with a free pancake breakfast. Craft vendors will be exhibiting and selling their art from 9:30 am to 9 pm. A children's corner will be up and running from 10 am until 2 pm. Registration for the powwow will be from 11 am until 11:45 and the grand entry initiation ceremony will begin at 12:30. The powwow will continue until 5 pm.
A pre-show will take place from 4:45 until 6 pm with emerging artists Armond Duck Chief taking the stage first, followed by Carolina East and then Bebe Buckskin.
First Nation actress and former Mrs. Universe, Ashley Callingbull along with artist, actress, slam poet, activist, Natasha Kanapé Fontaine will host the concert portion of the Calgary event.
The phenomenal lineup includes the award winning countryfied rock band Blue Rodeo, Juno Award winning powerhouse vocalist Chrystal Shawanda, alternative country, folk, roots, Indigena group Diyet and the Love Soldiers, Ghostkeeper – with core vocalists Shane Ghostkeeper and Sarah Houle with drummer Eric Hamelin and bassist Ryan Bourne fusing indie rock with African pop and powwow music and closing the show will be electro rapper Jacobus.
Visit indigenousdaylive.ca for the complete roster of activities and the concert lineup in Winnipeg and Whitehorse.
"Indigenous Day Live is an opportunity to bring Canadians together to recognize the diversity and talent of Indigenous Peoples through cultural activities and live music," says Jean La Rose, APTN CEO. "As a network dedicated to serving Indigenous Peoples across Canada, we are proud to host a national event that contributes to the nationwide movement of reconciliation and an ever increasing understanding between Indigenous Peoples and Canadians."
Generous financial support from regional and national partners, like the Government of Canada, has enabled APTN Indigenous Day Live to expand its grassroots efforts and reach more Canadians year after year.
"Every year, National Indigenous Peoples Day allows Canadians to discover and appreciate the cultural diversity of First Nation, Inuit and Métis Peoples," says Pablo Rodriguez, minister of Canadian Heritage and Multiculturalism. "It is also an opportunity for these communities to proudly display their own identities. That is why we are pleased to continue to support organizations like APTN that put on spectacular shows and host family-friendly activities for all Canadians."
The four-and-a-half hour IDL concert will be broadcast live on June 22 from 8 p.m. to 12:30 a.m. ET on APTN. Watch the livestream online at indigenousdaylive.ca or listen via the partnering Indigenous radio stations (to be announced in June).
A special IDL emerging artist pre-show from each host city will also be live-streamed online at indigenousdaylive.ca ahead of the live broadcast.
Visit indigenousdaylive.ca for more information on daytime activities or to find out who is playing in your city. Join the conversation anytime on Twitter or Instagram using #IDL2019. The best posts will be shared with APTN's social and TV audiences.
APTN is proud to present the thirteenth edition of APTN Indigenous Day Live and would like to acknowledge its partners, funders and grant providers: The Government of Canada, the Province of Alberta, the Government of Yukon, TD Bank Group, the City of Calgary, Lotteries Yukon, NCI FM, The Professional Institute of the Public Service of Canada and Victoria Gold Corp.
About APTN Indigenous Day Live (IDL)
IDL has been held annually since 2007 and is the largest celebration of National Indigenous Peoples Day and the summer solstice in Canada. Over the years, IDL has grown in size and been hosted in multiple cities across Canada. The live multi-platform concert broadcast is available to all Canadians and beyond via APTN, radio and online. Use #IDL2019 to join the conversation anytime.