Women Building Futures (WBF) initiated a new program this year in Edmonton, the WBF Class 3 Driver Training Program. The first class graduated this past  spring and on April 23, sixteen graduates attended a WBF job fair where they met with the program's sponsors and their prospective new employers.
"It's an exciting new program that provides women with the hands-on training they need to get behind the wheel," explained WBF Marketing and Communications Manager, Heather Markham. "This is an outstanding opportunity for women interested in a career as a driver. Tuition is fully paid for applicants that qualify for and are accepted into the program. I am very proud to note that all 16 women who graduated from our first program in March are employed. The next career fair will take place with the class in October."
A 100 percent hiring rate is not unusual. WBF has long been the leader when it comes to construction trades training for women and over the years has expanded its initiatives, with new programs coming online just about every year.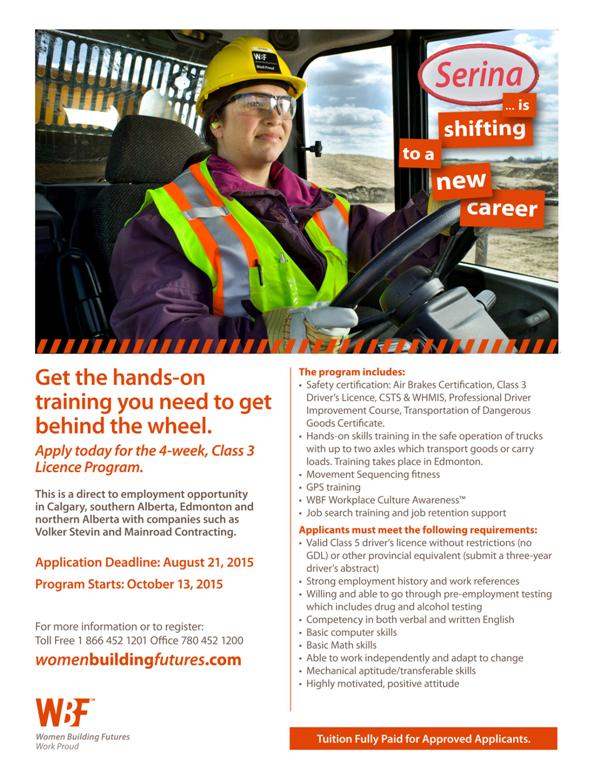 "Our second four week-long Class 3 Driver Training Program gets underway on October 13 and winds up on November 6. The initial deadline for applications is August 21 but Markham said that late applications, if they arrive on or before August 23, will be accepted.
The Class 3 Driver Training program provides fully paid tuition for approved applicants and the potential for hire by the program sponsors:  AECOM, O'Hanlon Paving, Graham Brothers, and Standard General Inc.
There is also serious interest from other highway maintenance contractors throughout Alberta to sponsor and employ women out of this program. WBF expects to confirm more employers in the near future and suggests that readers keep an eye on their website for further updates.
"Through these partnerships with WBF we are able to offer the tools, training, and job opportunities for women looking to make a difference in their community, while building a future for themselves and their families," noted Sam Whitehouse, the Operations Manager at Graham Brothers.
O'Hanlon Paving CEO Michael Johnstone said his company "is proud to be working with Women Building Futures and in particular, the Class 3 Certification program. We are excited for what the future holds with this partnership."
If you are an employer interested in this type of partnership, contact Heather Markham via the website  or call 780-969-3965.
"If you have the desire to earn a good living as an operator driving paving equipment, hydrovac trucks, refuelling trucks, dump trucks, snow ploughs, delivery vehicles, and oilfield equipment haulers, then this is the opportunity you've been waiting for," Markham stressed.
Volker Stevin Highways and Mainroad Highway Maintenance will be sponsoring women into this program with the opportunity of being hired after the program is completed. Both these companies are involved in highway maintenance and they will be recruiting for operator roles that require Class 3 certification (snow plow operators in the winter months; various operator roles through the off season) throughout their facilities in Alberta. These roles will also include a requirement to perform various labour duties.
The Class 3 Driver Training Program includes a long list of skills training that includes:  Safety certification, Air Brakes Certification, Class 3 Driver's Licence, CSTS & WHIMIS, Professional Driver Improvement Course, Transportation of Dangerous Goods Certificate, and hands-on skills training in the safe operation of trucks with up to two axles which transport goods or carry loads.  The training takes place in Edmonton.
To qualify for the initiative applicants must meet certain requirements (see the website for a full list) including: having a Valid Class 5 driver's licence without restrictions (no GDL) or other provincial equivalent (submit a three-year driver's abstract), Strong employment history and work references, willing and able to go through pre-employment testing which includes drug and alcohol testing, competency in both verbal and written English, have basic computer skills knowledge, possess basic math skill, have as mechanical aptitude/transferable skill and be able to work independently and adapt to change. A positive and motivated attitude is also a must.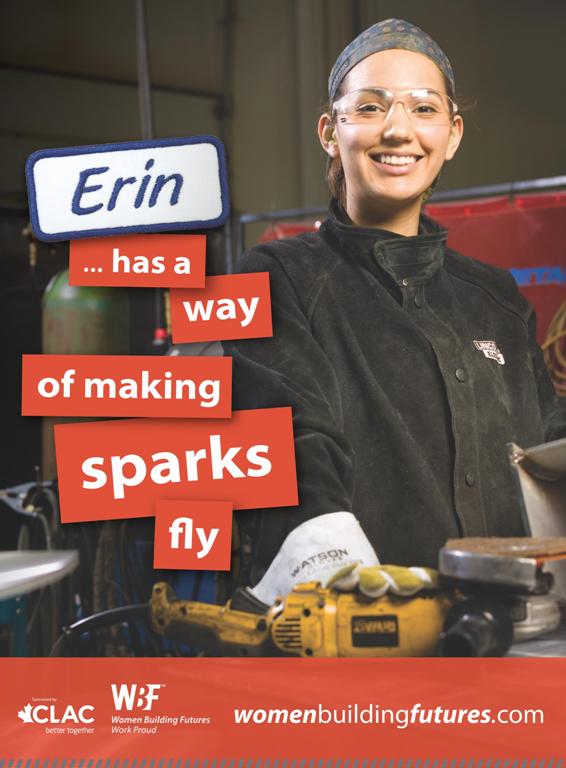 It is also important to note that WBF's Pre-Apprenticeship Programs get underway on September 28. These unique programs include a 17-week Journeywoman Start (JWS) designed to help women prepare for and succeed in construction, oil and gas jobs. When participants finish the program they write the level 5 Apprenticeship exam. The intensive program begins with a week-long session that includes Worksite Safety Certification, Standard First Aid/CPR Level One, Scaffold Safety Training, Fall Protection, Forklift Operator Safety Certificate and the successful completion of CSTS/WHMIS and H2S workshops.
The second phase of the program involves eight weeks of hands-on skills training, including basic tools, carpentry, electrical, plumbing, pipefitting/steamfitting, welding, sheet metal and blueprint reading. Weeks 10 and 11 include courses on Workplace Culture Awareness for Women, Career Development and Financial Management.
The deadline for the September 28 program is August 17, but WBF will accept applications until Friday, August 21, providing the class is not full. The next will get underway on November 30 and the deadline is September 28.
Women interested in pursuing a career as an electrician will have the opportunity to enrol in the WBF Electrical Basics program, which takes place from October 23-November 20 and the deadline is September 11.
When participants finish the program they write the level 5 Apprenticeship exam.The second phase of this program involves eight weeks of hands-on skills training, including basic tools, carpentry, electrical, plumbing, pipefitting/steamfitting, welding, sheet metal and blueprint reading. Weeks 10 and 11 include courses on Workplace Culture Awareness for Women, Career Development and Financial Management. Four weeks of academic training follows.
"Education often plays a role in the trades fields," noted Markham, "and could be an important and determining factor, depending on the trade applicants are pursuing. For example, to pursue a successful career as an electrician, Grade 12 Math is almost a prerequisite while Grade 10 Math and English will be needed for others." During the third phase of training, participants spend four weeks working on trades-qualifying math, science, and English.
The final two weeks of training comes via work experience, where graduating students participate in a workplace environment and finish learning the fine points of the job and the expectations of the employer and the industry.
WBF has long been the leader in construction trades training for women. Their graduates are succeeding in the trades and maintaining a 90 percent retention rate. The organizations expanded Employer Services works with employers to develop custom training programs to meet their needs. It also provides recruitment, assessment and job matching services and supports applications for the Canada Alberta Job Grant.
Established in 1998, Women Building Futures is a leader in trades training for women, with extensive experience recruiting women into the heavy industrial workforce. The organization's mandate is a simple one: to attract more women into the construction trades, provide trades training that meets the needs of women and industry and include mentorship and long-term support for women just entering the trades and for those already in the trades. The organization also examines and addresses the systematic barriers to the recruitment, training and retention of women in the trades and increases not only the number of women in the trades, but also the number of instructors and mentors.
For more information visit womenbuildingfutures.com. Email applications to [email protected] or call 780-452-1200. The toll free number for applicants residing outside of the capital region is 1-866-452-1201.
by John Copley