Edmonton-based Western Camp Services (WCS), established in 2003 by co-founders Menno Admiraal (CGA) and Wayne Sopp, has grown to become the largest independently-owned camp and catering company in Western Canada. This feat came by way of perseverance, team work, integrity and a senior management team that initiates personal dialogue and encourages initiatives that provide economic benefits for First Nations and Métis communities in the regions they do business.
"We've always had a good relationship with the communities and we're quite proud to note that through some successful recruiting efforts, Aboriginal workers make up about 30 percent of all Western personnel," noted WCS President Menno Admiraal. "These valued employees have been trained in various disciplines, including our apprenticeship program for cooks. We take the time to meet and train and get to know each one of our employees; in fact, the first official stop for newly hired employees is in our boardroom."
New employees are then introduced to WCS family values and its workplace culture. During this informal training session, new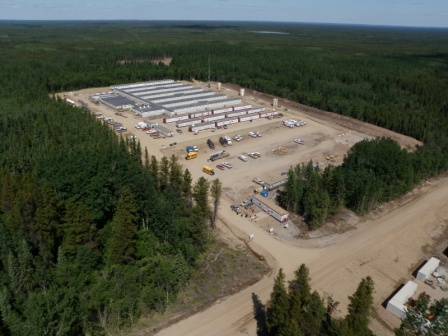 employees learn that while the company is down to earth, it also sets high expectations for each and every member of its team.
"We are accountable to each other and put safety at the forefront of everything we do," assured Admiraal. "We are a progressive, forward-thinking company that is ever changing and growing. We want, in fact we need, every employee to buy into every aspect of our corporate culture."
The company's website notes that WCS is currently accepting applications for jobs that include those as a baker, camp attendant, first, second and breakfast cooks, and a camp attendant/general helper.
Admiraal credits his "diversified and experienced administrative team," who bring more than half a century of hands-on management in hospitality, food services, sales and marketing to the business, as one of the reasons for its success.
The company was founded by a small but passionate and experienced group of family and friends who developed an early plan for success. Admiraal says establishing and maintaining good values is a key to success.
"Values, the value of taking care of one another and treating everyone – our employees, our clients, our peers – with dignity and respect; these are the guiding principles that carry us as we move forward into the future. We build lasting relationships by working, learning and growing together. We are determined to accomplish what no one else can. It is engrained into our culture that everyone who works at Western Camp Services Ltd. is responsible for protecting the environment, co-workers, contractors and local communities. We're very proud of the culture that's been established within the organization and the success we've been able to achieve. Our expertise and experience, which spans more than 50 years, helps to ensure that we are able to meet the unique challenges of every client by providing them with tailored services and proven solutions."
Western Camp Services has been successful in creating economic benefits for a number of Aboriginal communities and is continuing to seek new opportunities and partners for current and future involvement.
"We want to be a model that generates actual economic benefits for local First Nations," explained Admiraal, "and we want to increase opportunities for employment with First Nations. To realize that goal WCS has engaged Mr. William Burgess, who brings a wealth of knowledge and experience to the table. He will be contacting and working with First Nations and other Aboriginal groups throughout the province to see how we can work together to better our opportunities now and in the future."
"We're just at the beginning stages of what we expect will become a long-term initiative," noted Business Development Officer William Burgess. "I am talking to several Aboriginal groups and am interested in meeting with any and all First Nations leaders, communities and corporations when it comes to providing  camp services for projects of any size. I'm also interested in talking to and meeting with any First Nation, Métis or Inuit community interested in pursuing other economic opportunities. Business throughout Alberta is flourishing, especially in the northern regions where the oil and gas, mining and timber industries continue to expand."
Burgess is currently meeting with communities and compiling a list of potential contractors and workers as he develops relationships with communities and groups interested in pursuing economic opportunities.
"Eventually," he said, "we'd like to see training programs in place, opportunities for prospective employees to get hands-on experience at a variety of job sites, initiatives that create opportunities for Aboriginal workers, viable programs for women and children and joint ventures that create economic benefits for the Aboriginal communities we work with."
It's a challenging job, but Burgess is confident that with time and perseverance all will come full circle.
"Every community has its own needs and its own wants, so yes it will take a bit of time," agreed Burgess, "but eventually, agreements will be in place. The benefits of working together for the same goals are too great to ignore."
Western Camp Services' vision is to encourage beneficial and rewarding relationships with Aboriginal communities and their members by creating an environment with trust and integrity that also attracts, recruits and retains driven and talented employees.
"This vision will be accomplished through a mutual understanding of each others' strengths, traditions, roles and responsibilities," noted Admiraal. "Discussions encourage participation related to common areas of interest and responsibility such as environment, safety and joint economic opportunities.  Ultimately, our goal is to create and maintain long-term relationships with Aboriginal communities in all areas of our operations."
Western Camp Services is well known for its premium goods and services, something the company considers to be its standard.
"We never settle for less," he said. "Our brand name and highest grade groceries and supplies are purchased from distribution leaders and delivered fresh. Our food preparation and serving areas are meticulous, and our entire hospitality program is overseen by a master chef who takes great pride in his craft and his staff."
And you don't have take Menno Admiraal's word for it.
""The services that were provided were first rate, rooms clean, cheery staff, newer equipment and the food was excellent.," writes Logisitics Coordinator Jim Vlahos. "The menu was assorted and hearty with many choices. All the hot lunches and dinners were accompanied by four or five different salads made fresh daily, a great assortment of fresh fruit and outstanding desserts. The thing that stood out the most was the people…"
Peter Diaconescu, a Sr. Drilling Engineer with Lone Pine Resources said Western Camp Services "delivered what they promised" and that "our employees were taken care of by an outstanding personnel who went out of their way to make the camp feel like a home away from home."
Vice President, Operation for Total E&P Canada noted that "Western has risen to the challenge each year during our drilling campaign, addressing issues immediately, providing top quality food, clean accommodations and first rate staffing which ensured our employees felt like they were in a home away from home."
He also lauded the company saying, "your professionalism and concern for your clients sets your organization apart from others in the industry."
"Yes we are proud of our record and the fact that we can tailor any camp to meet the demands and needs of our clients," Admiraal reiterated. "From fully-managed camps to tailored solutions that meet every budget, our clients determine what they want us to take care of and what they want to handle themselves."
In addition to supplying camp buildings, beds and the necessities of everyday living, WCS can also provide a full time camp manager to oversee and ensure first-class catering and housekeeping. As well as setting up and having a camp fully operational, Western can also provide a full time maintenance man to keep everything (fuel supply, sewage, power, water) running smooth and when it comes to meal service, there is no one better in the business at delivering it than Western's expert staff.
"We work together with the client to plan the hours of service, special dietary concerns and even whether or not bag lunches will be offered; our clients are impressed by our professional catering personnel and our delicious meals," Admiraal assured. "We set high standards and one of the key factors that influences our growth is that we are good corporate citizens."
From compact Texas Camps™ to sprawling remote facilities that accommodate up to 1000 workers, Western Camp Services has earned a reputation that's second to none.
For more information on the company visit www.westerncampservices.com.
For more information on how you and your community, business or corporate venture can work with WCS to achieve new growth and economic opportunity, contact William Burgess at: 780-468-1568.
 by John Copley