Treaty Six Aboriginal Skills, Employment and Training Strategy (ASETS) agreement holders and partners are hosting the largest job fair in Alberta organized by First Nations for First Nations. The Treaty Six ASETS Employment Partnerships and Job Fair to be held in Edmonton, Alberta, on October 28-29, 2014, is a unique event, bringing Treaty Six First Nations members by the busload to Edmonton, to meet with business, industry and educational institutions to explore career, employment and educational opportunities. The event also provides a venue for business and industry to network with First Nations leaders and entrepreneurs.
"First Nations ASETS offices work diligently and collectively to develop effective partnerships that address the demand driven needs of the labour market. This event is another opportunity for business and industry to explore the development of meaningful employment and industry partnerships with First Nations within our territory," said Charlene Bruno, Executive Director, Six Independent Alberta First Nations Society (Maskwacis) and event spokesperson.
The event will start the evening of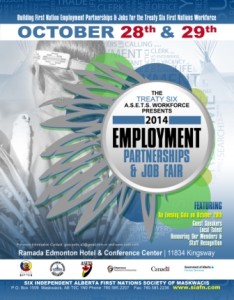 October 27  with a business networking function at the Double Tree Hilton West Edmonton, located at 6615 – 109 Avenue. The job fair will be held October 28 and 29 at the Ramada Edmonton Hotel and Conference Centre, located on Kingway Avenue, beginning at 9 am each day. Job seekers can meet with potential employers, and acquire relevant information about the Alberta job market. Breakaway sessions will be held on resume writing, job interview skills, and entrepreneurship.
 Exhibitors have been confirmed from government, business, industry and post-secondary institutions. These potential employers and partners will be exposed to a young First Nations workforce that is skilled, trained, and ready to work.  In addition, Aboriginal exhibitors from the Treaty Six area will be on hand showcasing their products and services.
A gala event will be held the evening of October 28 at the Oasis Centre, located at 10930-177 Street. The keynote for the gala event is Kelly J. Lendsay, President and CEO of the Aboriginal Human Resource Council. Mr. Lendsay is an internationally recognized social entrepreneur for workplace inclusion, diversity and partnership building.
 "Government, business and industry groups that recognize the opportunity our young workforce represents and are willing to work with First Nations as partners, will benefit in the long-term," said Tony Alexis, Chief of the Alexis Nakota Sioux Nation.
Statistics Canada recently reported Canada's unemployment rate is at the lowest it's been in six years, with a large number of jobs created in Alberta. The Alberta economy is booming and needs a workforce.  First Nations youth represent the fastest growing demographic in Canada, but they are underrepresented in the workforce. "First Nations, particularly the youth, represent an untapped talent pool that can help Alberta business and industry meet their business goals while contributing to the overall well-being and prosperity of our Nations," concluded Alexis.
Event sponsors include Osum Oil Sands Corp., Shell Canada, Trade Winds to Success, Primco Dene LP, Clean Harbors, NAIT Corporate International Training, Encana Services Company Ltd., Devon Canada Corp., Fort McKay Group of Companies LP, and All Weather Windows. Government and municipal partners are Service Canada, Government of Alberta – Alberta Jobs Skills Training and Labour, and the City of Edmonton.
The Treaty Six ASETS Steering Committee is comprised of the Six Independent Alberta First Nations Society of Maskwacis (SIAFNS), Yellowhead Tribal Development Foundation (YTDF), Tribal Chiefs Employment and Training Services Association (TCETSA) and urban ASETS agreement holder, Oteenow Employment and Training Society (OETS). The ASETS boards and committees are comprised of First Nations leadership and professionals, representing 17 Treaty Six (Alberta) First Nations.