by John Copley
(ANNews) – Amiskwaciy Academy has just completed construction of a new outdoor traditional sweat lodge that the school's Elder Francis Whiskeyjack said will "help to rebuild self-esteem and enhance healing for Native people" both in the school and in the community. The circular building is constructed almost entirely with wood and houses the beaver-lodge style willow enclosure necessary to host traditional ceremonies.
The idea for the sweat lodge began about four years ago with construction getting underway in mid-September this year. Principal Fred Hines said the success of the project was a result of the "outstanding community support we've received from companies like Stantec and Ledcor, and a host of other contacts and suppliers who have been involved in the project since the beginning."
"Community support for this project has been very positive," noted Amiskwaciy Elder Francis Whiskeyjack. "A few years ago, Elder Marge Friedel and I had a vision – and to step out here today and see it reach fruition is a really good thing. I can feel the spirit; it's like a supernatural force that melds tradition with modern technology. We owe a big debt of gratitude to everyone who supported this initiative."
That support, noted Hines, began with the partnership the school has with the Rotary Club of Edmonton Glenora, which includes some members who work for Stantec Inc. an international professional services company that specializes in consultation and design.
"We started doing the groundwork to determine what needed to be done before we could build the sweat lodge," explained Hines. "We looked at city by-laws, construction permits, protocols that needed to be followed through the Edmonton Public school district – it was an ongoing process. Once Stantec became involved everything began to move forward. Their architects and engineers got on board and said they'd like to participate in the project and help us through some of the hurdles associated with it. They absorbed the architectural costs and they met with the city in regards to permits; Edmonton Public Schools was also involved.
"It's been a hands-on activity for some of our staff and students and the result is that this community project has provided us with a beautiful shelter for Elder Whiskeyjack and the school as a whole," added Hines. "We are very grateful to Stantec for helping us to get this project from a vision to a reality and to everyone else who came on-board to work with us and our students. Thanks to Stantec and Ledcor and the partners they've brought into the equation, we will have a facility like no other; it's a beautiful and fully functional structure that will enable Elder Whiskeyjack to carry out traditional sweats in a traditional structure."
Other companies who contributed to the initiative included Spartan Steel, Nelson Lumber, Convoy Supply, IVIS Inc., the Bolt Supply House Ltd, Hamilton and Olsen Surveys Ltd., Goliath Concrete and Construction, ICON Ready Mix Ltd., FastFence, Decorative Concrete Construction and A&H Steel.
"Stantec brought Ledcor into the project," explained Hines, "and they in turn brought in their suppliers and contractors; there were a lot of people who got behind the project, something we are very grateful for. Stantec took the bull by the horn, so to speak, and got a lot of people involved. The labour on the project came from a variety of sources, including about 15 of our grade 11 and 12 construction class students. They worked with the building trades and came away with some valuable knowledge and enhanced skills. We had concrete companies, steel manufacturers, lumber companies and a host of other trades and construction-oriented companies and individuals working with us on this project; it's been a real community endeavour and a great example of what can be accomplished when we all work together to create better opportunities for our students."
Stantec Senior Associate Robert Bourdages said the company "was very happy to have participated in this unique project," and lauded the work of Stantec architectural designer, Frederic Brisson, who came up with the plan for the structure. "Over the years we've worked on many meaningful community initiatives and this was no exception; it was also a good opportunity for the school's construction class students to learn a bit more about the construction trades. Once we completed a virtual (reality) video of the project we invited Ledcor to come in as a partner."
Ledcor Special Projects Manager Scott Murchison said that "when Stantec invited us to participate our response was immediate. We are very pleased to have participated in this meaningful and rewarding project. In the process, we have established new friendships and created opportunities for students to gain added insight into the construction trades. This is a beautiful building and it will be utilized for the benefit of the Indigenous community."
Amiskwaciy construction class teacher Larry Moro, who's has been with the school for the past six years, said he was very pleased to see so many students take a role in helping build the new sweat lodge.
"We had 12 to 15 students working with us on this project, at different times of course – the initiative has been included in the class schedule and students will get credit for participating," noted Moro. "It's all part of our construction building module. The students began working on the project in early October. The kids are learning the techniques of putting the structure together; it's not the normal type of project they've been working on. It's a circular structure – a gazebo – so there are a lot of things they probably wouldn't learn when building chairs, or sheds, or doghouses. The angles and cuts in the wood are different and the construction process is something new to them; it's been a great learning opportunity and one that offers insight into different trades and different opportunities that might suit their career challenges."
Moro said the students took a great deal of pride working on this project because they see it's a kind of legacy that's being left by the companies and individuals that have worked here and donated a lot of their time, money and materials. The spiritual side is also very important; I see Elder Whiskeyjack's eyes light up whenever he steps out here. The whole spiritual component is going to enhance the overall learning at the school with the students and the staff and others who may not have been here before, experiencing a sweat at the school and learning more about Indigenous culture. Listening to Elder Whiskeyjack in prayer and ceremony really hits home."
Ledcor foreman Steve Pittis said that "there have been a lot of people involved in this project, including our supervisors and managers who did the legwork lining up the various contractors who participated. From cement workers and steel workers to carpenters and participating students, it's been a very positive experience. Working with the students has been fun; they've proven to be hard workers who are willing to learn."
This type of circular structure isn't new to Pittis; he's been in the building trade for years.
"Technically, since I was about 12," he noted. "I worked with my dad and he had me finishing lacquer before I was 13 years old. I knew at an early age what I wanted to do and have always found construction to be a rewarding career."
Over the years Pittis has built a variety of buildings and spent several years in residential construction. This is the first traditional sweat lodge though. Because the structure has spiritual significance, Amiskwaciy Academy Elder Francis Whiskeyjack acted as an advisor to Pittis and his crew.
"A circular structure like this one is more challenging to build than a square house where just about every angle requires a 90-degree cut; in this structure, there are only four 90 degree cuts and as a result more thought has to be put into each phase of construction. Elder Whiskeyjack worked with us to ensure that the building meets the protocol required for sweats and sacred ceremonies, so it's been a learning process that we have all gained from."
"This new traditional sweat lodge," assured Elder Whiskeyjack, "is a beautiful piece of work and what makes it even more special is the camaraderie that has been built here during the past eight weeks. The workers who've been here to help build this new structure are extraordinary people with special talents and positive attitudes. We are proud to see our students working alongside these professionals and grateful for the time the various tradespeople have provided to help our students get a better understanding of the construction trade. To see Stantec and Ledcor and the other dozen or more contractors and suppliers get involved like they did is really special and we are all so very grateful for their input and support. We've had a great deal of community support for this project and the help we've received from our partners and sponsors and the building tradespeople who participated in this project has been something we will never forget. We will soon be hosting ceremonies and sweats in the new building and we have a long list of people on the line-up, including all of the people who were involved in helping us to make this vision a reality."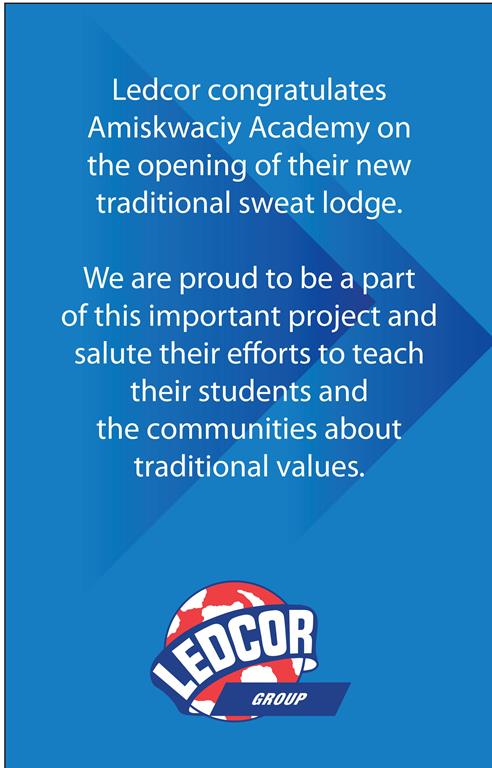 Other schools in the district will be also be invited to participate in sweats, as will members of the community.
"The construction of this facility is really just the tip of the iceberg when you look at the overall picture," noted Elder Whiskeyjack. "It's at times like this that I think of my biggest mentor, Joe P. Cardinal, who once told me that to live a good life, a full life, you have to love, show kindness, share, care and practice self-discipline. He left me with a lot of responsibility."
That responsibility continues today as Elder Whiskeyjack's guidance encourages Amiskwaciy students to challenge themselves, to make good choices and to be spiritually, physically, emotionally and mentally strong in all they say and do.
The new Sweat Lodge is quite a remarkable structure. The wooden exterior of the building is constructed in cedar, as is the shingled roof. A large galvanized metal top and four steel reinforced beams stabilize the roof. Concrete and steel provide the foundation. The floor comprises several inches of dirt, adding to the traditional importance of the site. The interior of the sweat lodge includes a mixture of spruce and pine. The interior walls and seating are constructed with cedar, a long-lasting wood that doesn't rot. The willow centre of the structure was built on specifications provided by Elder Whiskeyjack; the students helped to tie the branches together and screwed down the metal plates that anchor the willow to the floor.
Excitement is mounting at the school and in the community as the final touches are being completed and the grand opening of the Traditional Sweat Lodge will be held later this month.