Samson Cree Nation, March 5, 2014: Hockey is woven into the fabric of our lives here in Canada. It is common for children to become introduced to skating at a young age, joining hockey teams by the time they are in kindergarten and dreaming of a career in hockey or the Olympics. These dreams are no different to a First Nations child – boy or girl.
Thirteen-year old Torsha Okeymaw is from Samson Cree Nation. Her dream is to follow in her hero Haley Wickenheiser's footsteps and one day play professional hockey and maybe even captain Canada's gold winning Olympic hockey team. Despite her young age, Torsha has been hard at work to make that dream a reality.
In December 2014, Torsha was selected to join Team Canada's AAA Female Bantams. The experience, training and exposure will bring her one step closer to her Olympic hockey dreams. During the summer of 2015 she will be competing in tournaments in Canada and Europe, and have the opportunity to be scouted by the AJHL and WHL. The AAA team is a higher calibre of hockey and the female players are all outstanding athletes both on and off the ice.
Who would have thought that when she first strapped on borrowed skates at the age of three to join in the fun at her maternal grandparents pond in Siksika that her road would lead to the elite Team Canada AAA Bantams? She fell a couple of times that day, but was soon skating circles around the ice. Her parents remember how surprised they were to see how strong and straight her ankles were right from the moment she slipped into those ill-fitting skates. They bought her first pair of skates for five dollars and she couldn't wait to get back on the ice. At her first public skate, a man named Troy Dorchester asked Torsha's dad how long she had been skating. Her told her four days. Troy said, "You should put her into hockey, she can play for Team Canada one day." She started Tykes that year and it was quickly evident that she was a natural.
Torsha soon began to receive attention from her points standing, playing with both boy's and girl's teams. When she was with the Maskwacis Novice Chiefs she was selected to participate in a stickhandling video with Sheldon Souray. She was selected by Haley Wickenheiser herself as one of her MVP's during Wickfest in Calgary. She has also been MVP for the Rocky Mountain Summit, and almost every other tournament she has been in. She has also won gold and silver with various provincial teams. She was invited by Tyler Gretzky to go to his dad's hockey camp in St. Louis, but she couldn't go because she was already committed to the Challenge Cup in Vancouver, where she got another MVP. The following month she went to the North American Cup in Winnipeg, and made another impressive showing.
Hockey is definitely in Torsha's blood. She's tough, she's fast and according to her parents, "she's built for hockey." When Torsha is not on ice, she's on rollerblades in the summer and shooting puck after puck in the backyard, or she's in the basement working out. Of course there are the hockey camps, conditioning camps and spring hockey that also keep her very busy. If she happens to be home to watch a game on television, she will watch with a clipboard, following the puck, and remembering plays. She's always trying to improve her game.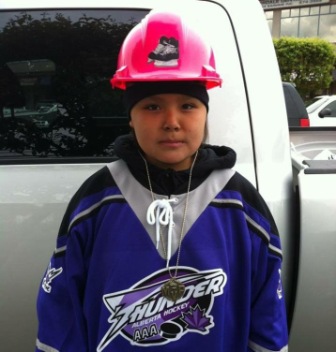 What has kept Torsha grounded is the teachings and support she has received from her parents, Wade and Mel Okeymaw and her grandparents. They have taught her to pray, to be humble, and to be respectful. It is very evident in her attitude both off and on the ice.
Dedicated hockey parents understand the commitment that goes with supporting their child in hockey. The up before dawn hockey practices, weekends that are never their own, non-stop travelling, the right hockey gear, the right skates, constant sharpenings, the broken sticks. They support their child by buying the right food for that hockey diet. Then there are hockey camps, conditioning camps, league fees, spring hockey fees, tournament fees, not including the gas and hotels. It adds up very quickly especially as your child advances in hockey. Mel and Wade have made many personal sacrifices over the years to support their daughter financially.
Hockey life is what Mel and Wade Okeymaw have become accustomed to. So when Torsha was chosen to play for the Team Canada AAA Bantam Girls Team, her parents committed to supporting her no matter the cost, however they will need the support of hockey fans to help them make their daughter's Team Canada hockey dreams come true. They need to raise over ten thousand dollars by May 15th, 2015 in order to secure a travel spot for Torsha and a parent/guardian to travel with the team this summer.
Mel has started a fundraising campaign on GoFundMe.com. If you are interested in supporting this talented First Nations athlete please find Torsha's Hockey Dream at http://bit.ly/1wJCVoW
Torsha and her parents are extremely grateful for all the support she has received from friends, family and complete strangers.
by Ann Gladue-Buffalo