Born on October 14, 1955, award winning author, columnist, broadcaster, commentator and popular keynote speaker, Richard Wagamese, has never been one to shy away from the truth. That trait was evident this month when the 59 year old celebrity took to the podium at the third annual Treaty 8 Education Symposium in Edmonton to speak to the teachers, administrators, Elders, First Nation leaders and others who'd gathered at the Radisson Inn South to listen to his 90-minute keynote presentation.
"In my language my name is Buffalo Cloud," began Wagamese, after being introduced by symposium MC Victor Horseman. "The place I am from is called White Cloud in northwestern Ontario. My clan is the Sturgeon Clan."
"My story," he said, "begins in 1955 in northwestern Ontario when I was born in a canvas army tent on a trapline my great grandfather had established along the Winnipeg River. He was said to be a strong man who frequently carried large pieces of moose carcasses out of the woods on his back. We would often walk that 60 mile trapline. I remember he constructed a blueberry harness that allowed him to put rows and rows of baskets on his front and back so he could load them with berries before walking them out of the bush, putting them into his canoe and then travelling downriver to sell them. He was the last of the really traditional people in my family, because after him things changed. That's when the government saw fit to start taking our children from their homes and putting them in residential schools and that became the legacy of which we know so much today."
Richard Wagamese is an Ojibway from the Wabasseemoong First Nation in northwestern Ontario. During his life he has seen many things and faced many situations, some of which have been good, some of which have been bad, and early in life, some that were despicable.
Well known and highly respected throughout every sector of Canadian society, Wagamese is a survivor who overcame numerous adversities throughout his life despite the overwhelming odds against him. The fact that he is here today to tell his story is an amazing feat in itself; sharing his story with such eloquence and assuredness adds credence to the adage 'never say die'. His recognition in Canada's book of Who's Who didn't come by accident; Richard Wagamese did it the old fashioned way – he worked hard and never gave up.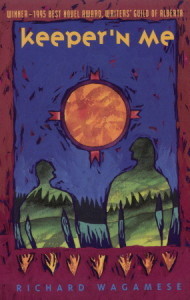 "I was born into that legacy of the residential schools; my mother and father, my aunts and my uncles, my extended family all experienced that institutional legacy. Life was difficult; they were drained emotionally, mentally, spiritually and physically. There was a lot of conflict within them and around the tribal fires I grew up with and before I was two years old I became a part of the foster care and adoption systems."
In the early 1960s he was taken away from the foster home he shared with his brothers and sisters and put into another one by himself.
"That's when I effectively disappeared, as a member of that 60s scoop. I was transplanted from the rugged bushland of northern Ontario into the marshy flatlands of southern Toronto where nothing grew but vegetables."
Wagamese talked about the rules that came with living in his new foster home, rules that had no flexibility, just strict and rigid discipline for not following them to a 't'.
"I always broke the rules and I was often in trouble because of it. My father was a career member of the Ontario Provincial Police; he was six foot four and weighed about 240 pounds. His idea about child rearing was that 'if you spared the rod, you spoiled the child.' So when I had an "infraction of the rules," as he called them, it was necessary for him to try and beat me into compliance. So began a seven year ritualistic and chronic legacy of abuse; for seven years I was abused physically, emotionally, mentally and sexually. My primary sexual abuser was my adopted mother.
"My father could fathom no other way of trying to raise me other than with his hammer like hand and fist. I was nine years old, about five foot six and 80 pounds and I would be hit across the head and beaten into submission. I was often forced to lay naked across an army cot that had been set up in the basement, just for my punishment. He would beat me with his police belt; his signal to stop was when I cried out."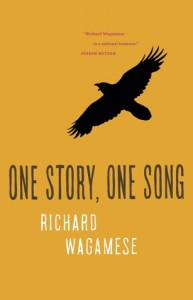 Wagamese recalled attempting to prevent himself from crying out loud by hiding a piece of broomstick that he could bite down on when the punishment came. However, the punishment was so bad that it not only left him bruised and bleeding, his foster mother had to come into the room to put a stop to it. She then took him upstairs and made him get into a tub of scalding hot water that she'd put salt in; she was trying to close the wounds because she didn't want him going to the hospital.
"She told me later that I could not tell anyone; that I must be quiet and she warned me that my father was a policeman and no one would believe anything that I said against him. That's when I knew for dead certainty that I was completely alone – and my world went completely like this," he said, flipping his hands upside down.
"That's when I began to look down when I spoke; that's when I began to withdraw from people rather than stepping forward. That's when I learned that alone was the safest most surest place to be."
Wagamese told the gathering that he lacked any formal education and had only completed Grade 9. The abuse he'd endured seethed inside of him until finally, at aged 16, he quit school and left home. He spent eight years living on the street, was addicted to drugs and alcohol and felt that his life was going nowhere. But during that time he began finding some positive bits and pieces and storing them away for another day.
That positivity began one rainy day when he was about 17. He wanted to get out of the rain so he walked into a library. It was the beginning of what was to become a new life, a second chance to ensure that he wouldn't wind up on the street, "lazy and worthless and living in poverty."
Wagamese said that he was literally "blown away" by what he discovered in the library and in the books he read during the many times he visited there. He would later explain that that same feeling came when he heard his first piece of classical music, again when he discovered the paintings of the masters and also when he went to an auditorium to watch a group of acrobatic dancers "doing things I'd never seen before."
That's when he realized that he could interpret the world in several ways.
"I could now translate and learn from a book; I could interpret the world through what I let myself hear and what I let myself see. The next thing you know I'm pulling art books off the stands and reading all about Chagall, Van Gough, Rembrandt and Turner and all of these wonderful painters. There was another whole world of exploration that I could follow if I wanted to."
He soon came to realize that he also could learn about and interpret the world by what he allowed himself to feel.
During his journey through life Wagamese met numerous people that helped him move forward, whether they knew it or not. He learned to trust again, he learned to feel again; by his mid-twenties he learned to express himself for the first time in his life. He spent ten days with a group of Elders who took him aside and told him the stories he needed to hear. They told him what they did and how they served the people.  They taught him about the essence of storytelling and they taught him how to interpret those stories. They helped show him a new way by "filling me up with stories and by me listening, hearing, sharing. At the end of the ten days they filled me up with language, with spirituality, with history and philosophy, science, cosmology and Ojibwa. For the first time in my life I could stand there and feel like I was something, that I was created to be something, that I was a male Ojibwa. I was 25 years old and I was finally given that. I was suddenly bigger and more importantly, I was no longer alone."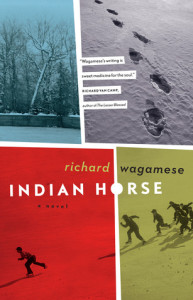 The first job Wagamese took on as he embarked on what would become a long and successful venture into journalism was with the now-defunct, New Breed publication, associated with Manitoba's Métis and non-staus Indians. Fabricating a story about his level of education to help his chances at getting job, Wagamese was told to come back after the weekend and they'd see what he could do.
"I had no idea what they wanted but I was told that I was a storyteller and I wanted to give it a try," he explained, adding that he went to the library, scoured the pages of many newspapers and then came across the Reporter's Handbook, a handy little tool with lots of tips and tricks for those needing some inside knowledge.
"I raced across the street, bought a package of three-ringed books, a package of pencils, a sharpener and some erasers. I wrote a lot of exercises in those few days and when I went in to see about the job I was handed three stories from the Globe and Mail. I was sent into an office to work and when I emerged about an hour and a half later I handed them to the editor. He said: 'these are pretty good, we'll give you a try.' And that's how I became a journalist."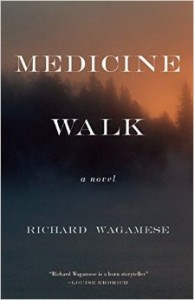 Wagamese's story hasn't yet come full circle but it has moved considerably forward since those sad and traumatic beginnings. His resilience, courage and self-developed integrity has enabled him, throughout the years  to inevitably turn the tales of turmoil  into stories of triumph. He overcame the odds and in doing so has become a role model, an icon of wisdom and knowledge, an excellent writer, an outstanding speaker and a very fine man who shares his story so that others can learn.
His story proves that strength comes from within and no matter what situation you have been in, or what you are currently experiencing, there is hope.  Just because you are a victim of abuse, just because you are an Indigenous person with a history of marginalization and discrimination, just because you have had your life turned upside down doesn't mean you can't turn it all around and puts the odds back in your favour.
Richard Wagamese has been a reporter and feature writer for numerous newspapers and journals across Canada. He has also worked extensively in both radio and television. Following a distinguished journalism career, he moved into the realm of fiction writing.
During his career Wagamese has been the recipient of numerous awards. In 1991, he became the first Native Canadian to win a National Newspaper Award for column writing. His debut novel, Keeper 'n Me, published in 1994, won the Alberta Writers Guild's Best Novel Award. He has twice won the Native American Press Association Award for his journalism, and he received the George Ryga Award for Social Awareness in Literature for his 2011 memoir One Story, One Song. He was also awarded the Canadian Authors Association Award for fiction in 2007 for his third novel, Dream Wheels. Most recently, Richard was honoured with the 2012 Aboriginal Achievement Award for Media and Communications.
Among his books are: The Terrible Summer (1996), his second novel, A Quality of Light (1997), a memoir entitled For Joshua: An Ojibway Father Teaches His Son (2002), his third novel Dream Wheels (2006), his fourth, Ragged Company (2007), and second memoir, One Native Life (2009). Those were followed with titles that include Runaway Dreams (2011), Indian Horse (2012) Him Standing (2013) and Medicine Walk (2014). Many of these titles are also being distributed via eBook and can be download online.
During his career, Wagamese has been a lecturer in creative writing with the University of Regina's Saskatchewan Indian Federated College, a writer for the Royal Commission on Aboriginal Peoples, a faculty advisor on journalism for Grant MacEwen Community College and the Southern Alberta Institute of Technology (SAIT), and a scriptwriter for the CBC-Alliance production North of 60.
 by John Copley