by John Copley
(ANNews) – This month's cover artist, Nancy Desjarlais, is a Plains Cree/Metis woman; she was born in Edmonton but her roots and her family hail from Anzac, Alberta, home of the Ft. McMurray #468 First Nation. A free spirit, guided by her desire to succeed and driven by her passion for life, Desjarlais has a clear perception of the world around her, and what she wants to accomplish in it.
Residing in Edmonton with her husband Peter, Desjarlais spends much of her time creating the beautiful artwork that has enabled her to become one of the province's best known and accomplished artists. She's modest and quietly humble, though to the eye of the beholder she's a genius when it comes to both creativity and thought-provoking art.
"Cultural expression and the promotion of Indigenous tradition and lifestyle have always been important aspects of the work I do," she noted in a recent interview. "I don't always have a plan of action when I begin to create a piece of art, though I usually do have an idea in mind. It's only when I've laid down the background for the piece that the whole picture begins to form in my mind. As I progress, the significance of what I'm trying to say becomes more important with each stroke of the brush. I like to incorporate nature in most of the work I do today because that's where we can all find some peacefulness."
Nothing in life, she noted, is accomplished through negativity.
"There are too many negatives in the world we live in today; it's too easy to criticize so I try and find the good, not just in people, but in the everyday world we live in," she explained. "It's important to find and promote the good in people. It's important to promote and appreciate what we have, even if we have little. No matter what ails us, there is always someone out there who is worse off than we are. Life is a gift and it can't be treated with disrespect or indifference; we have to find the positives in everything we do and share those thoughts with the world around us."
Desjarlais is a deep thinker with a somewhat passive demeanour; she's self-assured, bright and energetic, though in a quiet sort of way. Her background and ancestry have much to do with her passion for life and her understanding of the world around her, but perhaps it's the painful memories of a childhood that for three years was dictated by the administrators of the Indian Residential School system that has helped her shape a caring nature that overcomes obstacles and enables her to carry out her daily plan.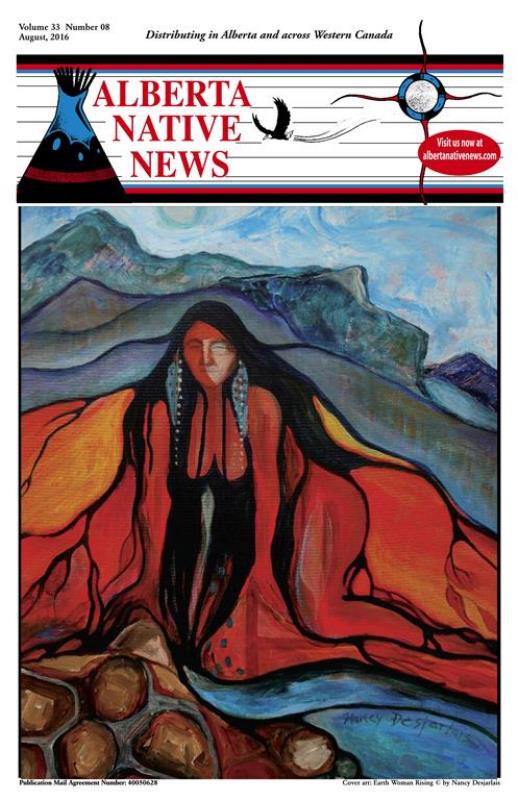 "Life is full of ups and downs and twists and turns but somehow we manage to overcome," she stressed.  "My roots have indeed been a deep and indelible force that have not only given me some real insight and inspiration, but have also helped to guide me throughout my life."
For the most part that "real insight and inspiration" leaves the viewer of her work with the impression that all is right with the world, primarily because Desjarlais has always had a fondness for the wilderness, for the beauty of nature, for the trails in the forest and the footprints carved by creatures who've followed the same path since birth. As an Aboriginal person and an artist whose work often reflects the beauty of nature, Desjarlais is concerned about the environment and the negative impact that resource development is having on the forests and the fauna and the wildlife who call the wilderness home. She is passionate about the environment.
"I'm very very concerned about the environment. It's all very frightening; how can the earth heal itself when devastation and destruction remains the order of the day?"
Desjarlais is also passionate about her work with children. As a substitute in the Edmonton Public school system she works with special needs kids, many of whom are Indigenous. It's something that she really enjoys doing.
"Working with children and teaching them how to draw is a very rewarding endeavor," she said. "It's great fun watching and working with them. I work with special needs youth and kids who need some extra help, but as a substitute I do not have the opportunity to really get to know them or to offer long-term solutions. My goal is just to make sure that the children and the youth I have the opportunity to work with have a good day, an enjoyable day that puts a smile on their face and a pleasant memory they can carry home with them."
Desjarlais has always had a flair for art, learning to draw at any early age, and eventually putting her thoughts to canvas. Her mixed media creations often embrace and include the things that are particularly relevant to her life and her culture. Trees, rocks, leaves, birds and other forms of wildlife and natural materials often form a part of her work.
"I didn't really start painting at an early age," she explained. "In fact, I was selling moccasins at a crafts fair and needed some way to increase business. I decided to paint a few small pictures and put them on display. I was amazed when they sold so I did a few more. I participated in a lot of trade shows after that and never had any problems selling my work."
That comes as no surprise. One look at her collection of paintings on her nancydesjarlais.blogspot.com website is enough to convince the most discriminating buyer that her work is not only breathtakingly beautiful, but also as down-to-earth as it gets in the world of art.
Desjarlais enrolled at University of Alberta in 1989 where she earned her bachelor's degree in painting and printmaking. In 1993, she won both the first and third prizes in the annual Peace Hills Trust Native Art competition. A couple of years later she earned a special mention and in 2009 her painting, "Spirit Horses Running on Rough Terrain," won another first place in the renowned Peace Hills art competition.
In 1995, she moved to Vancouver Island.
"I knew that I was moving to a place where I could find accessible forests and abundant waters; these are the things that my spirit craved," she noted.
It was there that she developed her mixed media style and technique. "Inspired by the ocean and the petroglyphs close by," she painted a series of work that focused on those themes.
Nancy's paintings include seascapes, portraits, semi-abstracts, and visionary images in watercolour, oils, and acrylics.  She is best known for her mixed media work with acrylics and sand in which she often "inscribes" marks or symbols into the mixture.
"While I was at university, I was able to experiment with different kinds of medium," she explained.
During the past decade and half Desjarlais has been working mainly with acrylic paint and sand mixed together.
"I can mark the piece using the end of my paintbrush or a comb, then add paint once the sand and mixing gel has dried.  This form of mixed media can be layered or lightly sculpted and is both playful and meditative."
She also draws and paints with watercolours.
"My subject matter includes petroglyphic imagery, mandalas and meditative figures, tricksters and mythical beings (and) because I lived on the coast for many years, some of my work incorporates images of the sea, the forests and the islands that lay somewhat mysterious and silent against a backdrop of waves and wind and seagulls in the sky."
Nancy and her husband Peter returned to Edmonton so that they could be closer to family. "My grandchildren are a large part of my life," she said. "Their presence adds a great deal of fun in our lives.  When Peter and I want to have a laugh we talk about something they did or said."
"I have no regrets moving from the beautiful coast back to Edmonton," she added. "Being close to my sons, grandchildren and extended family is very important to me."
In offering advice to aspiring artists and the people that surround them, Desjarlais concluded, "It is important to support youth and children who wish to pursue art either as a part-time venture or as a career choice. This is particularly necessary when to comes to family, friends, even school teachers. Many people don't support artistic development because they feel that creating art isn't a viable occupation and in many cases this is true but at the same time, creating anything is good for the spirit. If you find art is a passion of yours, you'll also be able to find other things you can use to supplement and earn an income. It is necessary to pursue your passion – whatever it is. If you are happy, good opportunities will come to you.
"Take a good walk through your neighbourhood and you will find beauty in almost every corner of it. Take a walk in a wild area – in the woods, in the forests and find the beauty of nature, the colours of life and the magnificence of what lies in front of your every step. To succeed you have to believe in yourself, just as you have to believe in others."