(Feb. 2017) – The Metis Nation of Alberta made some real progress this month in advancing reconciliation with both the Provincial and Federal governments.
On February 1, 2017 Métis Nation of Alberta (MNA) President Audrey Poitras signed a groundbreaking ten-year Framework Agreement with the Government of Alberta. This agreement is not only the longest in MNA history, but is also the most comprehensive.
Deriving many of its mandates from the Supreme Court of Canada's Daniels Decision, section 35 of the Constitution, and United Nations Declaration of the Rights of Indigenous Peoples (UNDRIP), the collaborative agreement sets a promising precedent for the development of Métis rights, including harvesting.
Premier Rachel Notley stated "This agreement is an important step in the journey of reconciliation. Métis people have a long and proud history in Alberta, and we look forward to continuing to build our strong relationship."
As an important step towards reconciliation, the Framework Agreement stipulates MNA's right to participate and collaborate with the Government of Alberta on decisions that will affect the well-being of its members. Some of those priority actions are: Renewing and strengthening the Nation to Nation relationship, facilitating the recognition and respect of Métis Rights in Alberta that upholds the Honour of the Crown and advances reconciliation, developing a "whole of government" approach to Métis issues and increasing economic opportunities for Alberta Métis in areas like environment, climate change, harvesting, health and wellness, housing, education, culture and heritage, employment, and women's issues.
President Poitras said that she is particularly pleased to sign a framework that not only establishes a promising working relationship with the Government of Alberta for ten years, but symbolizes decades of hard work by all leaders, past and present.
The Métis Nation of Alberta ("MNA") also recently concluded a Memorandum of Understanding to Advance Reconciliation with the Government of Canada (the "MOU"). The MOU was signed January 31, 2017 on Parliament Hill by MNA President Audrey Poitras, Bev New, MNA Co-Minister for Métis Rights and the Honourable Carolyn Bennett, Minister of Indigenous and Northern Affairs. Members of the MNA Provincial Council were also in attendance at the signing.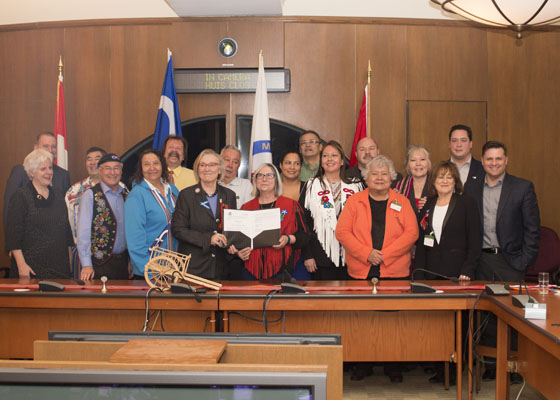 The MOU establishes a time-limited exploratory discussions table between the MNA and Canada with the goal of arriving at a mutually-agreeable framework agreement by September 2017. The anticipated framework agreement would establish a formal negotiations process based on mutually agreeable subject matters, including Métis self-government, lands, rights and outstanding claims against the Crown.
The MOU comes on the heels of recent positive political and legal developments for Alberta Métis, including the Prime Minister's November 2015 mandate letter to Minister Bennett providing direction for her to advance a nation-to-nation, government-to-government relationship with the Métis Nation as well as the Supreme Court of Canada's landmark decision in Daniels v. Canada that was released in April 2016.
"This MOU has been a long-time coming for Alberta Métis. For many years at the federal level, we have been on the outside looking in. This MOU opens the door for us to finally put in place the government-to-government relationship with Canada our people have sought for generations as well as begin to address the pressing issues of our citizens and communities in Alberta, including dealing with Métis rights, lands and self-government," said President Poitras.