(Calgary) – Mount Royal University's premier event for prospective students, Open House, is set to take place on Saturday, Oct. 21 from 9 a.m. to 3 p.m. For anyone considering pursuing post-secondary education, this event is a great opportunity to start making connections while learning more about MRU's programs, admission requirements, student services and campus life.
"Open House is a way for students to get all the information they need in one day and it provides them with the opportunity to connect with some of the professors, staff and alumni in the programs they're interested in," national admissions and recruitment specialist Jake Wong says.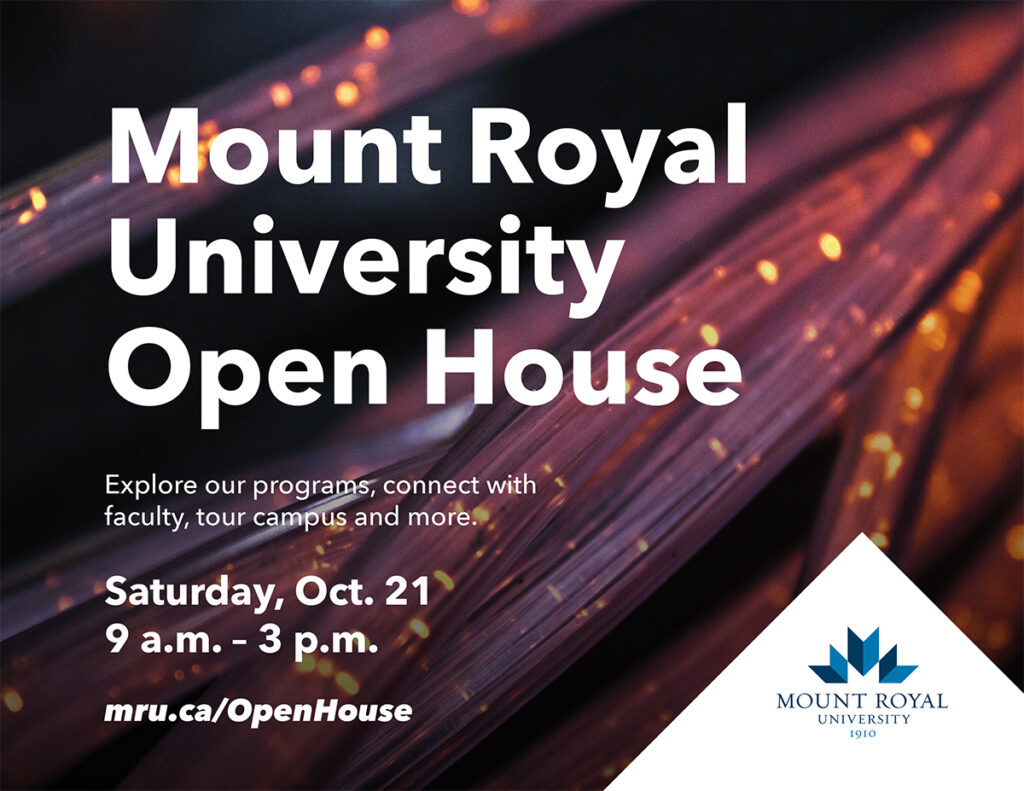 An interactive, informative and cost-free event, Open House provides prospective students an invaluable experience that can solidify their choices for post-secondary education.
"Anybody is welcome to attend Open House. All you have to do is register and from there you're welcome to bring any friends, family and supporters to learn about the university with you," Wong says.
 Here's what to expect at MRU Open House:
Program booths and Live Panel sessions
Open House is the best opportunity to explore all of the programs that Mount Royal offers. Guests can stop by a program booth to chat with faculty or attend a Live Panel session where a mix of faculty, alumni and students will be discussing programs more in-depth.
Open House is also a time to learn about career possibilities, course options and what makes each program unique. This includes work-integrated learning opportunities and options for honours programs, co-operative education, internships, field work, research and more — all the things that add depth to programs and experience to students' resumés.
Guided tours
There's no better way to get a feel for a university than by setting foot on campus and seeing firsthand where you'll be spending a significant part of your academic journey. Mount Royal Open House offers a range of different tour options to explore every corner. These include general campus tours, Residence tours and program-specific tours that give an inside look into the unique labs, classrooms and spaces.
Student Services and Support booths
 There will be a range of booths showcasing the student services and supports that are available for students throughout their educational journey, from application all the way through to graduation. Representatives will be available to answer questions about admission requirements, the application process, student services, career services and more. Open House offers a unique opportunity for guests to find all the answers in one convenient place.
Attending Open House can be a game changer for anyone in the pursuit of higher education. It's more than just an event; it's a gateway to discovering a welcoming community, exploring academic options and taking the first step towards a brighter future.
Learn more and register today at mru.ca/OpenHouse.