You've heard it before: Every story has a beginning. And the great ones typically have a lesson as well. The lesson behind this story is to never give up.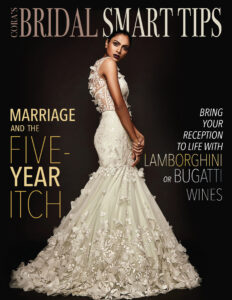 Cora's Bridal Smart Tips gives hope to kids who suffer from conditions like microcephaly and autism. That's the conclusion of the story. To find out how it started, we need to look back at the life of one military family in the Pacific Northwest.

Cora was born to this family on the naval base in Bremerton, Washington, in 1997. But she didn't have an easy start in life. In fact, she was clinically dead at birth. But it wasn't until her father was transferred to San Diego, California, that her parents learned the extent of Cora's condition. At the Children's Hospital in San Diego, they learned that Cora had been born with microcephaly, a condition in which the brain doesn't develop properly or grow, resulting in a smaller head. The doctor also told the couple that Cora had a touch of cerebral palsy. In the days to come, this little family's faith would be profoundly tested, and they would face overwhelming doubts, fears, and unexpected challenges.

Shortly after the initial diagnosis, an optometrist at the San Diego Naval Medical Center discovered that Cora also had poor eyesight. He said she was born with a cataract, and surgery should have been performed at birth to prevent blindness. At this point, he said, there was very little chance of saving her eyesight. Miraculously, however, her sight was saved, and today she has an eye implant.

After Cora's eye implant surgery, her parents decided to create Cora's Bridal Smart Tips in 2002 in order to give hope to other kids with neurological conditions. With 20 years of military service coming to an end, they planned to return to the San Francisco Bay Area to start the magazine.

Just when it was beginning to look like the magazine would take off, Cora's mother was hit by a series of tragedies. She lost her father, who had been her rock. A month later, she lost her oldest sister, who had been her mentor when she was growing up. And in between, she lost a child. Then two years later, she lost her mother, whom she was very close to and called every day. Cora's mother sank into a deep depression, and the idea of the magazine was set aside for many years. 

But in 2017, after her son was diagnosed with autism, she renewed her determination to help special needs kids. That's when she shook the dust off the magazine and vowed to not only continue to pursue her love of fashion, but her passion for helping kids like her own. Then headlights, camera, action! Supercars gave Cora's Bridal Smart Tips its

 big break, and the magazine debuted in 2018. 

Soar high in its pages and enjoy cars by Lamborghini, Bugatti, W Motors, Aspark Owl, Bentley, Aston Martin, Jaguar, Mazzanti, and Rolls-Royce. But remember, behind the supercars' power is a 

personal story of triumph over tragedy

.

 From its humble beginnings at the San Diego naval base to finally gracing the newsstands, the creators of Cora's Bridal Smart Tips 

didn't give up in the face of sorrow. 
Cora's Bridal Smart Tips is a unique bridal magazine, one that combines romantic fairy-tale gowns, myriad smart tips, after-the-altar stories, and a brimming selection of supercar-inspired accessories 

– 

all wrapped up into one terrific package. It's a bridal magazine that is unmatched.
                                                                 Available on Amazon (Hardcopy and Kindle)