The annual Fort McKay Treaty Days celebration began in the mid-1980s and over the years has grown bigger and more popular than ever. And that trend is likely to continue this month when the community hosts the 2014 Treaty Days event; the event gets underway on Thursday afternoon June 19 at 4 pm with the beginning of a three-day baseball tournament on the diamonds behind the school. The Fort McKay Idol competition and Jigging Preliminaries will begin at 4:30 in the community Amphitheatre.
"We also have a great lineup of interesting and exciting events, several well known entertainers, numerous vendors, a dog show, midnight fireworks, a cultural village and lots more, including a variety of activities for the kids," explained Fort McKay First Nation Communications Director Dayle Hyde. "What began as a small community event in the 1980's has grown tremendously over the years; there's a lot of interest both in and outside of the community. Visitors are always welcome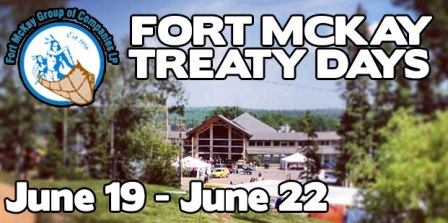 Fort McKay Treaty Days was initiated in the 1980's by then-Chief Dorothy McDonald-Hyde, the first woman to be elected Chief of the Fort McKay First Nation. She held that post for four terms and in that time defined herself as a strong and determined leader who questioned government and challenged industry, winning several court battles along the way. She established the Treaty Days event as a way to celebrate the annual coming together of the people of Fort McKay. In the beginning years the community would set up a few tipis in the school yard while drummers and dancers, many from Edmonton, would showcase powwow dances and participate in a community Round  Dance.
"Today," explained Dayle Hyde, "the event is much larger and encompasses a greater area.    We still have the traditional handing out of  treaty money by the RCMP and everybody  who comes out to enjoy the festivities has a  good time and some lasting memories to share."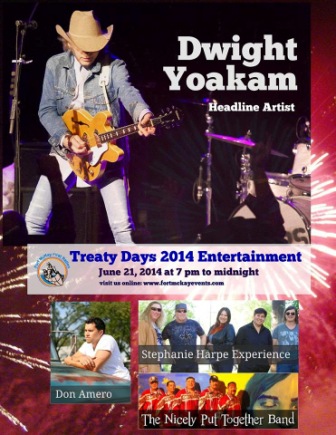 A pancake breakfast gets things    underway at 8  a.m. on Friday, June 20.  After breakfast a Kids  Bike Parade will  take place; kids are reminded  that if you  want to colour and decorate your    bike  for the parade you can do so between 6  and 8 p.m. on Thursday evening. The  Opening  Ceremonies will take place in the  Amphitheatre at 11:30 on Friday  morning. A variety of kids activities,  including a petting zoo and pony rides will  begin just after the noon hour; a surf and  turf barbecue will take place behind the    Band Hall at 1 p.m. – a kids BBQ will be  offered simultaneously and in the same  location. A Youth Fear Factor event will  get underway in the Upper Arbor from 1  to 5 p.m.
The Cultural Village in the Upper Arbor-area will be open from 2 to 5 p.m. with a corporate tug-of-war and a dunk tank slated for the same time in the area behind the Band Hall. The Treaty Payout will take place in the Gazebo between 2 and 5 p.m. Hand Games events run from 1:30 to 4 p.m. with a tradition dance and exhibition getting underway in the Amphitheatre between 3 and 5 p.m.
Three teams will take part in the Voyageur Canoe race, a new event down the Athabasca River; two teams from Fort McKay and one from Ft. McMurray will travel together to the Peter Lougheed Bridge, where they will begin a race to the Fort McKay boat launch
"It is a busy and active schedule so there'll be lots to see and do," noted Hyde. "From 7 p.m. until midnight we will have a Traditional Evening that will include a moose calling contest, a laughing contest, a round dance and a giveaway – these events will take place in the Amphitheatre."
An information and registration booth will be open from 9 a.m. to 5 p.m. each day so late comers wishing to enter a contest will have the time to do so. The only exception is for baseball.
"The Baseball Tournament is closed as far as registrants go but everyone is welcome to come out and enjoy the games. The second phase of the tournament gets underway at 9 a.m. on Saturday and continues through until about 6 p.m. The Baseball Finals begin at 10 a.m. on Sunday morning," noted Hyde. "The first place prize money for the tournament is $3000, with the runner-up receiving $2000 and third place $1000."
A schedule similar to Friday's events will run its course on Saturday with added attractions including a community bingo, an adult Fear Factor challenge, the arrival of the canoes and a community dinner that begins at 5 p.m. An evening of entertainment follows.
"We are expecting to see some good crowds come out for the events this year, but the entertainment venue is likely to be one of the biggest hits at this year's Treaty Days celebration," anticipated Hyde, who said among this year's talented performers are "headliner Dwight Yoakam, the well known Edmonton-based Stephanie Harpe Experience, local band Nicely Put Together and Winnipeg's Don Amero."
Yoakam is a world renown artist famous for his catchy melodies, brilliant lyrics, outstanding voice and laid-back person. The Kentucky-born, Ohio-raised entertainer is a one-of-kind personality whose newest album, Three Pears "exemplifies his ability to incorporate multiple, competing influences into a piece of cohesive art."
Nicely Put Together is a five-member ensemble that was formed in Fort McKay in 2006. Fort McKay Band Member and local resident Rick Grandjambe is the drummer and band leader. Lead singer Jim Cardinal grew up near Lac La Biche and has been in the entertainment business in and around Fort McMurray for over 40 years. Lead guitarist Dean Olsen is from the Conklin area, and like the other Nicely Put Together members has toured throughout Alberta and Saskatchewan. Bass player, Donny L'Hirondelle, originally from Conklin, is another outstanding musician who not only plays bass, but guitar, fiddle and drums as well. The amazing fiddle player Marten Hamlin was born and raised in the Imperial Mills area near Lac La Biche; he's been playing the fiddle for over 60 years. The band, which has been playing professionally for the past nine years recorded their first album, Metis Man at Blackbox Studios in Edmonton last year.
Winnipeg-born Don Amero is a well known musician who gained prominence in 2006 when he hit the #1 spot on the National Aboriginal Countdown and received seven nominations for the Aboriginal Peoples Choice Music Awards. His song, Deepening, earned him Aboriginal Songwriter of the Year at the Canadian Folk Music Awards, Male Artist of the Year at the Canadian Aboriginal Music Awards, and two more nominations at the APCMA's.
The Stephanie Harpe Experience (Stephanie Harpe on vocals and harmonica, Sam Barbour of Ferryland, Newfoundland on drums, and Albertan boys Rob Newhook on bass and Al Bohtlo on rhythm guitar) is a band that delivers more than great music. Being a positive role model and mentor and having the ability to give back to the Aboriginal communities is what The Stephanie Harpe Experience has been working towards. Harpe, a member of the Fort McKay First Nation, began her career at the age of 10 aspiring to become a successful singer. She has since showcased her talents in a wide variety of competitions and concerts. The band continues to contribute to Canada's Aboriginal music scene with a unique style of country/blues/rock. The Stephanie Harpe Band showcased their talents at the Esquao Awards in 2006 and again in 2009, during a nationally televised show honouring Aboriginal women and their achievements.
The Fort McKay First Nation is one of the five First Nation communities that fall under the auspices of the Athabasca Tribal Council. Together, the five communities (Athabacsa Chipewyan, Chipewyan Prairie, Fort McKay, Fort McMurray and Mikisew Cree First Nations) are home to more than 5,500 Cree and Dene people. The Fort McKay First Nation sits on the banks of the Athabasca River about 45 minutes north of Fort McMurray in the municipality of Wood Buffalo.
Under the leadership of Chief Jim Boucher, who has served his community in that capacity for 24 of the past 28 years, the Fort McKay First Nation believes the practice and preservation of their traditional ways of life can occur simultaneously alongside continuous and responsible oil sands development. This philosophy has allowed the FMFN to enhance their community's social and economic conditions through effective partnerships with industry and government. They are known for their good working relationships with the surrounding oil sands companies. FMFN strives to balance resource development with protecting the health of  the community and the environment.
For more information about the Fort McKay First Nation and/or its annual Treaty Days Celebration, check out the website at: www.fortmckayevents.com/treatydays2014.
 by John Copley