The First Nations Health Managers Association (FNHMA) is expanding health management capacity for First Nations across the country and their valuable and innovative courses are now being offered in Alberta.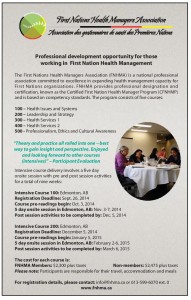 The  FNHMA provides leadership in First Nation health management activities by developing and promoting quality standards, practices, research, certification, networking and professional development to expand capacity for our members and First Nations.
The FNHMA recognizes that First Nations Health Managers are leaders who honour, maintain and uphold inherent ways of knowing while balancing management principles to bring excellence to their communities and health programs. The FNHMA is here to provide support!
For more information visit www.fnmha.ca