By Regan Treewater
(ANNews) – The beautiful art on the cover of this month's Alberta Native News is by Delreé Dumont, a very talented contemporary artist. It is a vibrant self portrait of Dumont in full regalia.
"I've always been an artist" commented Delreé in a recent interview. "Since I was a child, I've always excelled in the arts."
Born in Chilliwack, British Columbia, Dumont built an impressive thirty-two-year career in Alberta's competitive oil and gas industry, and British Columbia and Saskatchewan's underground diamond mining operations, before devoting herself full-time to her art in the summer of 2014. Now, an established and celebrated artist, she has enjoyed international acclaim in addition to national Canadian recognition for her powerful depictions of Indigenous themes.
As a member of the Onion Lake Cree Nation, Dumont possesses a deep spiritual connection to her heritage, and has always endeavored to foster dialog facilitating greater understanding and appreciation of the rich traditions she was born into.
"Throughout those thirty-two-years I always promoted appreciation for the beauty of our traditions and culture; and being in a corporate environment this was accepted, and it was truly embraced and appreciated."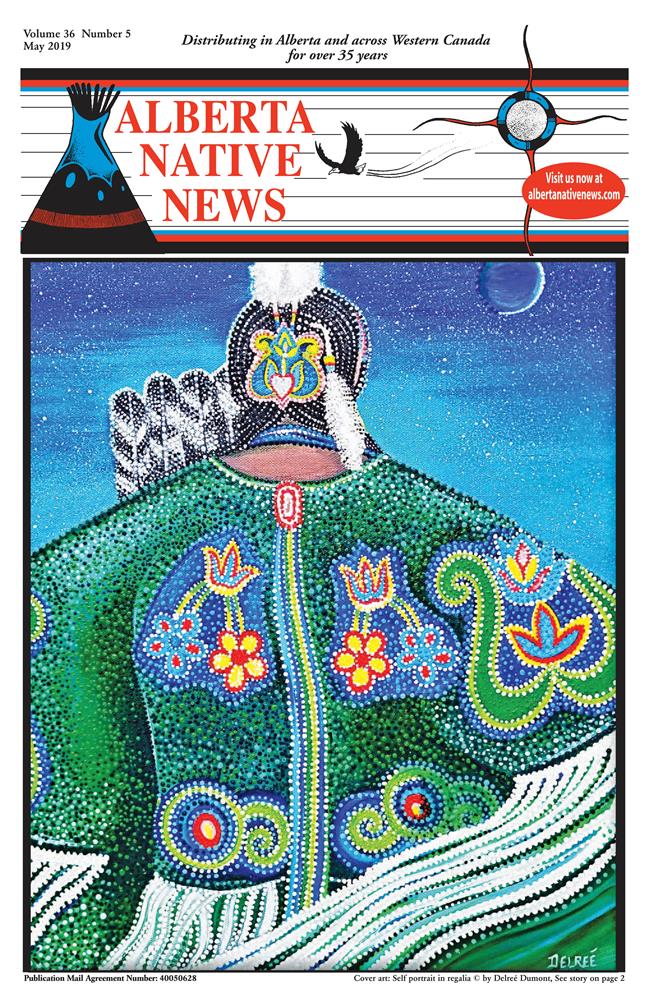 Dumont continued, explaining that: "I left the oil and gas industry in July of 2014; and I picked up my brushes and I started painting fulltime. I used to do Realism – and I still dabble in Realism – but I discovered Pointillism, which is a fancy word for dots" she mused.
"I paint wildlife, horses, flowers, and dancers in regalia." Using acrylic paints, Dumont's subjects are inherently connected with movement – an electricity that she brings to life with remarkable vibrancy with dots.
"Movement and color have a special place in my work. Some people have commented that my work looks almost three-dimensional, like it's not restricted to the canvas at all. I want people to see the birds fly off the canvas, to see the fluttering of a dancer's shawl."
A traditional dancer herself, Dumont's focus on Indigenous themes is a deeply personal one, but also an attempt to help the content resonate with diverse audiences in lasting and meaningful ways.
"I feel that Pointillism promotes the beauty of our culture and traditions in the sense that it appears like beadwork on canvas; it reflects our history, and dance, and songs," she explained. "My work draws on my experiences as an Indigenous person."
Delreé was initially drawn to traditional dance to remember and honor her mother and now her husband, Sheldon as well. Her engagement with this form of performing art has also taken on healing qualities.
After losing her husband to cancer in May of 2018, Dumont's work has entered a new stage of exploration. Much of her current material delves into the many facets of the emotions and realities she is being confronted with: pain, loss, grieving, and her new identity as a widow.
"I picked up my paint brushes again in late September; I started attending art shows again, painting my experience as a widow, and grieving, learning to be who I am again as an individual and artist. Some of my paintings do reflect the pain of my loss."
The current creation hanging from her easel depicts a solitary woman sitting on the ground "with sweetgrass and her hands in her lap. She just finished smudging but grief overwhelms her, and she cries and cries – a healing cleanse." The component of visually captured movement characteristic of Dumont's style is represented by smoke rising upwards.
Despite closing her gallery, Delreé's Native Art Gallery, in Didsbury, Alberta – a cultural epicenter for three years – Dumont's career continues to ascend to new heights. In 2018 she was invited to represent Canada at the Canadian Embassy in Berlin, Germany by invitation of the Indigenous Tourism Association of Canada. Attendees were able to watch as Dumont painted live and on location at the Embassy.
She has completed two new exhibitions on the docket and is actively composing a children's book that she will, of course, be illustrating herself. Delreé Dumont's story is an inspiration to everyone who every day, dreamed of being an artist, and as she lives out her own dream, with all its twists and turns, her work continues to evolve and flourish.