by John Copley
(ANNews) – Her name is Christi Belcourt. She was born in Scarborough, Ontario in 1966. She's a woman with one face, but with many unique talents. She's an artist, an advocate, an activist, an author and a creator of initiatives designed to bring a semblance of sanity back to society, if indeed there was any sanity or common sense to begin with. Her mastery with a paint brush, an array of vivid colours and a stretched-out canvas is unparalleled. Her artistic works are included in many significant collections around the globe and have been featured in major galleries everywhere.
Since the middle of last summer a new line of high quality, high-fashion clothing also has her stamp on it. Her stunning array of haute couture clothing, created in partnership with the Italian Fashion House of Valentino and designers Maria Grazia Chiuri and Pierpaolo Piccioli, is a must-see. Once she ensured that Aboriginal spirituality, rights and priorities would be protected, Christi agreed to the collaboration which features her gorgeous paintings, complete with nature's designs – sprigs, grass, leaves, wildflowers, floral prints – and finally her breathtakingly beautiful beading patterns and designs.
"The focus of my work for the last 10 or 12 years," she notes in an artist's statement, "has been to attempt to transfer 'beadwork' to canvas, and in so doing, add commentary and expression within the work beyond the purely aesthetic. The plants within my paintings have become metaphors to parallel humanity. The roots are exposed to signify that all life needs nurturing from the earth to survive, and represent the idea that there is more to life than what is seen on the surface. Additionally it represents the great influence our heritage has on us as individuals. There are lines that connect the plants to symbolize our own interconnectedness with each other and all living things."
Both a practical and a spiritual woman, Christi Belcourt is close to her roots. She breathes nature and has great respect for the flowers and the fauna and the environment they live in. Her works symbolize the beauty, the laughter and the good things of life; her paintbrush knows no evil, it delivers no threat, it offers no excuse and it attaches no blame. Instead, her creations are lively, lovely, colourful and reminiscent of her aim as an artist "to create a relaxed and intimate environment in which the audience can examine their own perceptions or perhaps misperceptions of Métis people and perhaps find commonalities that transcend cultural barriers."
Talking about her reflections of the artistic journey she's travelled the past two decades, Belcourt recently noted: "In 1993, what began as a simple experiment to paint flowers inspired by the traditional beadwork patterns of Métis and First Nation women I'd been exposed to since childhood, has now evolved into the course my work has continued to follow since. This journey has led me on an exploration into traditional Métis art, Métis history, environmental issues, and contemporary issues that face the Métis in modern times.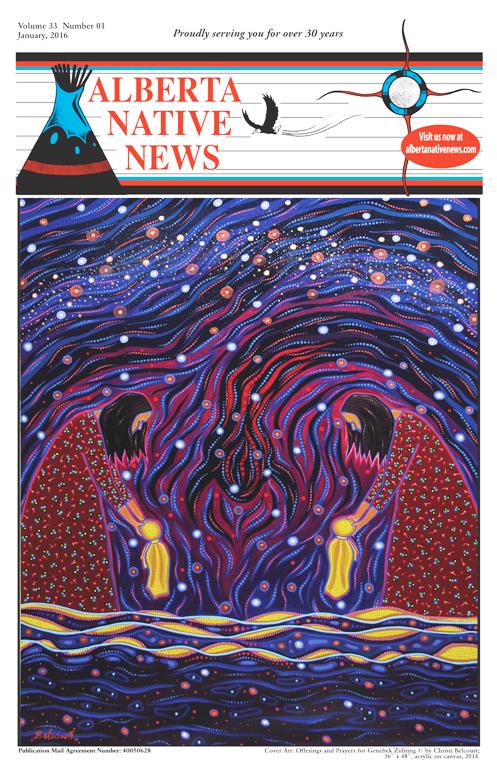 "To put my work into context it is important to note that by the early 1800's, Métis women were creating large quantities of distinctive floral beaded items for sale and trade. Beadwork became an expression of Métis cultural identity and served to heighten Métis nationalism and cultural pride. Métis beadwork patterns extracted from nature emphasized symmetry, balance, and harmony."
The artwork by Christi Belcourt on the cover of this January 2016 edition of "Alberta Native News" was inspired by the stories and teachings of Isaac Murdoch and is entitled: "Offerings and Prayers for Genebek Ziibiing." The original acrylic on canvas painting, created in 2014, measured 36×48 inches. The information about this stunning creation notes that "between 1955 to 1978, there were over 30 tailings dumps and spills from uranium mines at Elliot Lake into 10 lakes and Serpent River. The radiation from uranium dumps completely killed the life in the waters and the people of Genaabaajing are still living with the devastating environmental effects today. Water is the very lifeblood of Mother Earth. Water and our connection to everything in the spirit world depends upon us keeping everything in balance. Every time we make our offerings and say words to the waters, it is helping to restore the balance the earth needs. I send my love to this river, and all waters."
For more information and to view her web gallery, visit christibelcourt.com.  Click here to read a recent interview with Christi in the January 2016 edition of Alberta Native News.