by John Copley
(ANNews) – Brenda Morency, aka Seekachees, is an artist, an educator, an entrepreneur, a student and a member of the Swan River First Nation, a Treaty 8 community located 47 km west of Slave Lake at the hamlet of Kinuso, Alberta. Her beautiful creation "Medicine Walk" is featured on the cover of this month's Alberta Native News.
Making her home in Fort Saskatchewan with husband Jean, Brenda is also a mother and a grandmother of eight who works hard to maintain her busy schedule. A University of Alberta student, Morency is currently in her fourth year of a five-year combined degree program where she is earning her Bachelor of Arts degree in Native Studies (majoring in Cree) and her Bachelor of Education degree.
An educated and experienced middle-aged woman, Morency has never taken the easy way out when it comes to moving ahead in life. As a young person she worked in a variety of jobs as a clerk, cashier and sales person, each one providing lasting lessons and experience you can only get by doing.
"The only thing I was lacking was a complete education," she explained, noting it was partially corrected in 1989 "when I earned my diploma as a Legal Secretary from Alberta College."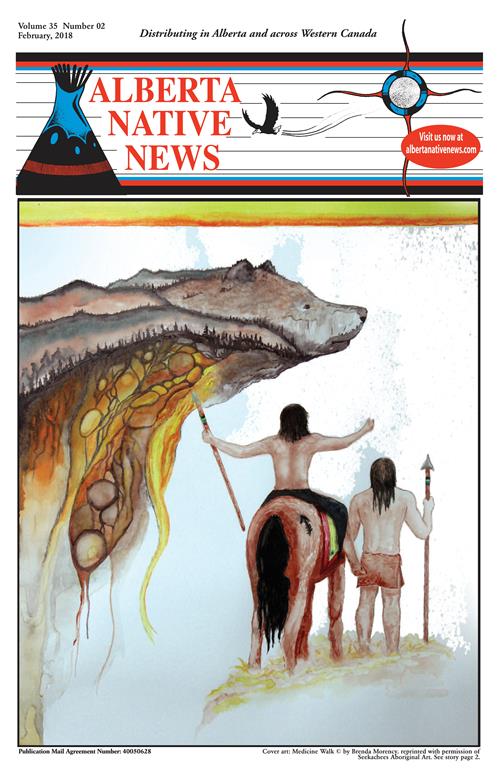 In the years after completing her diploma program Morency went to work for various companies and organizations, including the Métis Association of Alberta and Metis Child and Family Services.
Morency has long known the value of a good education and that knowledge has helped her develop a keen interest in teaching, something she first fell in love with during her time as a volunteer at the Gibbons School (220) and her more recent seven years working with the Alexander First Nation's Kipohtakaw School.
"Wonderful experiences – and I gained a lot of experience as well," she smiled. "At Alexander I was able to fill in for secretaries and teachers and even spend some time as a Teacher's Aide in Grades 10 to 12. I was also fortunate to teach some math classes under the guidance and with the help of the math teacher."
Brenda has also completed the Canadian Indigenous Languages and Literacy Development Institute's (CILLDI) Community Linguistics Certificate, a document that certifies she is able and capable of speaking with Indigenous Elders and transcribing their stories.
Once she's finished her program at the U of A, Brenda would like to teach Cree and Native Studies and hopefully work on language curriculum and development.
"It's a busy time right now," she said, noting that once this year of classroom work is complete she'll be moving on to do her practicum. "I'm really looking forward to completing my studies because once I do I'll be returning to the classroom, though in a different capacity."
But education isn't Brenda Morency's only area of interest; she's also a talented, self-taught artist who's beginning to turn some heads as she inches her way slowly forward building a successful niche in Alberta's art scene. Her beautiful work, in both watercolour and acrylics, can be seen online but if you keep an eye out you might just find her at a local market or at an Indigenous conference. If you don't find exactly what you like, the artist also accepts commissioned work and will work with you to create the image you seek.
Morency said she's never developed "a particular style" but she's always been "artistically creative." Even as a young girl she liked to draw and paint, but she lacked self-confidence and as a result, "I just never got around to showing it; I think it was a lack of self-esteem that held me back."
But that was then, and time, experience and educational goals achieved have changed much of that. Morency's self-confidence really took an upturn in October 2016 when she decided to enter her first art exhibition.
"I really didn't know what to expect," she said, "but my work was well received and, in the end, I made friends, sold my art and have continued my relationship with Precision Imaging ever since. They held the art exhibit that my work was first showcased in."
That initial experience of showcasing her work inspired Morency to continue creating her art; the treatment she received from Precision Imaging and owner Lewis Dawson gave her the "ideal place to have my art framed and so much more. They digitally photograph my work and then put the work on a high-quality artist lithographic paper using archival ink."
Everyone loves beautiful art but not everyone has the budget for the usually high-ticket items created by renowned artists. Morency's unique talents and her reputation for producing quality art are beginning to attract a growing audience; there's no time like to present to invest in her creations.
"I want to create art that will look beautiful, have meaning and be enjoyed by all who see them and own them and I want them to last for many years," she explained. "To accomplish this, Precision takes my art and creates giclée canvas prints. The art is then displayed on a beautiful canvas that wraps around the sides of the frame and delivers a stunning display that can be showcased in almost any room or space."
Morency doesn't like to part with her original canvases and in fact has only sold one when she was commissioned to create a painting for The Family Centre in Edmonton. She has about 20 pieces of work that she'd like to one day display in a local gallery, library or museum.
"I do have a nice selection and a pretty good stock of my work on giclée canvas," she noted. "I like to be prepared when the opportunity to show and sell my work becomes available. I'm having success some of the local art markets. I'm still gaining knowledge when it comes to creating and selling my work and I'm always meeting new people; one day I'd like to participate in a major show."
In the meantime, Morency has been very busy participating at various events and in some cases completing some unique work, including a beautiful painting: "manitohiskotew" (Creator's Flame) to highlight Professor Tracy Bear's Indigenous Erotica class.
"manitohiskotew" was so popular that it also appeared on the cover of last summer's Sixth Edition of Red Rising Magazine – REVOLT.
Morency's work also appeared at the National Gathering of Elders Conference last September. In November she showcased her work at the Indigenous Artisans' Holiday Market and was a panelist for Indigenous Resilience and Resistance in the Arts on Feb 1, 2018.
"If you'd like to see what I do you'll have the opportunity on April 3 if you come out to the St. Peter Apostle School in Spruce Grove. I've been invited by Indigenous Education Coach Etienna Moostoos-Lafferty to set up a table and showcase my art during a district-wide Professional Development Day taking place at the school."
Morency's artistic inspiration comes from 'kayâs âcimowina' and other Indigenous inspired stories that remind her of the importance of being able to speak and understand one's own language. As well as learning in the classroom, Morency's time at the U of A has also been spent teaching beginner Cree and working alongside full time Cree Language teacher, Dorothy Thunder.
"I was recently employed for 3 sessions by the Faculty of Native Studies, University of Alberta, as a Teacher's Assistant for NS 152 Introductory Cree," noted Morency. "Dorothy teaches all forms of Cree, beginner, intermediate and advanced and it's a real joy being around her and learning from her. My Cree has really improved since I began taking the course, though I still have some goals to meet in that area."
Thunder's expertise in the Cree language is currently blending with Morency's multi-faceted artistic talents as the two work together creating illustrated children's books. Though they have two books in progress at the moment, the first to be finished is entitled: "Maskimotisak kiskinwahamakewin."
"The books will all have little lessons in them," she explained. "They'll be in Cree with English translations and will impart important knowledge and lessons about make good choices, maintaining good health, getting plenty of exercise, eating right and so forth. We are really looking forward to seeing them in print."