by John Copley
(ANNews) – If you are looking for fun and adventure and a great place for some real family entertainment, you can find it on February 18-19 when you make your way over to Rocky Mountain House to help celebrate the start of Canada's 150th Birthday Celebration.
"There will be a great deal of activity taking place on both days," assured Canada 150 Voyageur Rendezvous Committee Member Mellissa Duhamel. "We welcome everyone to come and join with us as we commemorate Canada's 150th Birthday with a Family Day Celebration and Métis Homecoming. There is no charge for admission. The two-day event will include a Métis Jigging and Fiddling Competition, a talent show and fireworks display, all of which will take place at the Rocky Mountain House National Historic Site."
The fireworks display will take place Sunday afternoon at 5 p.m.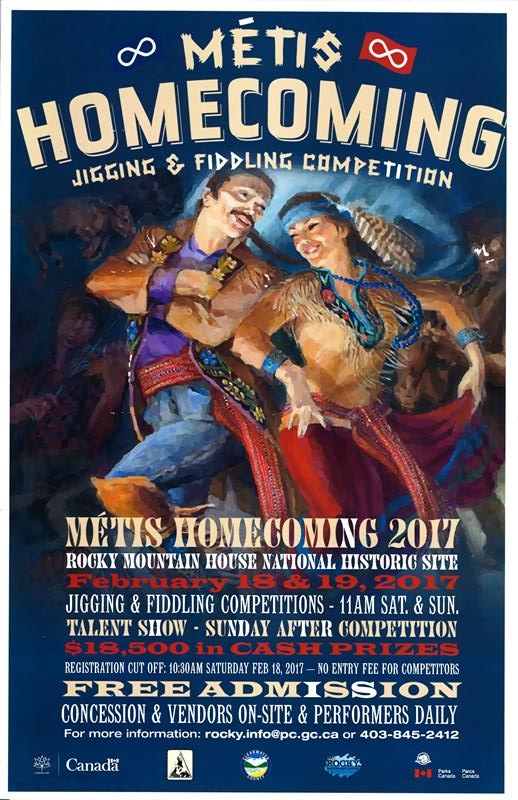 The Family Day Festival will also include live entertainment featuring Sierra Noble and Donnell Leahy, Dog Sledding, Horse & Sleigh Rides, Cabane à Sucre, Tractor & Wagon Rides, Northern Inuit Game Demonstrations and Voyageur Winter Games. A Homecoming Banquet will take place on Saturday, February 18 at the Lou Soppit Community Centre. The doors open at 6 p.m. and dinner will be served at 7. Banquet tickets are $35 per person (or $280 a table) and are available at the Rocky Mountain Chamber of Commerce, Tanya Humphrey Professional Corp. or online at: universe.com/homecomingbanquet.
The jigging and fiddling competitions get underway both Saturday and Sunday at 11 a.m with winners being named on the final day of competition. Junior jigging contestants (ages 7-12) and Youth jigging contestants (ages 13-18) will include both male and female competitors, while Adult (19-59) and Senior (60-74) competitors will vie for prizes in both male and female categories.
There are no entry fees for contestants who enter the fiddling, jigging or talent show competitions.
There will be four cash prizes for Junior and Youth competitors ranging from $200 and $300 respectively for first place winners to $75 and $100 for fourth place finishers. The top three Adult Male and Female competitors and the top three Senior competitors will receive prizes of $500, $350 and $200.
Tiny Tots (up to 6 years of age) and Golden Age (75 years and older) category winners will share $300 in prize money; the prize money will be divided by the number of entries received (based on an estimated 10 entries for Tots and three for Golden Age).
The Fiddling Competition will be broken down into five categories and will include both male and female contestants. Total prize money for Juniors (7-12 yrs.) is $400 while the total shared purse for Youth (13-19 yrs.) prize winners will be $900. The winners of the Male/Female Adult Amateur category will share $1,800 in prize money with the Adult Male/Female Open Category (19-59 yrs.) and Senior Male/Female (60-plus) winners sharing $2,400 respectively.
The Talent Show will take place on Sunday afternoon, immediately following the Fiddling and Jigging competitions.
Talent Show vocalist categories will include Youth (up to 19 yrs.), Adult Male and Adult Female categories (20-59) and Senior Male/Female (60-plus) The youth winners will share $600 in prize money; Adult Male and Female category winners will share $1,050, as will the three top finishers in the Senior category. The breakdown for the Adult and both Male and Female category winners will be: $500 to first place; $350 to second place and $200 to third place. All categories share a similar structure when it comes to cash prizes. In all, more than $18,500 in prize money will be shared by the overall top finishers in each category.
Creative Cuisine is catering the meal for the Homecoming Banquet.
It is important to note that the cutoff date for contestant entries is 10:30 a.m. on Saturday, February 18.
Visitors attending the Métis Homecoming and Jigging/Fiddling Competition will also have the opportunity to enjoy some outstanding entertainment; featured performers include Sierra Noble, Donell Leahy, the Allan Christie Band and the MacArthur Celtic Dancers.
Winnipeg, Manitoba's Sierra Noble has been a well-known part of the Canadian music scene since a very young age, beginning her touring career when she was only 14 years old as a solo old-time fiddle player. Her evolution as an artist led her to try her hand at singing and songwriting which she debuted with a song called "Possibility," a tune that went on to be featured on television shows such as "One Tree Hill" and "Switched at Birth." That song led to her opening for international legends Bon Jovi, and Paul McCartney.
Donnell Leahy is an extraordinarily gifted fiddle player whose professional career spans over 30 years. Donnell is the front-man and lead fiddler for "Leahy." You'll also find him sharing the stage with wife Natalie MacMaster, and brothers Doug and Angus. This is one show you won't want to miss!
When you hear the name: MacArthur Celtic Dancers, you think of the MacArthur School of Dance, which is located on the beautiful Island of Cape Breton, in the Province of Nova Scotia. The Island is best known for its rich Celtic Culture, as well as the musical and dancing talents it has developed throughout the years. The Dance School has been a part of this heritage since its inception in 1997, and the focus of the school has remained the same ~ to continue to promote this wonderful culture through both the traditional and modern forms of Celtic Dance. Expect another great performance by this unique and talented group of entertainers.
Entertainer Allen Christie is known as a "true modern day troubadour" and one of Alberta's most talked about Roots artists. His singing, song writing and guitar playing are perfectly framed by some of the best musicians in Alberta to create a superb live performance. He's perfected his addictive blend of roots, country and folk to create a deeply personal sound that is unmistakably Albertan and he might throw in some banjo or mandolin for good measure. Cowboy songs are the forte of the Allan Christie Band; another popular group that you will truly enjoy.
For more information about the Metis Homecoming and Jigging/Fiddling and Talent Show celebration call 403.845.2412 ext 3 or email [email protected]. You can also visit the website at: confluencehs.wixsite.com/confluencehs.