A cutting-edge graphic novel that combines northwest British Columbian coast Haida Gwaii culture with Japanese manga art is now available in paperback.
Red: A Haida Manga, previously released in a hardcover edition, has received several accolades and was an Amazon Top 100 book in 2009.
Indigenous author and artist Michael Nicoll Yahgulanaas pens his talents to this colorful and thought provoking story of an orphan named Red. Red's life is one of peace and bliss having grown up with his sister Jaada in a small village near the ocean. Red sets out on a rite of passage journey toward manhood when their village is attacked. He narrowly escapes, however his sister wasn't so lucky and is kidnapped by the raiders.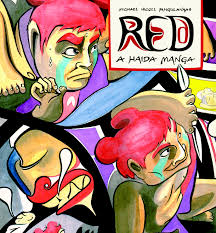 Heartbroken, Red advances into adulthood baring deep resentment. With anger stirring within he vows to one day take revenge on his sister's captors.  Almost beckoning to his desire, a stranger appears in the village offering to assist Red in his quest to hunt down and defeat the raiders. As his anger begins to turn to rage Red is determined to do whatever it takes to carry out his mission.
Upon finding his long lost sister an unexpected turnout of events unveils and Red is faced with the consequences of allowing his vindictive feelings to take over him.
This unique novel featuring hand-painted images offers colorful visuals with vivid scenes leaping out of the pages to engage its reader.  It is an adventure that causes one to interpret the underlying moral values within an epic background of stunning imagery.
Yahgulanaas is a visual artist, storyteller and public speaker. Born and raised on the north Pacific islands of Haida Gwaii, he is known as the father of the Haida Manga genre. Having a deep passion for his Aboriginal cultural roots as well as having an extensive history in political activism, he combines the two with his artistry to produce compelling works of art. His work has been enthusiastically received internationally and is published in Japan, Hong Kong, Taiwan, Macau, Spain, the United States and Canada. His other books Flight of the Hummingbird, A Tale of Two Shamans and Hachidori boost bestsellers in Japan.
Yahgulanaas lives in Canada with his wife and daughter, close to the Two Sisters mountains on an island in the Salish Sea.
Red: A Haida Manga was published by Douglas & McIntyre and is available from local and on-line booksellers. Click here to learn more about Michael Nicoll Yahgulanaas.
This 108 page book is a beautiful and intriguing original piece of literature that is sure to thoroughly captivate the reader. These pages can actually be ripped out of the book and rearranged to form a dazzling  4 metre-long mural.
A book publisher and an author talking about ripping pages out of a book might seem counter-intuitive, but Michael actually encourages it! You'll need 3 copies of the book. Here's a YouTube video that shows how the whole process works.
Review by Brandi Morin