A two-year pilot program co-sponsored by the Alberta government, Bow Valley College, NorQuest College, industry and Aboriginal organizations will pave the way for hundreds of Aboriginal workers interested in pursuing a career in the province's construction industry. The pilot will see the two colleges host the newly created Alberta Aboriginal Construction Careers Centres (AACCC), which will provide Aboriginal citizens the opportunity to receive employment training, counselling, job coaching and more.
When the announcement about the new pilot program was announced in mid-March this year, Premier Jim Prentice said he believed the newly created pilot will achieve "enormous success" as it helps to put Aboriginal people to work and ensure that they have an opportunity to participate in Alberta's ever-developing economy.
"There will continue to be construction jobs in Alberta, and in significant numbers," the Premier said during a March 17 press conference. "What these pilot projects allow us to do is ensure that First Nations citizens, Aboriginal citizens from Alberta receive the job training and the skills training that will meaningfully benefit their opportunities in the construction industry."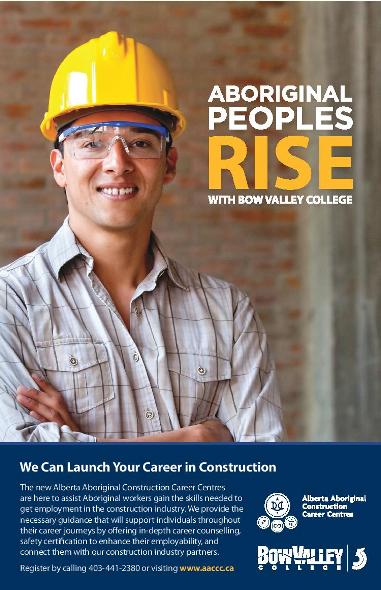 The Premier said the new centres will enable Aboriginal Albertan's "to get skills training and job placements, and be an equal part of that economy. There's a lot of investment in and around the oil sands that will continue. In addition, it's important in these difficult times that we maintain our commitment to build social capital, schools, hospitals and the like. We'll continue to see significant government investment in these types of facilities."
The premier also said that "in an industry that is critical to the growth of our province, these career centres are opening doors of opportunity for Aboriginal people and answering the industry's need for skilled workers."
Bow Valley College President and CEO, Sharon Carry, said that the "Alberta Aboriginal Construction Career Centre will fill a gap in connecting Aboriginal job seekers directly with the construction industry. Through fast, focused interventions, such as job preparation and skills training, these centres will play an important role in helping to address projected skilled labour shortages in the construction industry and connect Aboriginal peoples to well-paying jobs."
The Alberta government is contributing $1 million to the project, with additional funds coming from the colleges, industry, and Aboriginal stakeholders.
In an interview with Beacon News publisher Markham Hislop, Craig Loewen, the spokesperson for Alberta Innovation and Advanced Education, said that "in the [oil and gas industry], there's a lot of construction jobs, so that means a lot of opportunities. Quite a few oil and gas projects are located close to historic Aboriginal land, and sometimes companies broker deals where they will hire Aboriginal workers."
Simon Ross, the Coordinator of the AACCC at Bow Valley College, said he is already working with businesses, organizations, Aboriginal leaders, communities and various agencies to ensure that the program completes its goal to have at least 300 Aboriginal participants in meaningful constructions jobs in Alberta during the next two years.
"We already have some Aboriginal workers involved in the program and we are currently establishing partnerships with members of the construction industry," he noted. "People who are entering the construction field for the first time will need different training than those who have more experience. Training is just a part of what we hope to achieve; connecting Aboriginal job seekers with the construction industry is the main goal of this initiative and every Aboriginal person is welcome to apply."

Ross said he recognizes the fact that there will be some barriers to overcome, but is encouraged by the initiative and confident that the construction industry can use the added manpower.
"There is a great deal of opportunity in the construction field, whether it's in the oil and gas sectors, in the building trades, or on reserves where housing shortages need to be addressed. The new ring road project in Calgary has many opportunities for qualified construction workers who want to succeed.
"Aboriginal people with a desire to enter the construction industry, either as a labourer, tradesperson or apprentice, can now do so," he assured. "This new initiative provides an outstanding opportunity for unemployed Aboriginal people in both rural communities and urban centres to embrace a career in the construction industry."
The Aboriginal Construction Careers Centre at Bow Valley College receives job opportunities from businesses, and then works to connect registered Aboriginal workers with those opportunities.
"We provide our clients with all the necessary skills they need to succeed; skills training, career counselling, and job coaching," said Ross. "We will connect clients with opportunities that match their goals, and then stay in contact with them following the job placement to provide ongoing support as required. Our goal is to get people started on a career in construction, and ensure their career flourishes."
"The first step on the path to a rewarding career in construction," assured Ross, "is to register at the Centre. We'll work with clients to develop a personalized learning map that will outline the steps needed to meet their career objectives."
For more information and to register for the Aboriginal Construction Careers Centre program contact the centre at[email protected] to set up an appointment with one of their career coaches. You can also call them directly at 403 441 2380, or register online at www.aaccc.ca to request an appointment with a career coach.
by John Copley