Reviewed by Deborah Shatz
(ANNews) – The high heeled Chuck Taylor sneakers with gorgeous beaded First Nation themed embroidery on the cover of Dawn Dumont's third novel entitled "Glass Beads" is a heads up that the pages to follow will be filled with a dark but daring story. And the 272 pages that follow definitely live up to the expectation.
"Glass Beads" is a coming of age novel by Dumont that tells a story about four First Nations young people and their relationships to one another from 1993 to 2008. The book is made up of twenty short stories that interconnect the friendships of — Everett, Nellie, Julie, and Taz — as the group evolves over two decades against the cultural, political, and historical backdrop of the 90s and early 2000s.
Glass Beads is an easy read but the subtext just beneath the storyline is deep and disturbing. The dialogue is fast paced and the events that occur demonstrate the harsh and horrifying realities that face many Indigenous young people living in First Nation communities across Canada. These experiences leave scars that are very difficult to overcome.
The book tells an engaging story about four people growing up Saskatchewan but more than that it tells the story of the turbulent systemic injustices that First Nations people had to face during that time period (and still do) as a matter of basic survival. Much to Dumont's credit, she tells the story using voices that are relatable and likeable – so it is an easy read. However, each story contains important references to the political events that were taking place at the time the story is unfolding.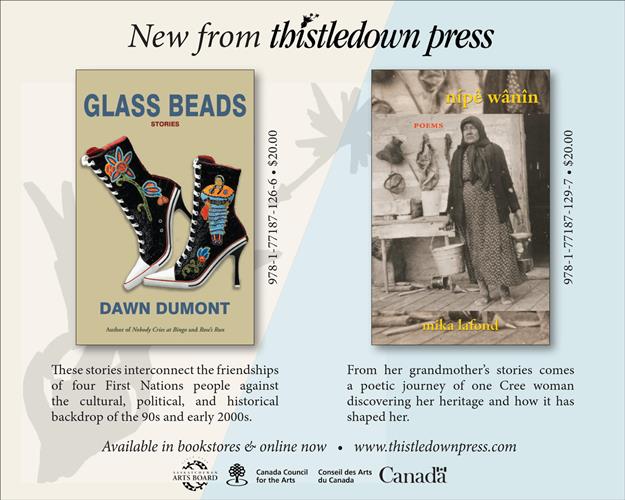 The book is primarily written in the voice of Nellie, who left her home on the rez with top grades to attend university. She is hard working, confident in her academic skills and from a stable family but she is filled with self-doubt and low confidence in her personal life and about her looks. Her friend Julie, on the other hand, is slim and beautiful; abandoned by her mother, she meets Nellie as she is running away from a foster family on the rez. Both characters are fundamentally flawed as individuals and as friends.
Everett is the from the same rez, also abandoned by his parents and raised by an uncle. He is content to party and sleep around and take advantage of whatever falls his way. Taz is from the north and meets Nellie at university; he is smart, and driven to succeed in First Nation politics but he too likes to drink to excess and has violent tendencies. Everett and Taz are also likeable characters who are fundamentally flawed.
These young people are among the first of their families to live off the reserve for most of their adult lives, and must adapt and evolve. In stories like "Stranger Danger," we watch how shy Julie, though supported by her roomies, is filled with apprehension as she goes on her first white-guy date, while years later in "Two Years Less a Day" we witness her change as her worries and vulnerability are put to the test when she is unjustly convicted in a violent melee and must serve some jail time. As well as developing her characters experientially, Dawn Dumont carefully contrasts them, as we see in the fragile and uncertain Everett and the culturally strong and independent but reckless Taz.
As the four friends experience family catastrophes, broken friendships, on again – off again romances and the aftermath of the great tragedy of 9/11, readers are intimately connected with each struggle, whether it is with racism, isolation, finding their cultural identity, or coping with the wounds of their upbringing.
Dawn Dumont is the award-winning author of "Rose's Run" and "Nobody Cries at Bingo." She is also a columnist for the Starphoenix, LeaderPost and Eaglefeather News. She works full time in Saskatoon and is the proud mother of a precocious little boy. She recently wrote a youth play called, "Toe Tag Crew" for the Gordon Tootoosis Theatre that toured across Saskatchewan.
"Glass Beads" was published May 1, 2017 by Thistledown Press (ISBN 978-1-77187-126-6). It is now available online and in book stores.