by John Copley
(ANNews) – A Canadian Armed Forces' initiative is transforming lives and opening the doors to a military career for many young men and women.
Each summer, Indigenous youth from across Western Canada and northwestern Ontario travel to CFB Wainwright to participate in the Bold Eagle summer employment program. Taught by professional soldiers, the program helps to develop physical fitness, self-discipline, self-confidence, teamwork and leadership skills. It includes a four-day cultural camp, administered by First Nations and Métis Elders, followed by a five-week basic military qualification course.
"Many Bold Eagle applicants have never been off the reserve, never been to major city," says program recruitment coordinator and Indigenous veteran John McDonald. "And then we have applicants from the cities who've also never experienced this type of program or the military-style training it embraces. The cultural camp eases the transition."
There's perhaps nothing a military veteran likes more than seeing the next generation take up the call and explore the possibilities of serving for their country. In addition to traditional combat roles, recruits can pursue careers in engineering, telecommunications, health care and advanced equipment technical support.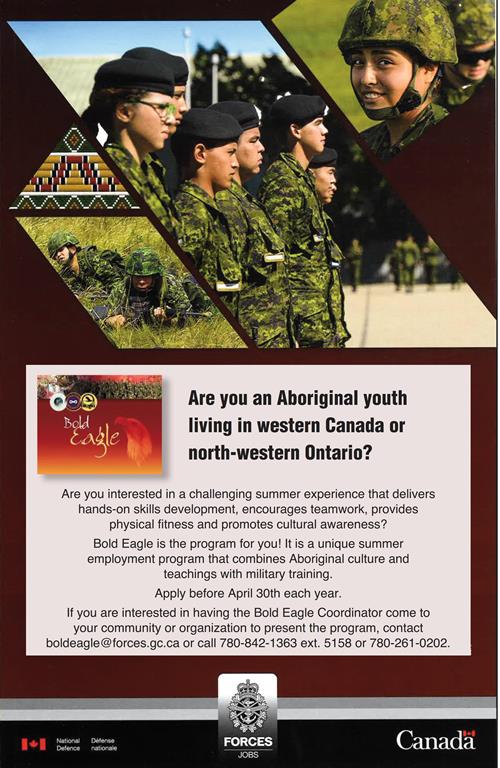 "When I joined the Aboriginal forces as a civilian, our job was to find ways to help make life a little easier for the serving Aboriginal servicemen," says McDonald. "Fortunately, we had a lot of wisdom because there were a lot of Elders in that group. One of the goals was to find opportunity for Aboriginal youth and to encourage Aboriginal youth to consider military careers. That's how the Bold Eagle program came about."
Since its inception in 1989, the Bold Eagle program has hosted over 1,300 youth. For more information, visit
www.forces.gc.ca
.