By Terry Lusty
(ANNews) – In 1962, the Boys and Girls Clubs of Canada was founded to assist in the development and well-being of children and youth. A decade later saw the evolution of a similar organization known as Big Brothers Big Sisters, and by 2011 the two parties amalgamated to become the Boys and Girls Clubs, Big Brothers Big Sisters of Canada.
Headquartered today in Edmonton's beautiful river valley, the organization continues to rely heavily on volunteerism.
According to Showna Blanchard, Mentoring Manager, they have a staff of about 100 that is complemented by over 3,000 volunteers.
Blanchard is quite proud of their volunteers and always encourages others from the public to consider joining their ranks for the sake of the children and youth that they serve. In reality it's a blessing and benefit to both parties. The volunteers do a good deed and derive plenty of self-satisfaction from their efforts while the children and youth acquire a "brother" or "sister" who visits them, usually for a few hours one day a week, and takes them on outings, such as to a sporting event, music, art, theatre or concert.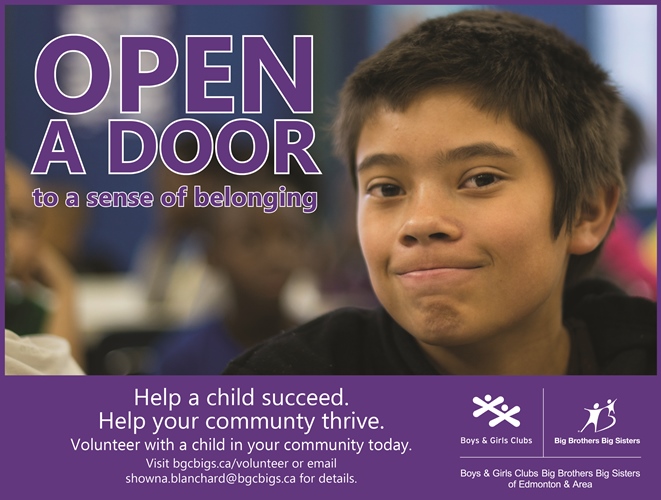 "We do a matching process," explains Blanchard. Children and youth are paired with a volunteer who has similar interests and/or experiences to their's so that compatibility is achieved.
"We ask that the volunteer commit to a year in the Community Based Program. They can ask for longer," she adds. And, if a match doesn't really work out, "we ask for a re-match." Because clients can hail from some very diverse backgrounds, the many volunteers, likewise, possess varying and diverse histories, knowledge and skills that assist them in mentoring the children or youths.
One of the mentors, for example, is 25-year-old Andrew, a First Nation male originally from north-central Alberta. He mentors an 11-year-old boy on a one-to-one basis and has been paired with him now for about one year.
Just how long Andrew will remain with the organization is unclear. "I'm kind of playing it by ear," he confesses. "It depends on circumstances such as work, education or relocation."
Andrew himself was initially attracted to Big Brothers after chancing upon an Edmonton Police Service information booth. They were requesting volunteers to work with children and he started talking with them about it. The rest is history.
And, he'd been well prepped for the role. He had a fine mentor in the person of his father as well as other individuals who he'd learned from. His dad was always big on things like honesty, respect, responsibility, etc. Other role models in his life taught him the value of hard work, how to make crafts, what is good behaviour and attitudes, and so on.
One thing he really appreciated was "being a positive influence" not to mention the joy he would see on his young brother's face. Then, too, there was the good feeling he got from "hanging out with a great kid" and simply "enjoying one another's company."
A few of their outings have included, "a nature hike along Whitemud Creek and going biking a lot." He likes the fact that his mentee is "open and energetic." In short, he is such a joy to be around.
Andrew is able to accommodate a number of activities that his little brother may suggest because his background includes: farming, bush life, badminton, basketball, hockey, soccer, and more.
When asked what advice he might have for others contemplating volunteering as a Big Brother, Andrew cautions, "Don't just jump in and do it. It's a big decision, you're a mentor. It's a big commitment. It takes a good part of your time."
As for himself, Andrew feels quite fortunate. He's never felt mismatched with his mentee. "He (the mentee) was excited to get a mentor, happy to have a Big Brother." This was especially so in that his dad was not around that much because he worked out-of-town. Because of this, the mentee never really had a constant role model but Andrew was a great substitute.
Blanchard points out that the organization does not sponsor things like sport camps but they can refer children to them. Furthermore, she states, the Hockey Heroes program is a "popular one." So is soccer.
When pressed further, Andrew admits that he does find some aspects of mentoring that he considers "tough.".
"Sometimes," he explains, "he (the mentee) doesn't like to end the outing when I have to leave of do something else."
As for children with special needs, says Blanchard, "we don't train our volunteers; if we can't match someone, we help find someone that can."
They do, however, provide a degree of in-house training for the Youth in Care program in areas such as advocacy, Child and Family Services, etc.
Additionally, among the staff, there are a fair number who possess a social work degree/background and they are privy to Aboriginal awareness and aculturation.
In northern Alberta, Big Brothers Big Sisters also operate from Cold Lake, Lac La Biche, Morinville, Parkland, Strathcona and Vegreville. These seven locations serve almost 5300 children and youth aged six to twenty-four. Of these, approximately 16 percent self-identify as Indigenous, says Blanchard, while only three percent of the volunteers are of Indigenous background.
The main supporters and/or funders include: Edmonton Community Foundation, Immigration Refugee Citizenship Canada, Region 6, Rogers, Stollery Charitable Foundation and United Way as well as Canadian Western Bank, Edmonton Public Schools, Manulife, Melton Foundation, Northlands, Sports Canada, Sun Life Financial, and more.
For more information or to volunteer, visit bgcbigs.ca/volunteer or email [email protected].