By Marcel Fayant
(Edmonton) – Are you suffering from Muscular Chronic Pain in your shoulders, back, neck, leg, knee pain, and more? Are you finding it difficult to move? Are you sad and bitter?
I know what it's like, I've been there with a lot of injuries in muscles basically from neck to foot. When you let your body go for a long period with muscular problems, such as: repetitive use, injuries, etc., they gradually spread throughout your whole body and they can be hard to fix, as they get tight and knotted up, leading to much physical and mental pain.
I went to Asia to get this Bamboo Tapping treatment done on me after researching it. I was a painful and muscular mess. I was skeptical at first, but I believe in this treatment after I had it done to me. It fixed up some of my problems and gave me back movement in some muscles that I thought I would never get back, and it lessened some of my terrible pain. Is it the perfect cure-all? No, but I found it to be beneficial, and one of the best treatments out there.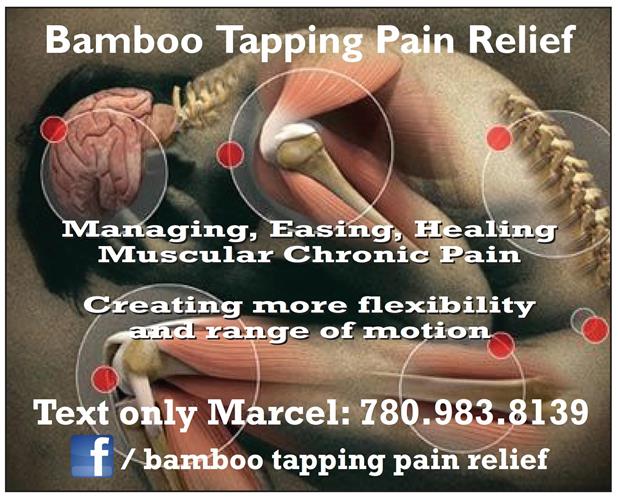 Bamboo Tapping is "an Ancient Chinese Method – an holistic treatment that can help in managing, easing, and healing muscular chronic pain. It can create better flexibility and range of motion."
Even if you're in your later years of 50-60+ this treatment can be helpful. It can help injury plagued athletes.
I have been certified by Master Sim, so I can offer this ancient treatment. I want to gain more experience and try to help people dealing with muscular chronic pain. The treatment can be 'painful,' but it can make you feel better, plus, and you can get that good night sleep you've been missing.
I remember a few weeks ago, I was watching a local TV news story about a woman who lost her husband to opioid usage, because he had severe back pain. I wondered if this treatment could've helped lessen some of his pain. I want to help people lessen their dependency of using painkillers, and thoughts of suicide. Some painkillers can cause serious internal organ problems over time; I want to give people the opportunity to try and have an active lifestyle once again.
Over the past year from 2016-2017 I've volunteered my time by offering a free session by making use of online postings. I have done this treatment on close to a dozen people with various muscular problems and have gotten back some positive feedback. The treatment isn't for illness, disease, strokes, or injuries that have recently happened. I am looking for a Book Publisher, and hopefully, to make a documentary film on it.