Local Aboriginal Folkies have been cheering with delight since the announcement that Ben Harper will be closing out the mainstage on August 7, the first night of what is bound to be a superb Edmonton Folk Music Festival. Harper's father is of Cherokee ancestry so it will be great to have some Aboriginal presence on the hill.  The fact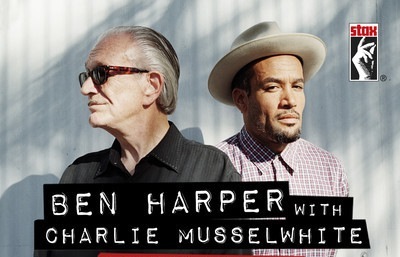 that he is performing with renowned harmonica master Charlie Musselwhite is simply as good as it gets. The Grammy Award winning blues duo will deliver a striking mix of blues, gospel, roots and R&B that is guaranteed to pulsate through all of downtown Edmonton.
Every summer, the Edmonton Folk Music Festival brings a taste of paradise to our city with a unique combination of Gallagher Park ambiance, a wide variety of musical genres and a wonderful camaraderie that adds up to a total festival experience right in the heart of Edmonton.  This year's festival, August 7-10, with 68 groups and solo artists, will no doubt carry on with the exceptional tradition.
"I think we have become, in our time, as fine a festival that there is in the Western world,"  said festival producer Terry Wickham about the 34 year old event. "It really truly is Edmonton coming together to put on this show."
 EFMF recently announced their mainstage lineup and it's sure to be an outstanding festival!
Friday night will bring the popular USA band Los Lobos performing conjunto, blues, country, Tex-Mex, ballads, folk and rock.  They'll be followed by Ireland's James Vincent McMorrow and then the sensational, bodhran playing, rockabilly vocalist Imelda May will close out Friday night.
Saturday night's lineup includes Elephant Revival performing blue grass to new grass and celtic to gypsy folk. They'll be followed by the joyful Canadian vocalist/instrumentalist Basia Bulat. Next on the line up will be Ireland's brother duo Hudson Taylor performing beautiful harmonies to folk music and Beatles classics. Michael Franti and Spearhead will close the night. He is an American poet, musician, composer and ex Edmonton resident who fronts a band that blends hip hop, reggae, folk and rock.  He is also an outspoken supporter for a wide spectrum of social justice issues.
Sunday night will bring five multi-talented women called Della Mae to the mainstage, combining century's worth of musical influences with emotionally tough, undeniably modern songwriting sensibility. They will be followed by singer songwriter Phosphorescent whose critically acclaimed country-tinged folk songs are peppered with some experimental textures.  His most recent album Muchachowas was named best album of 2013 by Paste magazine. A folk fest favorite – Blue Rodeo – will close the festival on Sunday night and perform their critically acclaimed Five Days in July.
For a complete list of 2014 performers and for ticket information visit edmontonfolkfest.org. Tickets go on sale June 7, available through ticketmaster, the website and in person at Telus Field. Tickets usually sell out fast so don't wait too long to buy your tickets.