by John Copley
The 2016 Belcourt Brosseau Métis Awards (BBMA) gala set a new attendance record this year when more than 650 guests made their way to the Ramada Inn and Conference Centre in Edmonton to participate in the annual celebration that awards deserving Métis students with scholarships that will help them pursue their educational goals. Among those attending this year's evening of recognition and award presentations were dozens of award recipients, more than 60 new sash recipients, family members, 100 alumni, Elders, Founders, corporate sponsors and dignitaries.
"We enjoyed a remarkable turn-out again this year – the biggest in our history," smiled BBMA Marketing and Communications Coordinator, Theresa Majeran.
"It was a perfect commemoration that honoured the 15 years that the Belcourt Brosseau Métis Awards have been supporting our students. To see the smiles and hear about the success of all the alumni that joined us this year was truly inspiring to everyone in the room. It was especially rewarding to see the new graduates, this year's award recipients, who will follow in the footsteps of their brothers and sisters."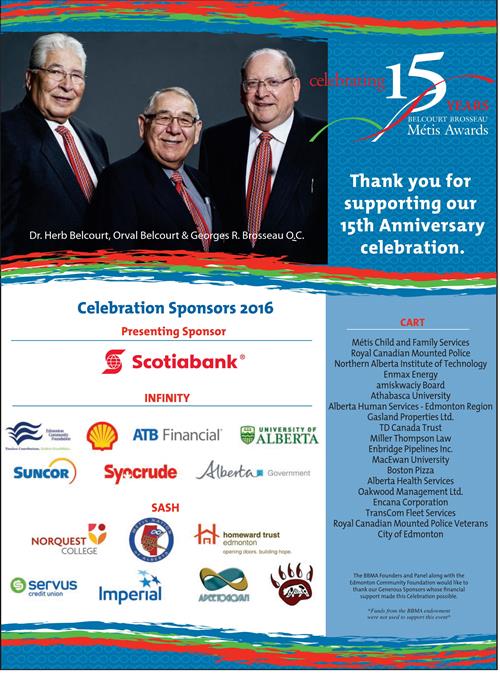 Founded in 2001 by Dr. Herb Belcourt, Orval Belcourt, and Georges R. Brosseau, Q.C., the Belcourt Brosseau Métis Awards support the educational dreams of Métis youth and mature students in Alberta. During the past decade and a half nearly 1500 awards have been provided helping Métis people with the opportunity to complete their varied educational goals. Those opportunities, noted Majeran, come via a "unique one-of-a kind initiative, a program provided by the foresight and wisdom of the BBMA Founders and the ongoing partnership they share with the Edmonton Community Foundation."
The annual celebration began with a Grand Procession of the BBMA students, noted Majeran. "The bagpipers started the anniversary night off with a bang when the 100 alumni students and former award recipients led the way into the grand ballroom, accompanied by the attention-getting and delightfully delivered music presented by the Edmonton City Police bagpipers and drummers."
A variety of well-known dignitaries, sponsors and special guest speakers took to the podium during the evening gala.
"Our co-emcee, alumna Lisa Square received her Métis Sash from Elder Marge Friedel back in 2007 during one of our first events," noted Majeran. "She is currently the Director of Marketing for APTN in Winnipeg, Manitoba. We were all very pleased to note that Alberta's Indigenous Relations Minister Richard Feehan spoke during the event, as did Deputy Minister of Health Dr. Carl Amrhein."
Minister Feehan said that "these awards create a positive ripple effect for Metis people.  Today's recipients will become the leaders and entrepreneurs of tomorrow. Belcourt Brosseau Metis Award recipients make a real difference in their communities and in Alberta's economy (and) together, we are inspiring others to follow their dreams."
The 15th Anniversary event saw the return of many BBMA past recipients, sash holders and new award recipients who made their way back to Edmonton to participate in another of the organization's milestone moments. It was like a family reunion of sorts.
"Special highlight moments took place over the course of evening," noted Majeran. "One of these highlights came when Shaun Emes, a BBMA alumni who has gone on to become a lawyer (currently working in labour relations) addressed the gathering. His hard work and dedication paid off when he was called to the Bar in 2010."
Emes returned to Edmonton from Calgary for the annual celebration and reunion so he could present three historical Métis Sashes to the BBMA Founders. The lives of the Métis have been woven together from a variety of cultures, traditions and beliefs, including the significance of the Métis Sash.
The Louis Riel / Coventry Historical Sash was presented to Dr. Herb Belcourt. "This sash," explained Majeran, "was hand-made on a loom using sheep wool. Its design is a replica of the Coventry style sash worn by Louis Riel. His original sash is currently on display at the Musée de Saint-Boniface Museum."
The Festival du Voyageur Sash, which traces its origins back to circa 1885, was presented to Georges R. Brosseau Q.C. This unique sash "is a Métis version of the Assomption Sash with a black border representing the Temps Noir or dark time, a period in history that began around 1870-1885, when the Métis, considered traitors by Canada's government, had to hide their true identity."
The third sash presented by Emes, the Jean-Baptiste Lagimodiere Assomption Sash, was presented to Orval Belcourt. Anne-Marie Gaboury, the first white woman in Western Canada, and Lagimodière were the grandparents of Louis Riel.
"This unique and well known sash celebrates the fur trading era and is especially meaningful to canoe enthusiasts who want to relive the glory days of the river highways," explained Majeran. "The colours were inspired by American-residing First Nations who believed that the more colourful sashes were in higher demand within these communities."
Special guest Tony Belcourt, a Michif leader and former head of the Métis Nation of Ontario performed a Drum Song that had been gifted to him.
"This Sun Dance Song was a real hit," smiled Majeran. "The song is titled "Many Eagles Thirsty Dance" and it was formally given to Tony Belcourt, then-President of the Metis Nation of Ontario, by the keeper of the song, Elder Francis Eagle Heart Cree, a great grand-son of Many Eagle Set. Tony is the keeper of this song. He calls it "The Michif Song."  It represents the bringing together of Indigenous Nations who share blood ties, lands, customs and values.  It was first "brought down from the Thunder" and given by Gitchi Manitou to Many Eagles, a Metis leader, at a Sundance held at Buffalo Lodge Lake near Belcourt, North Dakota in about 1820."
The Sash Ceremony presenters, Elders Betty Letendre and Jerry Wood congratulated and presented sashes to the new recipients this year. Scotiabank was the Sash Ceremony presenting sponsor and once again presented several iPad giveaways to the 2016 sash recipients.
Dr. Herb Belcourt spoke about the importance of family helping family; he acknowledged the sponsors, donors, volunteers, former award recipients and scholars who've gone on to enjoy successful careers, noting that "today we are seeing the children of our alumni beginning their educational journeys, and we will be here for you."
Entertainment, noted Majeran, was a prominent highlight this year. "We expanded on the successful dance piece we put together for the 2015 celebration," she explained. "It was an extension of the 'Telling the Story of the Métis.' It was a production created by Sarah Pocklington and it included a video trailer showcasing each dance, from the First Nations Chicken Dance, to a Scottish bagpiper with the Highland dancer, a French step dancer and last but not least, the Métis Jig. The grand finale was performed live on stage, with everyone dancing together in unison; this production was partially funded by an Alberta Arts Foundations grant to produce a cultural video."
BBMA alumna, Laura Caden, was an award recipient in 2008 while attending the University of Alberta. She graduated with a Bachelor of Science with a Specialization in Environmental Earth Science in 2010.
"When I was notified that I'd been selected as a BBMA award recipient, I was thrilled," she remembered. "The award helped me financially and it strengthened my cultural connection with the Métis community. I have been the Environmental Lead at Burns & McDonnell Canada since 2014. This position has been the most challenging, yet rewarding endeavour of my professional career …. and I'm not just saying that because my boss is in the audience."
When the laugher faded, she added: "Each one of our recipients here today has a story to share. Stories that inspire and demonstrate everyone has had obstacles that test their adversity and drive to achieve their goals.
"When I think about my success, the one word to describe it would be resiliency. To be resilient means that one must overcome obstacles and hurdles in this non-linear path of life.
My transition from high school to college was not seamless. In fact, there were many obstacles in my way. These included financial and personal hardships, but I always had to keep the end goal in mind. One piece of advice my parents gave me, was that no matter what, no one could take my education away. I was determined to succeed."
Caden spoke about the various jobs she'd had since turning 12 years of age, likening them to a medley of experiences that allowed her the insight and opportunity to move ahead by achieving her educational goals. Everyone, she noted has to start somewhere; no one is handed the career job of choice. It's something you have to work for."
"Even the most seasoned professionals, bosses, and executives had to work their way into their careers," she stressed.
"For our leaders in the room, I encourage you to share your first seven jobs with your employees. Take the opportunity to make yourself more relatable to junior staff entering the work force. As we journey through the first seven jobs and beyond, we are developing the 21st century skills that employers are looking for.
"To the recipients in this room today, I say – you have been given an opportunity. I want you to think about one of the most meaningful contributions you can make right now while in school – and remember, I know what it's like to be a broke student living off Kraft Dinner and searching out every free lunch event on campus.
"It's not going to be your financial contributions that win your future – it's going to be the time you spend, the connections you make volunteering and participating, the friendships you make, and the doors your experiences will open during your career.

"Be passionate, be persistent and try to make a positive difference, not just in your own life, but in the lives of others as well."
Majeran wrapped up the evening by thanking "the large and ever growing group of dedicated volunteers, including students, parents and family and community members. Without your support celebrations like this one would not be graced with so much passion."
Theresa Majeran is available to visit your community, organization or school to talk about the awards and she welcomes inquiries about contributions from companies and individuals who would like to get involved in helping to improve the lives and the opportunities of Métis students. You can contact her by calling 780-977-5515 or by email to: [email protected].