by John Copley
(ANNews) – The Belcourt Brosseau Métis Awards annual celebration will be held at the Ramada Edmonton Hotel & Conference Centre (11834 Kingsway NW, Edmonton, AB) on September 23, 2017. The event is still six months away but event organizer and BBMA Marketing and Communications Coordinator, Theresa Majeran, said she wants to remind the public, and especially Métis students and their families, that time flies by and to qualify for this year's awards, applications need to be submitted online no later than March 31 – that's the deadline each year.
"If you are a serious student who needs financial assistance in order to begin or complete your education, now is the time to get your application in," emphasized Majeran in a recent interview, noting that it's also important to remember that "we only accept online applications at www.bbma.ca."
2017 promises to be another great year for the popular awards initiative and Majeran said she expects to see similar numbers to last year's applying for funding. 2016 was a year that saw the annual gala set new attendance records and awards presentations at the Sash ceremony.
"We expect to see about 300 applications this year," she noted, adding that "last year more than 150 students received awards between $2,000 and $10,000. In 2016, the growing fund provided approximately $625,000 in tuition funding to Métis students.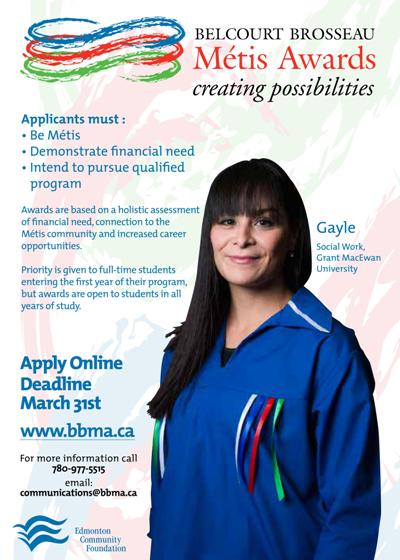 The September 23, 2017 awards gala and banquet will once again be the highlight of the year for the organization, which has been celebrating the achievements of deserving Métis students since 2002 by providing scholarship funding that will enable them to begin or continue their post-secondary education in a college or university of their choice.
"We are very proud to note that since 2002, the Belcourt Brosseau Métis Awards program has provided awards to more than 1000 Métis Albertan students studying at institutions across the province. These awards are the largest non-governmental source of funding for Métis students in Canada; to date more than $6 million has been awarded to deserving students."
Alberta has the largest Métis population in Canada; according to the 2011 census nearly 100,000 Albertans have been identified as Métis, a number that has almost doubled over the past decade. Majeran said that the vast majority of Métis students who receive this educational award are prone to staying in Alberta after they've graduated.
"The Métis population is one of the fastest growing populations in the country," noted Majeran, "and Alberta's Métis population continues to grow and thrive.
"Our graduating students are making very positive impacts in their communities, on their job sites and in the province as a whole. More than 96 percent of students who are chosen for an award complete their funded year of study."
The unique BBMA awards program – established in 2001 by the directors of the Canative Housing Corporation, Orval Belcourt, Dr. Herb Belcourt, and Georges Brosseau Q.C. – has always been successful and in fact continues to grow each and every year.
To qualify, applicants must be of Métis ancestry, demonstrate financial need and intend to pursue a qualified program.
"The application process focuses on three main criteria for students seeking financial help to continue their education," noted Majeran. "Financial need is a prerequisite; another question we ask deals with commitment to community and culture. We also like to know what a student's career goals are and how they plan to pursue them.
"Awards are based on a holistic assessment of financial need, connection to the Métis community, likelihood of improved opportunities, personal circumstances, and references. Awards cover a portion of education-related costs such as tuition and fees. Priority is given to students entering their first year of post-secondary education."
In 2016 the BBMA gala set a new attendance record as more than 650 guests made their way to the Ramada Inn and Conference Centre to participate in the annual celebration. Among those attending last year's evening of recognition and award presentations were dozens of award's recipients, more than 60 new Sash recipients, family members, 100 Alumni, Elders, Founders, corporate sponsors and dignitaries.
Founded in 2001 by Dr. Herb Belcourt, Orval Belcourt, and Georges R. Brosseau, Q.C., the Belcourt Brosseau Métis Awards support the educational dreams of Métis youth and mature students in Alberta. The awards and the opportunities they create, noted Majeran, come via a "unique one-of-a kind initiative, a program provided by the foresight and wisdom of the BBMA Founders and the ongoing partnership they share with the Edmonton Community Foundation."
The Belcourt Brosseau Métis Awards initiative was inspired and created by business partners Herb Belcourt, Georges Brosseau Q.C., and Orval Belcourt when the successful housing venture they created together in 1970 was liquidated in 2001. Together they owned and operated Canative Housing Corporation, a business they built together in order to provide affordable housing for Métis families in both Edmonton and Calgary. When the business was sold the three partners put nearly $13 million into an endowment fund that would help enable young educationally-minded achieving Métis Albertans an opportunity to pursue post-secondary education.
Over the years many contributions have since come from partners such as Telus, Enbridge, Syncrude, Alberta Advanced Education, Alberta Health Services, Chris and Pat Cowden, the Edmonton Shriners, Enbridge Pipelines Inc., Kiwanis Club, Naomi Rau Family, Alberta Ministry of Health, Suncor, Shell Canada and many other individuals, organizations and corporations.
There are many links to a strong fence and Majeran said that "there are also many strong links that bind the BBMA Awards process and ensure its success year after year. One of those links is the BBMA Awards Panel."
The Panel, she noted "is comprised of Métis members from the community who are committed to distributing the available funds each year. The Panel includes Kathryn Brosseau (Chair), Dr. John Brosseau, Harold Robinson and Barry Belcourt. In reviewing the applications, panel members are often quite moved by the stories of hopeful Métis students in their quest for higher education. They have a desire to grow the fund itself and hope in doing so they will be able to fund more deserving Métis students. The Panel is committed to celebrating the promise and success of each Métis student who receives BBMA funding to support their post-secondary journey."
In a recent interview Founding Member Herb Belcourt said the awards program "has grown bigger than our wildest dreams could ever imagine. We appreciate and thank every individual, company, corporation, government department and others who have contributed to the fund and have hired young Métis graduates after they've completed their studies. We are honoured and very proud to be able to help our Métis people fulfill their educational goals because with an education you can achieve almost anything you can imagine, including making very positive contributions to our society as a whole.
"Young men and women who have received awards from the BBMA have gone on to achieve great things. As a result of the awards program we are seeing our young people grow to become doctors, lawyers, mechanical, electrical and civil engineers, teachers, nurses, social workers, accountants, dentists, aerospace engineers, aviation mechanics, pharmacists, and much much more."
In 1951, the City of Edmonton initiated a unique program that celebrates the outstanding accomplishments of Edmontonians. Today that initiative is known as the Salute to Excellence program and its expanded mandate includes recognizing and honouring outstanding citizens who, through their participation in arts and culture, community service, and sports, or through extraordinary service to their communities have made exemplary contributions to the quality of life in Edmonton. In June, the city's Salute to Excellence Council will host a formal evening presentation that inducts outstanding Edmontonians into the City of Edmonton Arts and Culture, Community Service, and Sports Halls of Fame. Herb Belcourt, Orval Belcourt and Georges Brosseau Q.C. are among those who will be recognized during this year's Hall of Fame induction ceremony.
"They are so very deserving of such an honour," emphasized Majeran, who said that through the Founders' initial donation and the ongoing generous donations and participation of Albertans from every walk of life, "Métis students who otherwise might not be able to complete their education and reach their full potential are able to do so; all it takes is the will to win, the desire to get ahead and a set of goals to achieve. Our graduating students have those abilities, those desires and they are changing the educational and economic landscape and setting examples that more and more young people are following with each passing year."
Remember, the deadline for applications is March 31. If you can't access the information online at bbma.ca, call Theresa Majeran at 780-977-5515.