(ANNews) – Canadian youth and young adults of Aboriginal ancestry – status, non-status, Inuit, or Métis – have the chance to showcase their artistic and writing skills in a contest until the end of March. The Aboriginal Arts & Stories contest, presented by Historica Canada, invites individuals aged 9-29 to submit written works or visual art exploring aspects of Aboriginal history and/or culture.
The contest receives hundreds of entries from young writers and artists across the country. These entries are judged by a jury of accomplished Aboriginal authors, artists and community leaders who select the winning submissions – including acclaimed writers Lee Maracle, Drew Hayden Taylor and Brian Maracle, and artist Maxine Noel. Winners are published locally and nationally and have their works permanently displayed on the Aboriginal Arts & Stories website. They also have the opportunity to attend a winners' celebration where they receive cash prizes.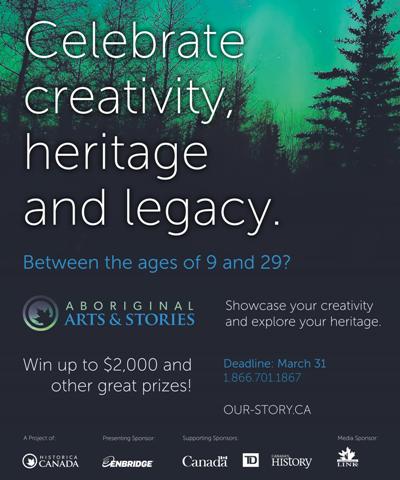 The contest, billed as "the largest and most recognized art and creative-writing competition in Canada for Aboriginal youth" and young adults, debuted in 2005 as the Canadian Aboriginal Writing Challenge. Several years later the contest evolved from being solely a creative-writing program to one that included artistic contributions in photography, painting, and drawing.
Since its inception, the competition has attracted more than 2500 participants from Canada's provinces and territories. There were more than 530 entries last year.
Arts & Stories is divided into three age categories: 9-13, 14-18 and 19-29.
First-place winners in both arts and writing in the two older age categories will receive $2,000 each and a trip for two to the award ceremony. Writing winners get their stories published in Canada's History Magazine, and arts winners receive an opportunity to exhibit their work.  New this year, Aboriginal Arts & Stories has partnered with The Banff Centre to provide the Senior Writing winner (age 19-29) with a week-long writer's residency.
 Second place finalists in age categories 14-18 and 19-29 will receive a $1000 cash prize and third place finalists will receive a $500 cash prize. There are additional smaller cash prizes for place finishers in both categories. In the 9-13 age category, one winner from both writing and arts will be selected as the Enbridge Emerging Writer and Artist. Each winner will receive a prize valued at $100.
Aboriginal Arts & Stories is also launching a new feature category for the 2015/2016 year that addresses the history and legacy of residential schools. Competition organizers are offering an additional two prizes for entries to the Aboriginal Arts & Stories contest that address the theme of residential schools. Entrants are encouraged to submit poems, stories, plays, 2D art, plans for a memorial site, the designs of a statue or monument, fictional biographies, autobiographies, stories of how the legacy has affected their families and communities, and more.
"Nodinamaad" Isaac Narciso Weber from the Henvy Inlet First Nation took the top art prize in the senior age category of the 2015 contest with his stunning entry entitled Spiritual Warrior . In a statement, the 27 year old who currently lives in Toronto explained that the piece is the "outcome of a contemporary artistic alchemical process."
Burnaby's Shaelyn Johnston also earned one of the top prizes in last year's competition. The 28-year-old University of British Columbia student placed first in the senior writing category.
Her prize-winning short story, Anishinaabemowin, addressed a personal desire to maintain a cultural connection, alongside larger issues of language loss experienced by many Aboriginal communities across Canada.
Eighteen-year-old Mary McPherson from Thunder Bay ON and the Couchiching First Nation took first place last year in the 14-18 art category. In a written statement she said her entry – entitled Cross Assimilation – depicted a struggle to understand a violent past through art.
She wrote, "This work is both a desperate attempt to portray assimilation and cross-assimilation to the viewer, as well as my own desperate attempt to understand colonization. The original idea for this piece was inspired mainly by the flawed education curriculum which I was subjected to. This curriculum covered up the evil works of Christianity in residential schools. However, this curriculum seemingly embraced Indigenous cultural practices – an example being hosting powwows, which I distinctly remember being an annual event in my elementary school.
"I was always disturbed by the way the curriculum embraced the beautiful feathers and powerful drums yet completely denied the history of the colonization of Indigenous peoples. To me, the curriculum was teaching ignorance among my peers. I hope the viewer, when looking at this piece, can get a sense of the idea I am trying to convey. As Indigenous peoples now struggle with the past of residential schools, the white colonizer seemingly glorifies and romanticizes a culture from the past."
Aboriginal Arts & Stories accepts submissions on a wide variety of subjects. Past entries have addressed themes of cultural identity, history and myth, spirituality, language loss and revitalization, the environment, family, and residential schools.
Aboriginal Arts & Stories is also a great tool for teachers to use in the classroom as a class project or extra credit assignment. The website our-story.ca has tips for teachers about how to encourage students and suggestions for students about how to get excited about writing and creating artwork that is meaningful to them. Group entries are accepted in the contest and they are eligible for a special prize. Past prizes have included a digital camera for the winning school or group.
The deadline for Aboriginal Arts & Stories submissions is March. 31. Hopeful writers and artists can submit their work online, by mail or by fax.  For more information visit our-story.ca.
The contest is run by the Toronto-based charitable organization Historica Canada, which identifies as "the country's largest independent organization dedicated to enhancing awareness of Canada's history and citizenship. For more information, visit historicacanada.ca.