The intricate designs of K'omoks First Nation artist Andy Everson have been delighting his home community and art lovers all across Canada for decades and now they are being minted onto gold and silver coins.
"It was an unexpected but pleasurable experience," explained Everson describing that he was approached out of the blue and invited to submit a design for the coins. The invitation was flattering but the result is quite breathtaking. His designs are now engraved on a new three-coin set recently released by the Royal Canadian Mint.
There are six coins in total; three designs and two different finishes.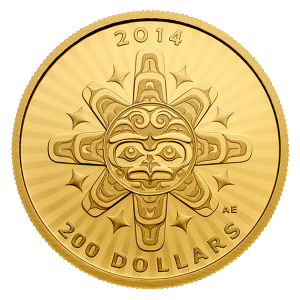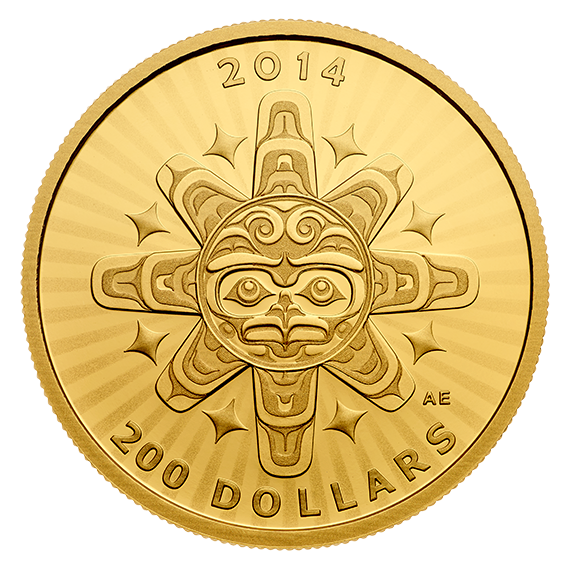 The first coin, released in September, and the only one of the three that is available in both gold and silver, was Interconnections: Land – the Beaver. The design represents the four seasons by incorporating raindrops, sun rays, maple leaves and a snowflake. Others in the Interconnections series include: Air  – represented by the Thunderbird and Sea – represented by the Orca.
All of the coins in the series are available in gold. The half ounce of pure gold coin has a denomination value of $200. Only 1500 coins in each series were minted; the sale price is $1299.95 (Cdn). The Land – Beaver coin is also available in a $20 denomination; the one ounce of "Fine Silver" hologram coin retails for $114.95 (Cdn). 7500 silver coins were minted. You can get better insight into the designs by checking out the collection on the Royal Canadian Mint's website; they are indeed beautiful to behold.
That the artwork of Andy Everson is now on a series of beautiful Canadian currency comes as no real surprise; he is a very talented artist and an astute businessman who cares greatly for his family, community and culture. Born and raised in Comox, British Columbia, Everson, who was named "Nagedzi", after his grandfather, the late Chief Andy Frank, says he owes much of his success to his family and their love and respect of their culture and traditions. His grandmother played a key role.
"I was very much a prodigy of my grandmother's good sense and uncanny intelligence," he smiled. "Her influence has been the driving force that has helped to enable me to uphold the traditions of both the K'omoks and Kwakwaka'wakw First Nations, an undertaking that has allowed me the opportunity to pursue other goals, meet other quests."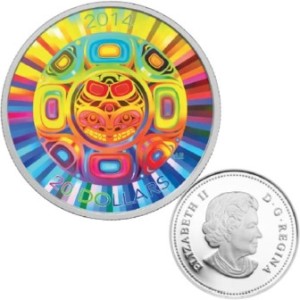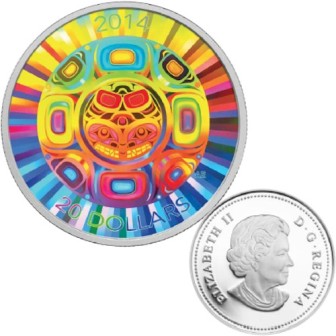 Though she has now passed on, Everson said that his grandmother's "strength still emanates and her words of wisdom still prevail. She provided a great deal of input into my life and into the lives of others; she was an inspiration to everyone who knew her."
That inspiration and leadership didn't go to waste. Andy Everson is the proof; his work, the reward. His art is magnificent, beautiful and bountiful.  It presents strong imagery, tells a tale, sings a song, passes on a legend, dispels myth and in general fills the spirit and the body with a renewed respect, if not reverence, for the magic, or rather the gift of magic that lies within every one of Andy Everson's masterpieces. And that is just the beginning because art is what Everson loves, but his passion is people, it's achieving his goals, it's making the world a better place for those who come next.
One of those goals is to help preserve Aboriginal languages.
"I believe that everyone who comes to Canada from another country wants to preserve their language and their culture and they are doing so; it is no different in Aboriginal communities. We want to see our languages continue; we want our cultures to grow and prosper. Maintaining languages is very important; it is a part of who you are and where you came from. The more people that learn to speak their own language the better."
As the population ages and the Elders pass on, it will be up to the new generation to continue paving the way into the future. Language retention will be an important part of that task.
Everson's talent speaks for itself; the popularity of his work is tremendous – as you'll note when you check out his website and scan through the years of work displayed there. The SOLD OUT signs tell a story of their own; the icons remain intact so there's lots to see – and a visit to the site is free.
Noting that culture and family values take precedence over all else, Everson credits his early years and his later visions as the reasons he's chosen the paths he has.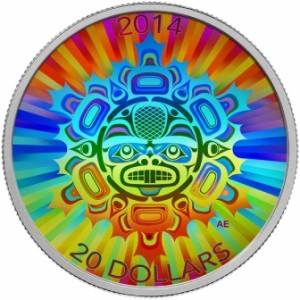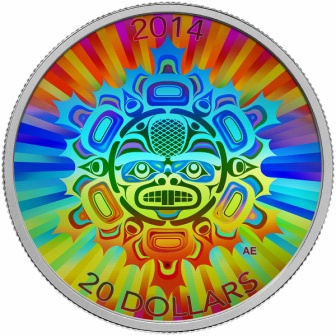 "My cultural interests lay with both my K'omoks and Kwakwaka'wakw ancestries and are expressed through dancing, singing, and even the pursuit of the Master's degree," he said. "Although I began drawing Northwest Coast art at an early age, my first serious attempt wasn't until 1990 when I started designing and painting chilkat-style blankets for use in potlatch dancing. From these early self-taught lessons I have tried to follow in the footsteps of my Kwakiutl relatives in creating bold and unique representations that remain rooted in the age-old traditions of my ancestors. Although my grandfather passed away before I was born, I feel that he leads me by example."
Andy Everson has a rounded education that includes a Master's Degree in Anthropology, but he also pursues avenues where his flair for song and dance can prevail, mostly for the good of the community. He often sings traditional songs and performs ceremonial dances at potlatches and can be seen strutting his stuff with any one of a number of dance groups, including the K'umugwe Dancers and the Le-La-La Dancers. In 2011 he joined a group of other Canadian First Nation performers and travelled to Taiwan where they participated in one of that nation's 100th Anniversary celebrations as part of the Global Indigenous Peoples Performing Arts initiative.
Everson is currently involved in the design work for his community's new administration building, Kwanis'awt'xw (The Whale House), a beautifully designed structure that resembles a traditional Big House.
For more information and to see the stunning artwork created by Andy Everson, visit andyeverson.com. You'll also find the work of numerous other artists on the site; each of whom has listed one or more of their works for sale.
To learn more about the newly minted coins with Everson's unique design work, visit www.mint.ca
 by John Copley