Up until this point, the days have been getting shorter and shorter. The warmth of the summer air has given way to the chill of the fall. Leaves have changed colour and fallen to the ground, rendering many of the trees naked and bare. We've seen the rains come, followed by the storms. In many places, too, the land has been blanketed by a covering of snow that will remain well into the coming year. We start to feel the doldrums set in as we feel confined to our houses and to the ever-increasing hours of darkness.
Typically falling around the 21st of December, this all changes. Our days start to lengthen and will continue to do so until summer. All of our ancient ancestors took note of this period and celebrated the coming of light. In many cultures, they would give gifts or celebrate fertility through the symbolism of evergreens and wreaths. The early Christian church recognized how important this time of the year was to different cultures and co-opted the celebrations to recognize the birth of Christ.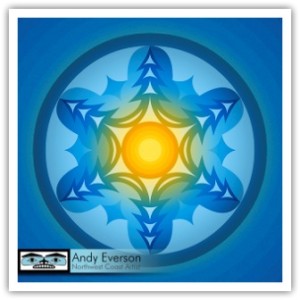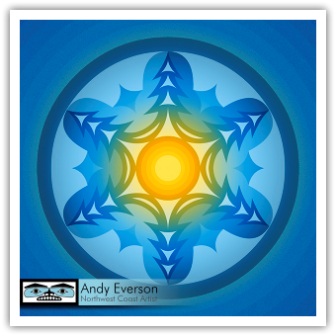 While many people get caught up in the frenzy of our modern Christmas, it is worthwhile to stop and recognize the original "reason for the season". It is the connection to earth, seasons, celestial bodies and nature that defined who our ancestors were. We can take a page from their celebrations and pay homage to our place in the Universe. Take a moment in the outdoors and give thanks for the coming of light…for our winter solstice.
"Winter Solstice" is a limited edition print using the giclée method of printmaking. This print was released on December 21, 2013 and printed by Andy Everson at Copper Canoe, the artist's own studio in Comox B.C. A total of 109 prints bear the title "Winter Solstice" and are signed by Andy Everson: 99 in the primary edition bearing the numbers 1/99 through 99/99; 9 Artist's Proof; and 1 Printer's Proof. The acid-free Moab Entrada 100% cotton rag paper measures 17 x 17.4 inches. Image size measures about 16 x 16 inches.
Click here to read more about Andy Everson and the minted coins that now feature his art designs. Click here to view more art by Andy Everson.
By Andy Everson