(Alberta) – On June 21, National Indigenous Peoples Day, Premier Rachel Notley issued the following statement:
"At the summer solstice – a day significant to many Indigenous people – we honour the First Nations, Métis and Inuit people of this land by celebrating National Indigenous Peoples Day.
"First Nations, Métis and Inuit people have diverse heritages, cultures and achievements that stand on their own. Their stories are ready to be told – in their voices – whenever we are ready to listen.
"Many of these stories are also an indelible part of our own nation's past and will help define who we are in the future. As we work to advance reconciliation and renew our relationship with Indigenous peoples, such celebrations enable communities to gather in the spirit of sharing.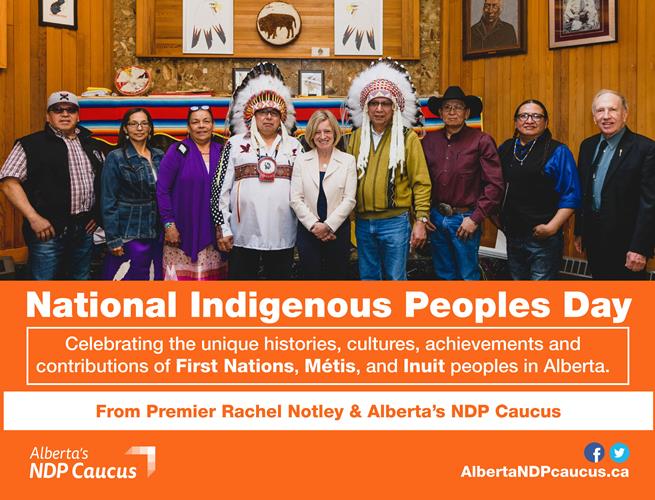 "Our government is proud to partner with Indigenous peoples, whether it's helping bring clean water to reserves or energy efficiency initiatives to make life more affordable while protecting our environment.
"We're developing a K-12 curriculum that reflects Indigenous contributions to Alberta and Canada and that raises awareness of the legacy of residential schools. We've also begun Indigenous culture and history training for all Alberta Public Service staff, so they can better deliver programs and services to Indigenous communities.
"By deepening our understanding of hundreds of generations of history on these lands, we build a brighter future based on greater appreciation, understanding and respect.
"I hope that all Albertans have the chance to hear an Indigenous story today. In the spirit of reconciliation, I wish everyone a wonderful National Indigenous Peoples Day!"