His uncanny talent with a paintbrush and a sheet of canvas has helped rocket this Canadian artist to the top of the food chain during the past decade or so, but his most recent accomplishment is in a totally different realm. And it will almost surely give him the iconic status that most people can only dream of. He is Aaron Paquette, a well known and highly respected Aboriginal celebrity whose name is recognized just about anywhere you go these days.
At 40 years of age Paquette is an accomplished artist, poet, curator, teacher, seer, philosopher and storyteller whose most recent tale has added 'published author' to his growing list of credits. His first book, Lightfinder, published this summer by Ontario-based Kegedonce Press, is already in its third printing, so if you're having a difficult time finding a copy, now you know why.
"Yes, it has been quite a surprise to me," smiled Canada's newest Indigenous author, who until recently didn't know if people would be interested in reading his first-ever manuscript. "I am overwhelmed by the comments I've received and the sales that have been achieved to date, but I am also very pleased to know that people like the book and are giving me the benefit of doubt by purchasing a copy."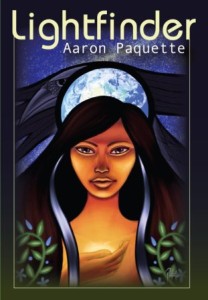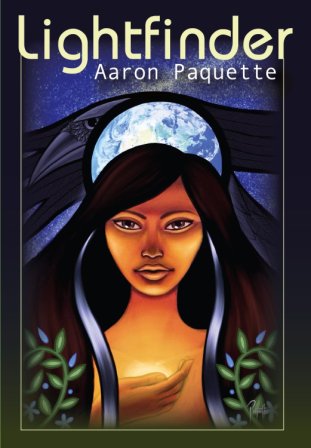 Paquette started writing and illustrating his 242 page novel in the spring of 2011 and completed it in September of 2012. After finding a publisher, the book was edited and tweaked and edited again; it was designed by Red Willow Designs and printed (in Canada) by Gilmore Printing earlier this year. Designed for readers aged 12 through 90, Lightfinder is a must read, especially for those interested in pursuing yet another bit of insight into the realm of "things that should never happen."
Paquette's success as an author doesn't come as a surprise because just like his awesome works of art, Lightfinder has the qualities it takes to make it to the top. Aaron's first book has a certain artistic flair. It creates awareness, inspires change and reminds us all, that whether or not our lives were moulded in the spine-chilling, hair-raising fashion that daunted the main characters in his book, we were once children ourselves.
The book plunges into the depths of substance abuse, bullying and family violence, important issues and topics that for too long have been hidden behind closed doors and rejected as subject material that nobody wants to talk about or acknowledge.
"These are issues that many of our people face every day; they need to be discussed," noted the author. "Compared to many books, it's actually pretty tame."
Lightfinder focuses on two main characters, Aisling and her brother Eric; the latter lives on the reserve while Aisling goes to school in the city – until a tragedy takes place and she returns to the reserve to find that her brother has run away. Fantasy is a genre that usually includes some type of dragon and in the end a magical cure that saves the world. Although that's not quite the case in this book, the adventure is equally thrilling and much more realistic – but I'll leave the good stuff for you, the reader, to discover.
Lightfinder is an easy read and its subject matter, harsh or not, will certainly be familiar to some, if not many, but it pales in comparison to the heavy-handed, senseless violence that filmmakers from around the world are putting on our television sets and in our movie theatres these days. Lightfinder is also a book of fiction, but there's a ring of truth to it that readers will have a hard time finding in Hollywood productions.
In recent interviews Paquette was asked whether or not he was satisfied with his book. His answer: "Everyone wants to write the great American or Canadian novel; at the end of the day, I'm glad I wrote an honest novel."
It's the perfect answer – an honest one.
The plot and ongoing circumstances in Lightfinder came as a result of the author drawing on the experiences of people he's met throughout his life and much like his artistic creations it delves into the truth but still leaves room for the imagination.
Paquette decided to write the book because after travelling across the country he realized that too many kids were involved in just about everything – except reading.
"Indigenous youth aren't big on reading," he said. "It just isn't something that's on the top of their priority list. Maybe it's because they don't have stories they can relate to; I am hopeful that they can relate to this book and the characters in it. This book isn't about Aboriginal communities or lifestyles or about being Native; it's just a book with a great story – a fantasy adventure that can be enjoyed by every reader, regardless of cultural background. The lead character just happen to be Cree."
A couple of years ago I interviewed Paquette after he'd finished working with a group of Grade 7 students at a St. Albert Junior High School.
"Everything I paint is a kind of biography in itself," he explained, talking about his work, his Métis culture, and his visions. "Our actions, and the way we go about doing things, are simply a reflection of ourselves." He went on to explain that as a child, "I watched as my mom carefully spread the filling evenly across the bread, making sure each bite contained an even amount of flavours. That's how she is – very measured, very fair and sometimes a little bit of a perfectionist. In contrast, a good friend of mine haphazardly slops it all together – half of the sandwich is a very dry meal. Can you guess how he lives his life?"
These are just some of the things that help to make Paquette a successful artist, writer and person. He speaks highly of his mother and thanks the creator for the gifts he's been given. He remembers his roots and he questions and challenges assumptions and preconceptions because he's come to understand and appreciate "our interconnectedness as human beings."
Life has not been a bed of roses for Aaron Paquette; he's paid his dues along the road to success, including losing his first wife to divorce and nearly losing his second (and current) wife, Clarice Anderson, when she was hit by a car while out getting some exercise.
The author's greatest joys are his wife and his three sons, who continue "to teach me something new every day. I've learned never to take anything for granted."
Just as he has his favourite things, Paquette also has the things he likes the least and the least of that short list are people who steal from their own people, who take advantage of others, including those who apply for grants to complete specific projects and then use the money to travel to far-off lands, buy fancy clothes or purchase expensive cars.
The Bear Claw Gallery in Edmonton will exhibit A Greater Purpose, a series of new paintings by Aaron Paquette from October 18-29 – you won't want to miss it. His first show in almost two years, A Greater Purpose will include about 30 pieces of his latest work.
If you'd like to know more about the artist, his new book and his art, check out the website at: www.aaronpaquette.net
by John Copley