Several years ago Alberta's construction industry recognized the significant role that women can play to ensure a full capacity workforce and thus enhance the vibrancy of an industry that is rated as the largest and busiest in the country. With more than 50 different trades in Alberta that are hiring on a year-round basis, jobs are usually available, opportunities abound and the money doubles, triples and often quadruples minimum wage. Many women across the province have taken notice of the opportunities that await them in construction and are now working, many as journeywomen, throughout the province on all kinds of construction projects.
The Edmonton-based Women Building Futures (WBF) organization is responsible for many of those workers. They have been supplying pre-trades training that helps women interested in pursuing construction-related employment to achieve their goals since 2007. And right now they've got an opportunity to put four Aboriginal women to work as apprentice electricians.
"We have a client who wants to hire a number of women interested in pursuing a career as an electrician," explained Jacqueline Andersen, Manager of WBF's Employer Services Program. "There are four spots available for Aboriginal women. Fully committed to ensuring opportunities for Aboriginal employees, our client will pay the full tuition and training costs of the WBF Electrical Basics program and hire successful applicants as apprentice electricians. It's a four year in-house apprenticeship program that will enable participants to earn their electrical journeyman's certificate."
Readers interested in this opportunity will want to act fast; space is limited and jobs are available. Positions are currently open in Whitecourt, Swan Hills, Valleyview and Drayton Valley. This opportunity presents itself largely because of WBF's outstanding track record. Their graduates have proven that the WBF preparation training programs work. They turn out excellent workers, many who've become exceptional tradespeople who are ready, willing and able to meet the challenges presented to them. The WBF's construction data-base of companies hiring and willing to hire women has increased 10-fold since those early days.
"Our list of partners continues to grow," noted WBF Executive Director, JudyLynn Archer. "We receive a great deal of support from construction-related businesses and from the industry in general and particularly from some of the associations, including the Construction Owners Association of Alberta (COAA) and others who've gone the extra step to ensure that our programs, and our graduates, are accepted and appreciated."
WBF is currently working with more than 240 construction-related employers in Alberta willing to put women to work in their trades departments.
Aboriginal women interested in pursuing a path to a career as an electrician should apply as soon as possible. Applicants will be expected to meet the criteria, which includes such things as being maintenance-minded, energeti and bright. Preference will be given to Grade 12 graduates with passing grades in subjects that include Math 20.
"Our Electrical Basics Program," explained Andersen, "will get underway on June 1st. This four-week immersion program prepares women for entry-level employment in the electrical industry with the goal to become an apprentice electrician."
Electrical Basics includes WBF's Workplace Culture Awareness© module, a program designed specifically to help women understand the expectations of the construction workplace and prepare them for that environment.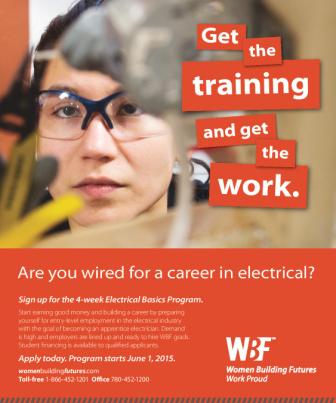 "We encourage every woman interested in pursuing a career as an electrician to apply for this unique opportunity," emphasized Andersen. "These openings are available to all women with four spots being reserved for Aboriginal applicants. Electrical Basics includes our basic math refresher and provides knowledge of various tools, currents, voltage, resistance and circuits. Successful applicants will gain hands-on experience in running wire, bending pipe, installing switches and stripping and insulating splices and conductors and will be introduced to the Canadian Electrical Code, Part 1."
Graduates of the Electrical Basics program will be fully prepared to enter the trade and will be equipped with various certificates, including Standard First Aid and CPR (Level 1), Aerial Lift Operator, Fall Protection, Construction Safety Training System (CSTS) and Workplace Hazardous Materials Information System (WHMIS).
WBF also offers a 17-week Journeywoman Start (JWS) program that is open to all women. This unique program is designed to help women prepare for and succeed in construction, oil and gas jobs. When participants finish the program they write the level 5 Apprenticeship exam. The intensive program begins with a week-long session that includes Worksite Safety Certification, Standard First Aid/CPR Level One, Scaffold Safety Training, Fall Protection, Forklift Operator Safety Certificate and the successful completion of CSTS/WHMIS and H2S workshops. The second phase of the program involves eight weeks of hands-on skills training, including basic tools, carpentry, electrical, plumbing, pipefitting/steamfitting, welding, sheet metal and blueprint reading. Weeks 10 and 11 include courses on Workplace Culture Awareness for Women, Career Development and Financial Management.
Four weeks of academic training follows. Education often plays a role in the trades fields and could be an important and determining factor, depending on the trade applicants are pursuing. For example, to pursue a successful career as an electrician, Grade 12 Math is almost a prerequisite while Grade 10 Math and English will be needed for others. During the third phase of training, participants spend four weeks working on trades-qualifying math, science, and English.
The final two weeks of training come via work experience, where graduating students participate in a workplace environment and finish learning the ins and outs of the job and the expectations of the employer and the industry.
Earlier this year (January 22) the federal government opened the doors for women participating in skilled trades training. The Honourable Michelle Rempel, Minister of State for Western Economic Diversification, announced an investment of $996,942 to enable Women Building Futures (WBF) to provide women with increased access to skilled labour training in the construction industry. Funding will support the WBF #4ME project, which uses a technology-based system to increase their capacity to reach, attract, train and retain women in skilled trades. In addition to creating an online presence for WBF's #4ME awareness campaign, and moving assessment tools, curriculum, and coaching online, this project will also develop a series of short courses that will be delivered via video conference, online and on-site for rural and Aboriginal women.
This project, which is also receiving support from the Government of Alberta, Imperial Oil Foundation, the Christian Labour Association of Canada (CLAC) and Shell Canada, is an innovative way to meet changing educational expectations while increasing women's opportunities in the construction trades.
"Our Government," assured Rempel, "is committed to creating opportunities for women to pursue careers in non-traditional trades like construction, welding and machining. By improving access to skilled labour training, we are ensuring tradeswomen are getting the skills and experience they need to secure quality jobs and a prosperous future."
Archer said that, "Women Building Futures is excited to be moving forward with its vision to reach any woman anywhere who is interested in a career in the trades. With support from the Government of Canada, the Government of Alberta, Imperial Oil Foundation, CLAC and Shell, the #4ME project will enable us to do exactly that."
Established in 1998, Women Building Futures is a leader in trades training for women, with extensive experience recruiting women into the heavy industrial workforce. Over the next three years, it is anticipated that up to 24,000 women will have access to the #4ME Program. In addition, up to 30 Aboriginal communities will have access to training. The initiative is expected to train over 3,000 students online; as well as place over 900 certified graduates in jobs by the end of 2017.
The WBF mandate is a simple one: it attracts more women into the construction trades, provides trades training that meets the needs of women and industry, includes mentorship and long-term support for women just entering the trades and for those already in the trades. The organization also examines and addresses the systemic barriers to the recruitment, training and retention of women in the trades and increases not only the number of women in the trades, but also the number of instructors and mentors.
Email applications to:  [email protected], call 780-452-1200 or toll free 1-866-452-1201.
by John Copley