No matter where you work or what you do for a living one thing is certain, every job comes with pro's and con's and choices to make. When August Cardinal applied for and was given a job at West Fraser Mills' Slave Lake Veneer back in 1997 he knew he had other options, but didn't even consider them.
"I could have done what so many others have done – applied for work in the oil patch," he said in a recent interview, "but I chose to stay closer to family. I get to spend my evenings at home, I get to see my wife every day and I get to share myself with my kids. Before I applied here I'd heard a lot of good things about working in a mill and I haven't been disappointed. I've been here nearly 18 years and I'm very happy. Hard work has paid off and I am pleased with the accomplishments that I've made over the years. The mill is about 15 km south of our home in Slave Lake, so the travel is limited, the company is great to work for, the money is good and the benefits are top-notch."
The company encourages people from the local community to apply for work.
West Fraser is an equal opportunity employer and encourages local and regional First Nation and Métis communities to pass the word around that applications are always in demand.
"We don't have any Aboriginal-specific programs in place at this time, but we do have a number of Aboriginal workers both here at the mill and in the city at Alberta Plywood," explained Plant Manager Ian Grady. "We like to hire locally whenever we can and as such we are working with Aboriginal groups in the north and making sure they are aware that the opportunity is available for those interested in pursuing a career with us."
Grady said the process is simple; just put a resume together and fill out an application form. You never know, you might not have to wait long for an initial interview.
"Sometimes when applicants come in to drop off their resumes, there's someone in the office who can talk to them right away," he explained.
If you have a need to succeed and come with good work habits, a good attitude and a willingness to learn and grow, noted Grady, "come and see us; the company is always looking for steady workers."
Cardinal agrees, explaining that West Fraser provides on-the-job training to all of its employees and noted that promotion comes from within. He's one of about half a dozen Aboriginal workers at the mill and said everyone has the same opportunities; it's all about effort and attitude.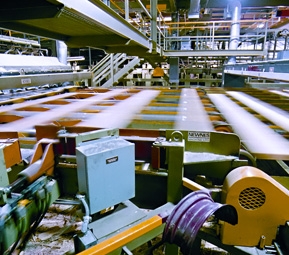 "There are a lot of opportunities to move ahead and I've been quite successful in doing just that. I've had various job experiences since I became employed here. I began by pulling veneer off the green chain and over the last eight years I have moved up the ladder several times.The answer is hard work; the harder you work, the more you learn and further you can go. Effort has its rewards."
Chuckling, he added, "Take me for an example, I used to have to stand all day but now I get to sit down. Instead of stretching out my muscles and wiping sweat from my brow I now sit at a machine and push buttons. (West Fraser) gets high marks for being a quality company that provides a good work environment and is supportive of its workers."
Married and a father to two boys aged 15 and 19, Cardinal says that "the mill provides me with a good living and my family with a good life. Mill work might not for everybody, but anyone willing to put in the hard work and dedication that it takes to succeed, will do just fine."
West Fraser's history began in 1955 when Pete, Bill and Sam Ketcham purchased a small planing mill in Quesnel, B.C. Beginning with a crew of just 12 workers the successful business venture grew steadily throughout the years and today employs more than 7,400 people and operates in B.C., Alberta and nine American states.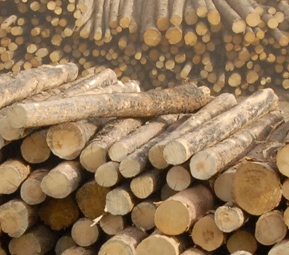 The company's founding principles remain intact and  are the reason West Fraser is now one of the leading and largest softwood producers in the country.
Grady says disciplined operating practices and cost-conscious manufacturing are major reasons the company continues to grow. "We stay on the cutting edge when it comes to technology and we constantly reinvest in our operations to ensure our that our employees have everything they need to keep us moving forward in this challenging and competitive industry."
During the past decade, West Fraser has grown outside of the Company's original base in British Columbia, increasing its manufacturing capabilities in Alberta and the southern United States. The company is currently the largest lumber manufacturer in Alberta and one of the largest in the southern part of the United States. Since 2010 West Fraser has invested more than $475 million to improve Alberta's pulp, energy and solid wood operations and in 2013 planted 30 million seedlings in the province. Though Slave Lake Veneer only produces a few products, namely veneer, three inch cores and landscape ties, the company's 12 Alberta mills also produce lumber, plywood, pulp medium density fibreboard, fence posts decking and more. The company has operations in nine Alberta communities and works hundreds of local businesses and service contractors and utilizes renewable resources for 60 percent of the energy it uses.
Workers are needed throughout the pulp and paper industry and West Fraser Mills is taking applications now. A 2006 census indicates that Aboriginal employees make up from two percent (Quebec) to almost 19 percent (Manitoba and Saskatchewan) of Canada's forest product workers. Alberta forest workers represent 9.8 percent of the provincial total; overall nearly 20 percent of all Canadian forest product workers are Aboriginal employees.
Qualified tradesmen are in demand from time to time because the company employs millwrights, electricians and heavy duty mechanics at its Slave Lake operations. Of the 118 employees at the plant only about 20 are involved in the trades group, but opportunities are available from time to time. Apprentices, however, are trained in-house.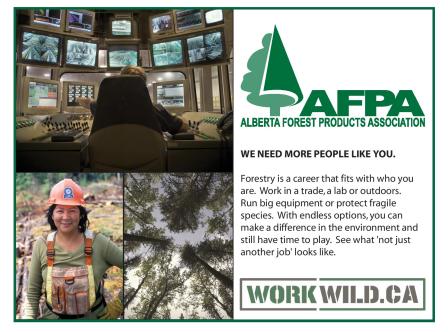 "Our in-house apprenticeships," explained Grady, "begin with initial assessments then a pre-entrance exam. We have some people who began the program a few months ago and they are doing well."
Current employees interested in getting involved in the trades just need to apply. Those who've got a proven track record that indicates such things as good work ethic and a positive attitude will top the list of prospects.
Plant Manager Ian Grady says that less than a dozen Aboriginal employees are currently working at the mill in Slave Lake and that the company doesn't have any goals when it comes to the percentage of Aboriginal workers in their facilities. As an equal opportunity employer, he says that West Fraser is always on the lookout for good workers.
"We'd like to see more Aboriginal workers from the local communities apply for jobs and we have talked to some local First Nations about our hiring programs. We've encouraged them to pass the word out that we are always looking for new applications for employment and we encourage the Aboriginal communities in the region to get involved. Check out our website and contact us for more information about our employment opportunities."
West Fraser is a member of the Alberta Forest Products Association (AFPA), a non-profit association that represents companies manufacturing lumber, panelboard, pulp and paper, and secondary manufactured wood products in Alberta. Alberta's forest products industry and the AFPA work together to develop public awareness of the industry, fostering a greater understanding of the economic, environmental, and social values of Alberta's forests. AFPA's Work Wild campaign operates with support from the industry as it reaches out to youth who are about to make one of the most important choices in their lives – their career. The program is designed to educate those new to the forest industry on the diversity of employment choices in forestry. It also informs potential employees in the industry of the amazing benefits of working in one of Canada's largest sustainable resources industries.
Established in 1942, AFPA provides member companies with service in the areas of Environment, Forestry, Health and Safety, Lumber Grading, and Transportation. Association programs and initiatives include: coordination of health and safety activities, lumber grading and quality control, FORESTCARE – the AFPA's program of continuous improvement, industry promotion, public education, issues management, public and government relations, transportation, and other resources.
by John Copley