Now, almost 60 years later, the Redskins are enmeshed in a debate about whether their name is a racist epithet and should be changed. Advocates for keeping the name reference its origins: In 1937, owner George Preston Marshall changed the team name from the Braves to the Redskins. Marshall said the change was in honor of the head coach at the time, William Henry Dietz, who claimed to be part Sioux (although that claim is suspect). Critics including Henry say its origins are irrelevant and that the name is racist and demeaning. "I'd love to see a boycott of all things Redskins," he said.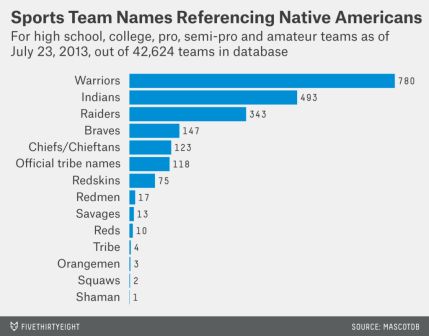 Dan Snyder, the current owner, purchased the team in 1999, when it was fighting its first legal battle over the name. The lawsuits have continued, and earlier this year, the Trademark Trials and Appeal Board canceled the franchise trademark because "a substantial composite of Native Americans found the term Redskins to be disparaging." Snyder has faced mounting pressure to change the name, even from President Obama and George Preston Marshall's granddaughter. But Snyder plans to appeal the trademark decision and says he will "NEVER" change the name. Polling suggests Snyder has the backing to ignore the calls; most NFL fans (andRedskins fans in particular) oppose a name change.
What's considered an outrage in the NFL is embraced or at least tolerated all over the country. While we've been consumed by the debate about the Washington Redskins, we've overlooked thousands of team names and mascots depicting Native Americans, often stereotypically. These teams are not feeling the kind of pressure that Snyder is. To understand the Washington Redskins, we have to understand the Estelline Redmen, the Natick Redmen, and the Molalla Indians, too.
To read more see the full article here.
by Haley Munguia, fivethirtyeightsports