As part of its 25th Anniversary celebrations Toronto-based publisher, Second Story Press, has launched a contest that will be of particular interest to Aboriginal Canadian writers and authors who have a story to tell. Already recognized internationally as a publisher dedicated to feminist-inspired books for both young and adult readers, Second Story continues to seek material that incorporates and emphasizes diversity, disparity and human rights issues.
The recent call that went out to Aboriginal (First Nations/Métis/Inuit) Canadian writers seeks manuscripts that embrace contemporary writing that reflects the modern experience of today's Aboriginal people. Jurors are particularly interested in stories with an urban setting that reflect the lives of Aboriginal people, their experiences, successes, perspectives and visions of the future. Manuscripts much be original, previously unpublished and not under consideration for publication with another publisher. Manuscripts must be designed for children and young adults aged five to 18 years. The deadline for submission is March 31, 2015; the contest winner, who will be offered a publishing contract with Second Story Press, will be named in April. The jury will be made up of Second Story Press publisher Margie Wolfe, Aboriginal educator and researcher Dr. Jenny Kay Dupuis, and one other expert.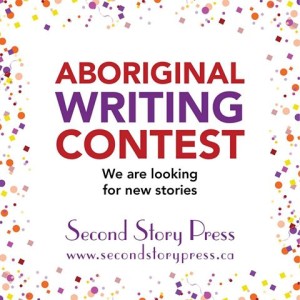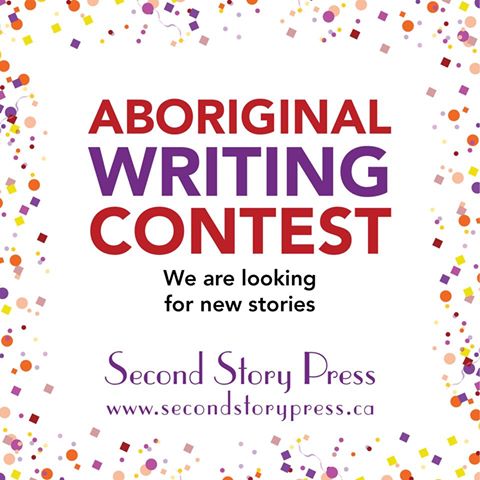 "The contest," noted Second Story Press Marketing and Promotions Manager, Emma Rodgers, "is a way for the press to reach more Aboriginal writers and encourage them to submit their manuscripts. We know that Aboriginal Canadians are great storytellers and we'd like to see them submit their manuscripts to us for consideration. Once this contest is completed we intend to pursue even more manuscripts from the Aboriginal community. In the meantime we hope that this contest will encourage more writers from the community to tell their stories and share them with readers both in Canada and across the globe."
Eligibility requirements include that submissions be written by Aboriginal writers aged 18 or older who are Canadian citizens or maintain permanent residency in Canada. Submissions must also be written for young readers from five to 18 years of age. Fiction and non-fiction stories are welcome but cannot be stories that rhyme, deal with mythology, legend/folklore or anthropomorphized animals.
Submissions must be written in English or provide an English translation
Submissions can be delivered to Second Story Press via regular mail or by email and must be accompanied by an entry form (see the website below) and a cover letter that includes information about the author, any relevant work or writing experience and a brief synopsis of the work being submitted.
Email submissions should be addressed to: [email protected].
Mail submissions should be addressed to: Second Story Press, 20 Maud Street, Suite 401, Toronto, Ontario, M5V 2M5 and include a self-addressed stamped envelope (SASE).
Second Story Press is a well known and respected publisher with a strong voice and a solid reputation for delivering books and series on social justice issues for both children and adults. Founded in 1988 by Margie Wolfe (publisher/owner/president) and three other women dedicated to publishing feminist-inspired books for adults and young readers, Second Story Press sells its books around the world; many have been translated into more than 50 languages, won a variety of awards and have been adapted to both stage and film.
"Our list," explained Rodgers, "spans adult fiction and nonfiction; children's fiction, nonfiction and picture books; and young adult fiction and nonfiction. We continue to look for stories that feature strong female characters and explore themes of social justice, human rights, equality, and ability issues. We have been very fortunate to work with organizations like Plan Canada, The Canadian Civil Liberties Society, BOOST, The Feminist History Society, Canadian Breast Cancer Society, The Canadian Cultural Centre of the Deaf, Leave Out ViolencE, and Planned Parenthood.
Second Story is a member of the Association of Canadian Publishers, the Organization of Book Publishers of Ontario, and the Canadian Children's Book Centre."
Second Story Press notes that it is "grateful to the Canada Council for the Arts, the Ontario Arts Council, and Livres Canada Books, and acknowledges the financial support of the Government of Canada through the Canada Book Fund (CBF) for our publishing activities."
Acknowledgements also go out to the OMDC Book Fund, an initiative of Ontario Media Development Corporation, for their support of this contest and many other of Second Story Press' initiatives.
For further information see the website at secondstorypress.ca/aboriginal-writing-contest.
 by John Copley