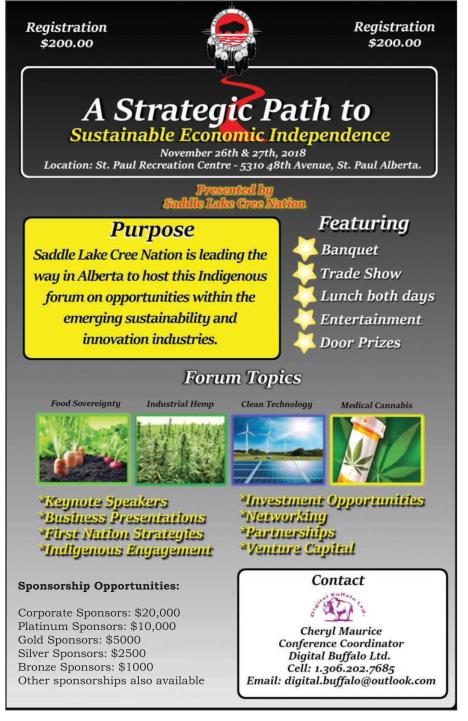 (ANNews) – An important forum titled, "A Strategic Path to Sustainable Economic Independence" will take place at the St. Paul Recreation Centre on November 26 & 27, 2018. In addition to interesting and informative presentations, the event will include a banquet, trade show, lunches, entertainment, door prizes and plenty of networking possibilities.
"Saddle Lake Cree Nation of Alberta is hosting the event aimed at bringing together traditional land users, community leaders, governments and industry innovators to foster Indigenous inclusion in the evolving sustainable industries that will nurture and save our Mother Earth," explained Chief Makinaw Eddie Makosis.
Sponsors and exhibitors representing the various aspects of the sustainable sectors are invited to contribute to the event through sponsorship. Attendees from Indigenous and Métis communities that are interested in promoting economic independence are expected from across western Canada. The conference agenda is also designed to appeal to Indigenous and non-Indigenous governments interested in learning about the impact of the emerging sectors on sustainable economies.
Topics from Day 1 include: Harm reduction strategies for Indigenous Communities using cannabis, Reclaiming the traditional concepts of health, Sustainable economies in the hemp and flax industry, the Indigenous carbon credit program, financing opportunities in the sustainable industry. Topics from Day 2 include Trading opportunities in the cannabis industry, Developing partnerships with Indigenous groups – medical and industrial hemp, and Ecommerce in the cannabis industry – investing in Indigenous Nations.
Saddle Lake Cree Nation is leading the way in Alberta to host an Indigenous Forum on opportunities within the emerging sustainable and innovative industries. The objective of this forum is to explore options on achieving sustainable economic independence with those Indigenous nations who want to help in improving the quality of life, create employment opportunities and build on community development. It will provide strategies to create long-term partnerships in the various sustainable sectors that can establish intergenerational wealth within Indigenous communities with responsible corporate partners nationally and internationally.
"Join Saddle Lake Cree Nation as we lead the way in developing strategic alliances in a variety of sustainable industries for Indigenous and Métis entrepreneurs and communities," stated Chief Makokis. "The forum is designed to provide an opportunity to build meaningful partnerships with key players in the sustainable and innovative industries."
Being a sponsor is an opportunity to network with Indigenous Leaders, Business Development Officers, Development Corporation CEO's, Indigenous Agriculturists, Entrepreneurs as well as industry professionals and service providers in a dynamic business-to business environment. Success will be measured through the creation of collaborations with Indigenous and Métis groups who are actively involved with business developments and agricultural properties and are well positioned to transition into the sustainable and innovative sectors.
Saddle Lake Cree Nation is located in northeastern Alberta and is in the Treaty 6 Territory with a total registered population of just over 10,895 members. The nation is an affiliate of the Treaty Six Organization. It is a vibrant community fostering self-sufficiency and promoting an improved quality of life by providing meaningful economic opportunities within the community and beyond for its large and growing young population.
Digital Buffalo Ltd. is a Saskatoon-based company working with Saddle Lake Cree Nation to organize this economic development business forum. For information contact Cheryl Maurice, President & CEO, at [email protected] or by phone at 306-202-7685.