On June 1, the Edmonton Police Service hosted their annual Alex Decoteau Run for over 200 school kids in Rundle Park to commemorate Canada's first Aboriginal police officer and to help celebrate National Aboriginal History Month.
"At school, Alex Decoteau learned he had a special gift for running that helped him become a police officer in Edmonton, a soldier, as well as an Olympic athlete," says Const. Lisa Wolfe with the EPS Recruiting Unit.
"We want to encourage youth to have the same dedication and healthy lifestyle as Alex Decoteau, so they can run faster toward their goals and play a more positive role in their community.  For many Aboriginal police members, his legacy has been an inspiration, and we want others to continue to follow in his footsteps and consider a career in policing."
For many years school children have taken part in the Alex Decoteau Run to honour the heroic legacy of a remarkable young man who accomplished many firsts for the Aboriginal community, served his city and his nation, and helped blaze the trail for others.  The Run also helps promote physical fitness and inspires a new generation of athletes and police officers for the future.
Over 200 kids, ages 12 to 16 years from five north Edmonton schools (Abbott, Ben Calf Robe/St. Clare, Rundle, St. Alphonsus, St. Bernadette), participated in this year's Alex Decoteau Run through Rundle Park from 9:30 a.m. to 12:30 p.m. on Monday, June 1, 2015.  The route is approximately three kilometres long.  All participants received a t-shirt, water bottle, recreation pass, and an Alex Decoteau commemorative coin and comic book.
Izola Mottershead, Métis Elder and great niece of Alex Decoteau, brought greetings and said an opening prayer for the students prior to the start of the Run.  The EPS Aboriginal Relations Unit also set up their tipi as well as an Alex Decoteau educational display. Other partners who helped make the event a success are the Edmonton Police Foundation, the City of Edmonton, and the Edmonton YMCA.
Alexander Wuttunee Decoteau was born on the Red Pheasant Indian Reserve in Saskatchewan, Canada, on Nov. 19, 1887.  He attended the Battleford Industrial School and was a good student and an exceptional athlete.  Alex moved to Edmonton to work in his brother's machine shop in 1909.  In 1911, he joined the Edmonton Police Service (becoming Canada's first Aboriginal police officer), and made Sergeant in 1914.  In 1916, he enlisted with the Canadian Army, and served until his death in the battle at Passchendaele, Belgium, on Oct. 30, 1917.
Throughout his lifetime, Alex Decoteau excelled at running and other sports.  Alex competed and set records in many local, national, and international sporting events such as the 1912 Olympic Games in Stockholm, Sweden, and is still considered one of Canada's greatest marathon runners.  In 1967, he was inducted into the Edmonton Sports Hall of Fame.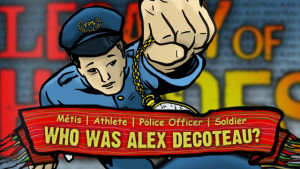 In 2014, a new downtown park and new southeast residential area in Edmonton were named in honour of Alex Decoteau.  That same year, EPS released the Alex Decoteau Legacy of Heroes Comic Book, the first in a series created to tell the remarkable stories of the people and events that are part of the Edmonton Police Service's history.  Today, many of Alex's trophies, photos, and other personal effects are still on display in the EPS Headquarters.
Although Alex Decoteau's life was short, he triumphed over adversity and continues to serve as a positive role model for what young people can accomplish with their lives.