Do you have a business idea but are unsure of where to start? Are you currently in business but looking to expand? Plan to attend the Aboriginal Entrepreneur Workshop taking place at the Sawridge Inn Edmonton South on May 6 and 7, 2015 to help bring your business idea to life.
This two-day event is a prime opportunity to meet with local small business support organizations, connect with fellow entrepreneurs, and get inspired by local success stories. Participants will be given the opportunity to attend a number of small business presentations on topics such as Start-up Basics, Taxation, Understanding Credit Ratings and Scores, Social Media, and more.
The workshop is being hosted by Business Link with their specialized Aboriginal Business Development Services (ABDS) staff focusing on content specific to Albertan First Nation, Métis, and Inuit entrepreneurs.
"Business Link is Alberta's entrepreneurial hub," explained workshop host Aaron Poirier, Project Services Manager. "We are a non-profit organization that helps Albertan entrepreneurs start their own businesses."
Through their Aboriginal Business Development Services (ABDS) department, Business Link offers personal one-on-one service to Aboriginal entrepreneurs, informative guidebooks on topics such as Business Planning, Independent Contracting, and Financing, and free small business training delivered in communities across Alberta.
Aboriginal business, just like the Aboriginal population, is one of the fastest growing in the country, especially so in Alberta, where during the past decade hundreds of new and viable business ventures have been created and are being operated by Aboriginal entrepreneurs. Alberta is among the nation's leaders when it comes to successful Aboriginal entrepreneurs.
"All of our services are designed to foster successful entrepreneurs and this workshop is no exception," noted Poirier. Offered at no charge and available to both potential and existing Aboriginal business owners, the workshop is an excellent opportunity to increase your chances of success in the business world.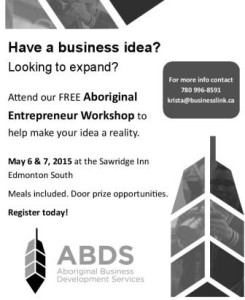 Presented in partnership with Alberta Indian Investment Corporation, Aksis, Apeetogosan (Metis) Development Inc., Alberta Women Entrepreneurs and Settlement Investment Corporation, workshop participants will be able to learn more and meet representatives from organizations that meet the specific needs of local Aboriginal entrepreneurs. A number of these organizations provide small business financing, so this is an excellent opportunity to learn about what is required, as well as what grant options are available for your business.
First time business owners will find real value in sessions such as Start-up Basics, presented by Alberta Indian Investment Corporation's Operations Manager Errol Wilson where he describes the characteristics of an entrepreneur and helps you understand what it takes to operate a successful business. On the other hand, existing business owners may opt to attend the sessions on Independent Contracting and Safety (COR/SECOR) or Social Media and Modern Age Marketing presented by Alberta Women Entrepreneur's Heather Black, Aboriginal Business Programs Facilitator. No matter what stage of business you're in, there is a session in this workshop for you.
"This workshop presents an ideal opportunity to mix and mingle and get to know other business owners and entrepreneurs," assured Poirier. "Attendees will benefit from learning about the successes of other local business owners."
Poirier, 33, was born and raised in Edmonton. He earned his Bachelor of Management Degree at the University of Lethbridge (Edmonton Campus) and has a Management Studies Diploma from Grant MacEwan University. In working with Business Link's Aboriginal Business Development Services (ABDS), Poirier has been actively involved and has presented business solutions to many First Nations and Métis Settlements in Alberta. He's helped many Aboriginal and non-Aboriginal business owners to get their businesses up and running. He's also been involved with the 881 Business Incubation Centre, the Local Opportunity Centre, and Rural Alberta Business Centres, and has worked with Community Futures, Regional Municipality of Wood Buffalo and the Native Friendship Centres.
A number of local success stories are participating in this initiative including Métis Canadian Terry Coyes of Coyes and Associates, who helped with the planning of the event.  Coyes said that workshops "like this one are perfect, especially for new and expanding businesses who need a little information or are seeking new partners and relationships. Aboriginal business has made significant contributions when it comes to Edmonton's identity and that is a trend we expect will continue. Good business relationships are built through ongoing and outgoing communication and networking and the Aboriginal Entrepreneur Workshop scheduled for May 6-7 is a great time to take advantage of that opportunity."
Other notable attendees to the workshops include event MC Nicole Robertson, President and Chief Communications Advisor for Muskwa Productions and Consulting, her own successful business venture. Derek Bruno, CEO of Samson Oil and Gas Inc. will share tales of his business success story, as well as Carrie Langevin, owner of the well-known Mother Earth Essentials brand.
Are you looking for advice from experts who can help you to ensure that your plan of action is viable? Are you seeking ways to network with other business owners and operators? Are you looking for more information on entrepreneurship in general? If you've answered "yes" to any of these questions make it a point to join other business owners at this two-day workshop.
The event gets underway at 8:30 am on both days of the conference with a continental breakfast and lunch included. Door prizes including an iPad Mini will be raffled. Seating is limited so if you are interested in attending it is a good idea to register early.
Click here for more information about Business Link and ABDS.  You can register for the conference online at: eventbrite.ca or by telephone or email to Krista Burdeyney at 780-996-8591 or [email protected].
 by John Copley