(ANNews) – Edmonton audiences are in for a real treat as Theatre Network presents "Metis Mutt," a One Little Indian Production from February 13 – March 4, 2018 at the The Roxy on Gateway Blvd. in South Edmonton.
The play is written and performed by the tremendously talented Sheldon Elter.
In this hilarious and heartbreaking one-person show, we follow a young Métis man on his journey out of a destructive cycle. In dynamic shifts between storytelling, stand-up comedy, and multi-character vignettes; this personal tale unfolds to expose the impact of family dysfunction, internalized racism, and the significance of embracing life's choices.
"The main thing I hope people will understand is that through my own unique, Indigenous experience – despite the harsh realities of history and oppression, loss of culture and identity, dysfunctional family life as a result of intergenerational trauma, and the present-day society's inherent need to define me through colonial measurements – at the very least I can take responsibility for my own actions and create positive change for myself one day at time to overcome all odds," remarks Elter.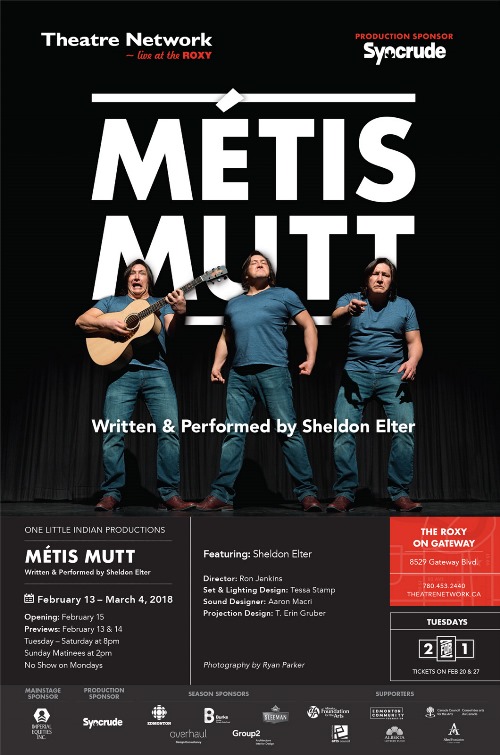 "Métis Mutt" has a long history with Theatre Network. The show first was developed as part of Nextfest in 2001 and then came to the Roxy stage in 2003 as part of The Roxy Performance Series. In 2017 Sheldon performed the show in Toronto as part of Native Earth. Theatre Network is honoured to host One Little Indian Productions and Sheldon Elter for a Mainstage run at The Roxy on Gateway.
The play features Sheldon Elter. The director is Ron Jenkins, set and lighting designer is Tessa Stamo with sound direction from Aaron Macri and projection design from Erin. Gruber.
Sheldon is no stranger to Edmonton audiences. He is a Métis actor, writer, stand-up comic, musician and director originally from Northern Alberta. As a stand-up comic, he has emceed and been host at both Breaker's, and Dave's Comedy Saloon, and has toured western Canada twice as the opening comedy act for Hypnotist, Marc Savard. Sheldon was also a Top 14 finalist on Canadian Idol in 2006.
His TV credits include: Hank Williams' First Nation, Caution: May Contain Nuts (Gemini, and Canadian Comedy nominated writer) and Delmer and Marta (APTN, writer, co-star, and Co-Executive Producer), Hell on Wheels, (AMC). He is also a core-member of the ukulele rock band sensation, The Be Arthurs.
His theatre credits include: Crazy For You (Citadel Theatre), Hair the Musical (Mayfield Dinner Theatre), Alice Through the Looking Glass, Evangeline, One Man Two Guvnors, (Citadel Theatre), Bears (Pyretic Productions), Tartuffe, Sound of Music, Enron (National Arts Centre), It's a Bird! It's a Plane! It's Superman! – The Musical, Fiorello, Ankles Aweigh (Plane Jane Theatre), Marvelous Pilgrims (Teatro La Quindicina) The Crackwalker (Kill Your Television Theatre), The 25th Annual Putnam County Spelling Bee, Shear Madness, The Buddy Holly Story, and The Full Monty (Mayfield Dinner Theatre), BEOWULF (Workshop West Theatre), L'Homme De La Mancha (L'Unithéâtre), Hroses: An Affront to Reason (Maggie Tree Theatre), Nevermore (Catalyst Theatre).
The Roxy is located at 8529 Gateway Blvd. in Edmonton. Visit TheatreNetwork.ca for tickets and information. Tuesday 2 for 1 – Feb. 20 & 27. Tues – Sat at 8pm | Sunday Matinees at 2pm | No Show on Mondays.