by John Copley
(ANNews) – Established in 2005, Winfield, B.C.-based Interior Heavy Equipment Operator School Ltd. (IHE) has been offering professional hands-on equipment training to individuals seeking employment as heavy equipment operators for the past 10 years. With training sites in both Winfield and Innisfail, Alberta, the company has trained in the neighbourhood of 3,000 heavy equipment operators since its inception; about 10 percent of those graduates come from the Aboriginal community.
IHE was one of the six major sponsors at the November 24-25 Alberta ASETS Forum in Edmonton, an annual employment strategies symposium organized this year by the Six Independent First Nations (Treaty 6) of Alberta (SIAFN).
The two-day event, which brought ASETS Agreement holders from Treaties 6, 7 and 8 together to network, share information, offer insight into programming, and showcase Indigenous business, also gave the forum's sponsors an opportunity to feature the programs and initiatives they have to offer western Canada's Aboriginal workers.
"This is an ideal opportunity for IHE to showcase our successful training programs and offer information to those considering a career as heavy equipment operators. It's also a good opportunity to meet with the various ASETS Agreement Holders and the many others who attend the forum to network and seek out new partnerships," noted IHE General Manager Mike Hansen.
"IHE training sites offer a safe and friendly environment and expert instructors that will help to ensure that when you graduate from our school you are ready to go to work. In fact, we average an 80 to 90 percent job placement rate among our students and encourage them to share their good news with us as they move along with their careers."
IHE is now offering HEO Challenges/Certifications.  This is a new service for workers who have been running machines such as dozers or graders  but perhaps never had the opportunity to formalize this seat-time or go to school to obtain a certificate for this.
"This is a wonderful way for a communities to engage elders and youth together," states IHE Business Development Manager, Christine Bay. "Now more people can formalize and document their work history and achievements-to-date on specific machines, and it's a way to obtain employment by helping meet an employer's specific paperwork and safety needs."
And if you are contemplating heavy equipment operation as a first career or perhaps considering a career change, there's never been a better time than now to call IHE and get yourself enrolled. That's because the mining, forestry, construction and civil engineering industries are currently experiencing a heavy demand for equipment operators.
"I was one of the first Aboriginal students from Alberta ever funded for the program," noted Serena Bruno, an IHE graduate and 2012 Alumni who attended the November Alberta ASETS Forum.
Serena graduated from IHE with tickets to operate six different pieces of heavy equipment. She received her funding from Oteenow.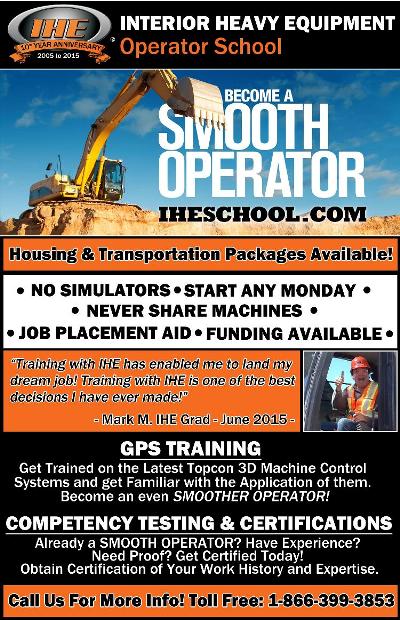 "I worked as a heavy equipment operator for two years after graduating from IHE Operator School, but have since decided to pursue other career interests," she explained. "I currently offer safety ticket training and I am about to return to school to complete my last phase of training. My goal is to attain my National Construction Safety Officer certificate."
"I would highly recommend the school to anyone who wants to pursue a career as a heavy equipment operator," assured Bruno, who found the "hands-on setting and the many hours" that students "actually operate the equipment, a very rewarding part of the training. The instructors also help to make the six week program flow smoothly; they are all very knowledgeable and qualified professionals. I really enjoyed the training programs, learned a lot of useful skills and had no trouble finding work once I'd graduated."
IHE Operator School offers a wide selection of training options on various pieces of heavy equipment, including excavators, bull dozers, graders, loaders, articulated rock trucks and rubber tire backhoes. Operator School clients can take the full package, which includes training on all of the aforementioned pieces of equipment or choose from a variety of other options. Custom courses are available upon request.
Each of the courses has its own particular set of guidelines and instruction material but every course demonstrates such things as safety practices, hazard awareness, hand and communication signals, material management, hoisting and rigging techniques, reading basic drawings and grade stake reading and identification. Training begins with simple tasks and as skills are acquired the training becomes more involved. Training tasks include such things as utility trenching, basement excavations, loading trucks, rock wall building, trimming slopes, reading grades, clean-up, fine grading, pipe and laser level functions, and road building techniques.
Each program includes five hours of daily machine training and two hours of classroom theory. The school operates Monday through Friday and is accredited by the Private Career Training Institutions Agency of B.C. and licensed by the Alberta Private Vocational Training Branch.
"The IHE training sites," explained Hansen, "are spread over 50 acres. We currently have 69 pieces of equipment available to use; students do not share equipment. Safe and efficient operating methods are practised daily, including instructor analysis and monitoring of task progression. Each student is also taught the basic preventative of machine maintenance."
Oil analysis, site preparation, grade checking and volume calculations are also taught.
IHE Operator School has a proven track record and as such continues to attract many candidates who want to pursue a career as a heavy equipment operator. The programs are so popular in fact, that IHE is currently looking into opening a third training site in B.C's lower mainland.
"The demand for heavy equipment operators is high right now," assured Hansen.
"In 2016 the number of people leaving the work force (aged 54-65) will surpass the number of replacement workers entering it. Recent reports indicate that within the next decade nearly 100,000 jobs will be generated in industries that include oil field construction and maintenance, road and building construction, mining and forestry."
According to Stats Canada the average annual wage for heavy equipment operators exceeds $62,000. Training courses vary in price but can begin as low as $5,000 and run to as much as $19,950. IHE, through its partners, Extreme Professional Driving Training in B.C. and Capilano Truck Training in Alberta, also offers driver training programs for Class 3 and Class 1 licences.
IHE is staying ahead of the curve and is putting more and more qualified entry level operators into the workforce with each passing week as they prepare today's workers for tomorrow's growth. "We also partner with employers, host and attend job fairs and send all of our students a weekly email with jobs leads," noted Hansen.
"We are also very proud of our safety record and the fact that between 80 and 90 percent of our graduates are working within three months of course completion."
A new component to the IHE Operator School, the HEO Job Shop, will be fully established later this month but workers seeking employment and employers looking for qualified workers can sign in right now at: www.HEOJobShop.com.
"It promises to be an exciting part of our programming," assured Hansen. "It will connect workers with employers and vice-versa; employers can post their job ads and operators can create a virtual profile and resume that will help enable them to locate and secure employment."
Mike Hansen said that IHE Operator School emphasizes the importance of safety, both during the training phase and once a graduate is employed.
"Safety," he explained, "is the fundamental belief that shapes our company's culture and philosophy; we emphasize it at every stage of the training we provide.
"Safety has become our primary focus in interactions with our students, employees, partners, and visitors alike and has become the hallmark of our industry-recognized training programs. This ensures that IHE School produces safe and high calibre graduates. As a respected leader in our industry, we have one mission and that is to provide our students with superior hands-on equipment training and outstanding technical knowledge, motivation and commitment."
Courses run from several days to six weeks in duration and accommodations will be required for most students attending the school.
Housing and transportation packages can be arranged, noted Development Manager Christine Bay. "We can work individually or with training groups to help meet barriers of student housing and daily transportation. Call us for details!"
To learn more about the school, the program costs, how to apply, what accommodations are available in the vicinity of the training sites and more, check out the very informative IHE website at iheschool.com or call toll free to: 1-866-399-3853.