(ANNews) – Twelve outstanding First Nations, Inuit, and Métis individuals will be honoured with the 2019 Indspire Awards at a special celebration on February 22 in Calgary at the Southern Alberta Jubilee Auditorium. The Indspire Awards represent the highest honour that the Indigenous community bestows on its own people. The recipients include a Rhodes scholar and acclaimed poet from Driftpile First Nation, a documentary filmmaker, writer and producer from St. Paul des Metis Settlement and the first First Nation athlete to play on the Canadian women's Olympic hockey team.
Indspire is a prestigious national Indigenous charity that supports and celebrates Indigenous education and achievement in Canada. As they have for the past 25 years, the 2019 Indspire Awards honour an extraordinary group of individuals from diverse Indigenous communities. The awards recipients will be presented at a nationally-broadcast ceremony in Calgary on February 22; the gala will also showcase performances by some of the many stars of Indigenous entertainment in Canada.
"This year's recipients have walked in two worlds," says Roberta L. Jamieson, President and CEO of Indspire and Executive Producer of the Indspire Awards. "They are an inspiration to their local communities and for Indigenous people across Canada, showing our young people that they can do it too."
The recipients of the 2019 Indspire Awards are:
Atuat Akittirq is being honoured with the Lifetime Achievement Award. She was born and raised in Aggu in a nomadic Inuit life, lived through a forced relocation of her community, and has adapted to the sedentary community lifestyle while continuing to strongly advocate for the incorporation of Inuit worldviews. As a member of the Nunavut Department of Education's Elder Advisory Committee since 2004, Atuat has helped develop curricula rooted in Inuit culture. Expertly skilled in Inuit skin preparation and clothing, her work on many films and documentaries with Isuma Productions led to a 2010 Genie Award for Best Costume Design. As one of the foremost Elder professors at the Pirurvik Centre, she readily shares with younger Inuit her deep knowledge of Inuit culture and life.
Barbara Todd Hager is a writer, producer and director. Her family traces its Métis ancestry to Red River, Fort Pitt and St. Paul des Métis Settlements. She is the author of two books: Honour Song and On Her Way: The Life and Music of Shania Twain. Her articles have been published in The Globe and Mail, Chatelaine and Indian Artist. In 1999 she launched Aarrow Productions and it has grown into one of Canada's leading Indigenous-owned media companies. She has produced, written and directed over 150 TV episodes and documentaries that have been broadcast on APTN, CBC, CTV and ZDF. Her eight-part docu-drama series, 1491: The Untold Story of the Americas Before Columbus, covers 20,000 years of history told from the perspective of Indigenous people.
Grand Chief Ronald Derrickson is the Owner and President of RMD Group and one of the most successful Indigenous entrepreneurs in Canada. After being elected Chief of Westbank First Nation in 1976, he began to use his business experience to lift his community out of poverty, eventually making it one of the wealthiest bands in the country. He served as Chief of the Westbank First Nation from 1976 to 1986 and from 1996 to 1998. He was made Grand Chief by the Union of BC Indian Chiefs in 2012. He is an award-winning author with two books that he co-authored with Arthur Manuel – Unsettling Canada A National Wake-up Call and Reconciliation Manifesto.
Jijuu (Grandmother) Mary Snowshoe was born in 1938 and though her siblings went to residential school, her parents kept her at home and taught her the traditional Gwichin ways. Her father taught her to hunt, fish, and trap, and her mother taught her to prepare traditional food and tan moose skin for clothing. At 80 years old, she continues to pass on her sacred knowledge helping to ensure the Gwich'in language and way of life lives on for generations to come.
Dr. Vianne Timmons is the first woman president and vice chancellor at the University of Regina where she has been working to make education more relevant, accessible, and supportive for First Nations, Inuit and Métis students. In her role, she maintains a national and international leadership role in Indigenous education, has been advocating for the Indigenization of the university, including making large-scale changes like the implementation of an Aboriginal Student Centre and Indigenous Advisory Circle. She was named One of Canada's Top 100 Most Powerful Women by WXN 4 years in a row and was inducted into their hall of fame.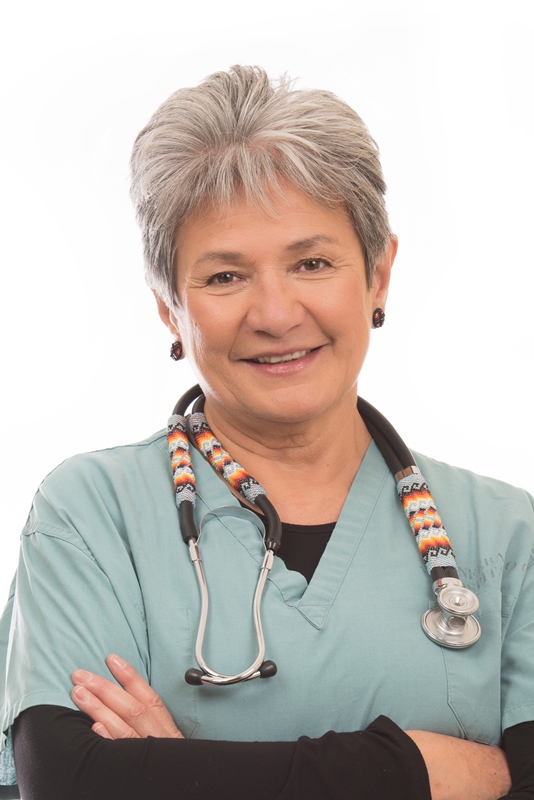 In 1987, Dr. Marlyn Cook became the first First Nations woman to graduate from the Faculty of Medicine at the University of Manitoba. She knew something was missing from her training, so she began her journey to learn traditional healing. Her practice now weaves together western and traditional practices to ensure that the body, mind, and spirit of each patient is cared for. Dr. Cook is a physician at the Ongomiizwin Health Services of the University of Manitoba and provides services to her home community of Misipawistik Cree Nation. She paved the way for many Indigenous doctors who came after her. In 1990, she was one of a few Indigenous physicians in Canada. There are now hundreds.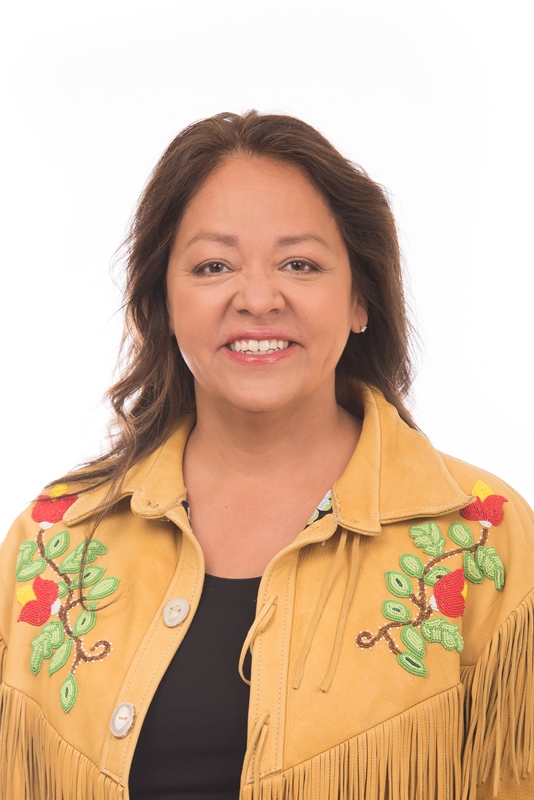 From humble beginnings growing up on M'Chigeeng First Nation, Dianne Corbiere has now received national recognition for her leadership and achievements in Indigenous law and was the first Indigenous person named one of Canada's Top 25 Most Influential by Canadian Lawyer Magazine. In 2016, she was elected to serve as a bencher for the Law Society of Ontario (LSO). She has dedicated her time at the LSO to many working groups and review panels, such as the Working Group formed by the Federation of Law Societies of Canada to decide how best to respond to the Calls to Action in the Truth and Reconciliation report. In 2016, she worked with a legal team on the first case in Ontario to apply Anishinaabe laws and legal orders in treaty interpretation of the Robinson Huron Treaty of 1850. She is also the former president of the Indigenous Bar Association and former chair of the National Secretariat Against Hate and Racism in Canada.
Peter Dinsdale is President and CEO of YMCA Canada. He spent years as the Urban Aboriginal Homelessness Manager at the Ontario Federation of Indian Friendship Centres. He has served as Executive Director of the National Association of Friendship Centres, Interim Chief of Staff of the Assembly of First Nations, and Chief Executive Officer of the Assembly of First Nations. He has been instrumental in the Friendship Centre movement in Canada, advancing the National Association of Friendship Centres relationships with other national organizations and securing an agreement with the Assembly of First Nations. In January 2017 he was elected to the Carleton University Board of Governors, and in March 2018, he was appointed to the Order of Ontario.
On Dec. 22, 2017, Brigette Lacquette was selected to represent Canada's National Women's Team at the 2018 Olympic Winter Games in PyeongChang, South Korea, making her the first First Nations athlete to play on Canada's women's Olympic hockey team. Lacquette made her debut in Canada's National Women's Team Program in 2008 with Canada's National Women's Under-18 Team. She is a two-time participant at the IIHF U18 Women's World Championship winning gold in 2010 and silver in 2009. As a member of Canada's National Women's Development Team she appeared in 21 games, winning gold at the Nations Cup in 2013 and 2016. Brigette's success in hockey shows young Indigenous girls that they belong in sports, they can be successful in sports, and they can achieve greatness. Brigette is a role model for our youth and has used her platform to visit schools and communities to speak about the determination and resilience that led her through her hockey career.
Billy-Ray Belcourt is an intellectual, an award-winning poet, and just twenty-three-years-old. His debut poetry collection, This Wound is a World, has been described as "a refusal of colonial erasure." That book won the 2018 Robert Kroetsch City of Edmonton Book Prize, was named the Most Significant Book of Poetry in English by an Emerging Indigenous Writer at the 2018 Indigenous Voices Awards and was named by CBC Books as one of 10 of the best Canadian poetry collections of 2017. For This Wound is a World, Billy-Ray also became the youngest ever winner of the Griffin Poetry Prize. As one of the first ever First Nations Rhodes Scholars, he read for a master's degree in Women's Studies at the University of Oxford and is now pursuing his Ph.D. in English and Film studies at the University of Alberta. Named as one of CBC's 10 Young Canadians to Watch, Billy-Ray will release NDN Coping Mechanism: Notes from the Field, a poetry-prose hybrid in Fall 2019.
Kelly Fraser is an Inuk artist that uses modern pop music to strengthen Inuit culture and language and to promote the Inuit way of life to young people across Canada. She was nominated for Indigenous Album of the Year at the 2018 Juno Awards and Best Pop Album at the Indigenous Music Awards for her second-ever album, ᓄᓕᐊᔪᒃ (Sedna) written with a mix of English and Inuktitut. She believes that contemporary music in Inuktitut will increase pride in Inuit identity.
In 2017, canoe and kayak athlete James Lavallée proudly wore his Métis sash on the podium after winning three medals for Team Manitoba at the Canada Summer Games in Winnipeg. Growing up, James struggled with dyslexia and attention deficit hyperactivity disorder and found school to be nearly impossible. At age 11, he discovered kayaking and for the first time, could see himself improving in something. In 2013, he earned gold at the National Championships in the k1 200-metre race, he was named flag bearer at the 2014 World Junior Canoe/Kayak Championships for Canada, and in 2015, he placed 15th at the Junior World Championships k1 200 metre. In 2016, James was named to Canada's national canoe kayak team. In October 2017, he received the highly prestigious Tom Longboat Award presented to the top Indigenous male and female athletes of the year. Today, he competes internationally with Canada's Kayak Team and is working towards a science degree at the University of Manitoba.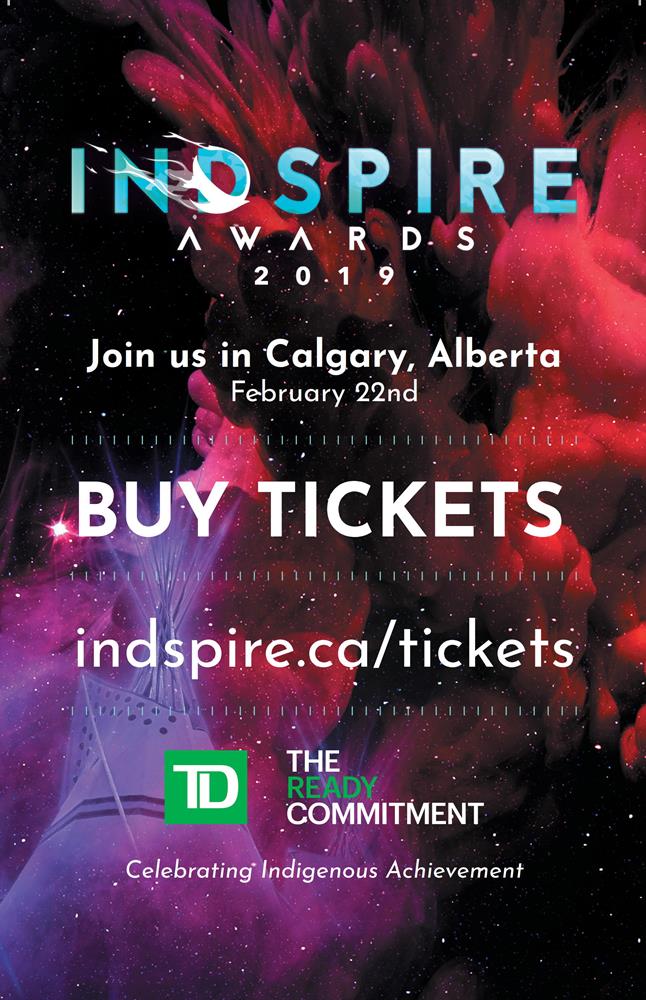 "We hope these stories inspire our youth to dream big," says Jamieson.
"Not only do we recognize and congratulate the recipients for their individual success, but we celebrate the impact their stories will have for generations to come. The stories will also educate Canadians about the great contributions our people have made to this country."
"Congratulations to the twelve recipients of the Indspire Awards, whose contributions are helping to open doors for a more inclusive tomorrow," adds Doris Bear, Vice President, Indigenous Banking, TD Bank Group.
"As part of TD's global corporate citizenship platform, The Ready Commitment, we are supporting initiatives that will help create the opportunities people need to feel like they can succeed and fully participate in whatever tomorrow brings. The Indspire Awards recognize Indigenous leaders who are driving change in their community and inspiring the next generation of leaders for a brighter tomorrow."
The 2019 Indspire Awards ceremony will be held in Calgary, Alberta on February 22, 2019. For tickets, call l 416.987.0250 or 1.855.INDSPIRE (463.7747) x228. They can also be purchased online at indspire.ca/tickets/ or by emailing [email protected]. The award ceremony will be broadcast on APTN and CBC at a later date.
Indspire is an Indigenous national charity that invests in the education of Indigenous people for the long-term benefit of these individuals, their families and communities, and Canada. With the support of its funding partners, Indspire disburses financial awards, delivers programs, and shares resources with the goal of improving graduation rates for Indigenous students. In 2017-2018, Indspire provided $14.2 million through over 4,900 bursaries and scholarships to First Nations, Inuit and Métis students across Canada. For more information about Indspire, visit indspire.ca.