(ANNews) – Dennis Cameron is a visionary event planner whose company is aptly named Visionary Planning, Development and Management Group. He refers to himself as "a hybrid" of mixed Nationhood – Swampy Cree from Opaskwayak Cree Nation and Saulteaux/Anishinabe from Tootinaowaziibeeng Treaty Reserve.
Overall, he has 27 (winters) years of direct experience working directly with First Nation communities within a variety of programs that promote overall well-being and facilitate the journey to Self- Determination.
Dennis is currently coordinating a conference and wellness gathering entitled "Igniting the Warrior Spirit" dedicated to promoting Indigenous men's health and wellness. The conference is being held in several locations across Canada and will be held in Edmonton at the Edmonton Inn and Conference Centre on Feb. 27-28 and in Kamloops at the Coast Hotel and Conference Centre on March 21-22,2018.
During his journey, Dennis has worked in many diverse roles and capacities, starting as a volunteer and progressing to a Coordinator, Coach, Supervisor, Director, President, Board of Director, and Chief. These experiences have given him valuable insight and the skills needed to plan and conduct these workshops.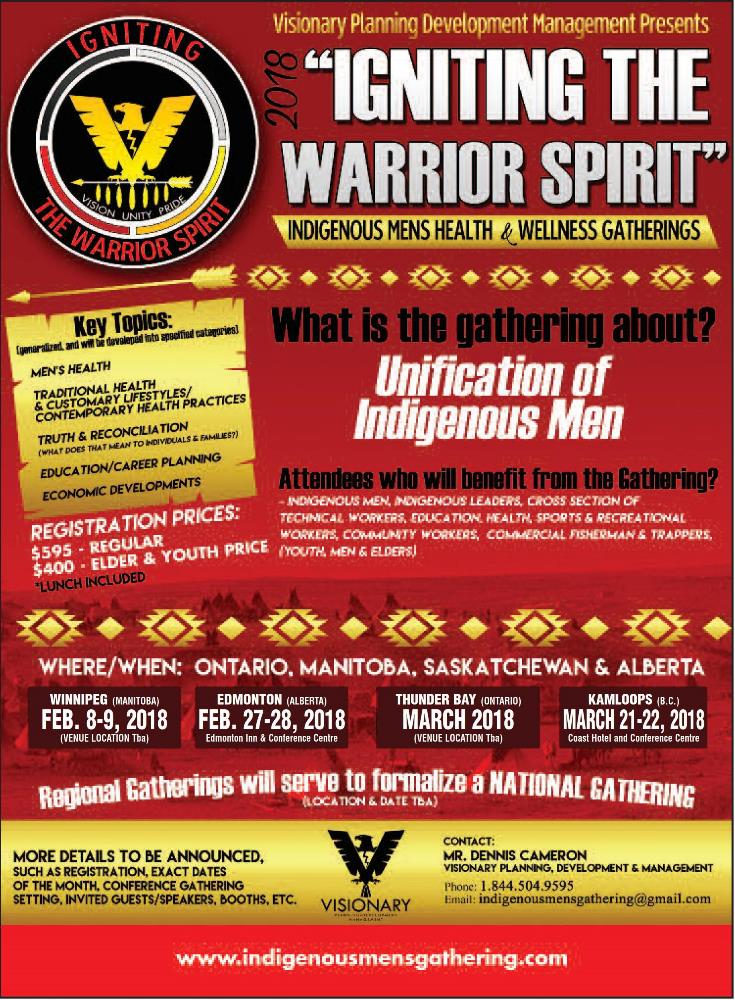 "It surely has enlightened me on the various roles and afforded me valuable insight, mindset, conduct, that is of the essence, to perform in the various capacities, to assure success, and clearly meet the objectives and outcomes of the big picture at hand," explained Dennis.
"In regards to Community planning and development, we have come a long way in our journey to restoring our means of survival and Nation Building. I am of the mindset, that we must continue to keep our focus, our intent, efforts and most important our VISION to the future."
The gathering will focus on the unification of Indigenous men.
"There is such diversity that exists, with our many Nations, yet, we all have a common goal and objective of building and sustaining our Nations," remarked Dennis.
"We cannot do this without the existence of our people. There are many, who have come a long way in their healing process, given all the wrongdoings, they have endured. However, there are those that have not started their healing journey, nor have the generations that have been subjected to the vicious ripple effect that has plagued our peoples. This is largely due to the disruption and intrusion of our customary practices, beliefs and systems that we utilized since time memorial. Given this statement, I remind us all, to keep our foresight on the future in a good and kind way, so that generations after us are here to stay."
"Igniting the Warrior Spirit" is geared specifically at a male audience, explained Dennis.
"The approach will be male specific with the overall intent, purpose and objective, of this event to have the issues, needs and directives that are required to be utilized and contribute to ensuring and enhancing our Warriors' overall personal health, well-being, development and preparing them for the journey in: IGNITING THE WARRIOR SPIRIT."
There is no funding supporting this event, however Dennis is calling on Indigenous Communities, Organizations, Businesses and Individuals to contribute in any way possible. "We as an Indigenous Nation(s) can do this with our combined efforts," he assured, "as it will signify and showcase one of our most valuable teachings of Giving Back."
Dennis is currently embarking on a journey to learn his own Anishinabe/Cree language.
"I would like to note, that in my heart, I would have loved to say this in the Anishinabe/Cree language, but, that is a part of my spirit, that needs to be Ignited, the gift of our language. I apologize, but I am proud and humbled at the same time, to share that I am committed to begin my journey of learning my language. I also am speaking truthfully, to the fact that I ask for guidance and help to obtain that knowledge.
"I look forward to partaking and walking this journey with all who will be a part of this event as we strive to IGNITE THE WARRIOR SPIRIT with the intent of a true sense of vision, unity and pride."
For more information and to register visit indigenousmensgathering.com.