The Fourth Annual Treaty Six Educator's Conference played to a full house on January 29-30, 2015 when more than 625 delegates gathered in Edmonton to participate in the annual event.
The conference, noted Confederacy of Treaty Six First Nations Special Education Manager Madelaine Calliou, "is designed to provide an opportunity for Treaty Six Educators to share, learn and implement innovative, creative, strength-based  educational practices for student success. Initiated as a result of requests from schools for an alternative to the ATA conference (Alberta Teacher's Association), which does not meet the needs of our schools, the annual conference will once again be structured around the Medicine Wheel, incorporating it into all of our sessions."
The two-day conference included six breakout sessions dealing with more than four dozen topics, delivered by more than two dozen presenters. Two Keynote Speakers, Wab Kinew and Art Napoleon, filled out the busy two-day agenda: Wab Kinew took the lead on day one, while Napoleon spoke on the second day of the event.
Beginning in his native Anishinabae tongue and then switching to several other Aboriginal languages, Kinew grabbed the audience's attention when after his three minutes monologue he looked up and said: "In English that's Hey, what's up?"
With the ice broken and the crowd crouching forward in their seats in anticipation of Kinew's next line, he looked up, smiled and talked about his unusual name, Wab, which he explained was shortened from his given name, Wabanakwut, by his schoolyard friends because no one could pronounce it or spell it.
"Go ahead," he challenged the laughing crowd. "Even I have a hard time with it!"
Kinew is a well educated and talented personality with both wit and charm to spare. Born in 1981 to Tobasonakwut Kinew, a former local and regional Chief and a professor of Indigenous Governance at the University of Winnipeg, and respected policy analyst, Kathi Avery Kinew, Wab attended Collége Béliveau and graduated from the University of Winnipeg Collegiate. He also majored in economics at the University of Manitoba.
In 2014 he appeared as a panelist on CBC Radio's Canada Reads and was the guest host of  CBC's "Q" for two weeks this past December. Postmedia News called Wab Kinew one of "nine Aboriginal movers and shakers you should know." He is currently the interim Associate Vice-President for Indigenous Relations at The University of Winnipeg and a correspondent with Aljazeera America. He has a BA in Economics, is completing a Masters degree in Indigenous Governance and is a member of the Midewin. Wab is also an Honourary Witness for the Truth and Reconciliation Commission of Canada.
A talented musician with an Aboriginal People's Choice Award for Best Rap/Hip-Hop CD (Live by the Drum) in 2009, Kinew released his second CD, Mide-Sun in 2010. In 20112 he was named the first Director of Indigenous Inclusion by the University of Winnipeg and in 2014 was appointed Acting Associate Vice-President of Indigenous Affairs.
During his 50 minute presentation Kinew told some jokes, laughed at himself, reminisced about days gone by and touched on a number of subjects that impact or otherwise affect Aboriginal Canadians; the residential school system and the importance of a good education topped the list.
Talking about the importance of Clans, Elders and communities, Kinew spoke briefly about Winnipeg and its headline news stories.
"I reside in Winnipeg and as you may know it's not exactly the place to be right now," he said,. "Have you heard that Winnipeg is the most racist city in Canada – give me a show of hands if you have."
The audience clapped as he broke in, commenting: "Oh, maybe for this subject I shouldn't be asking you to clap…." and laughter joined the chorus of clapping.
"You also heard about the recent boiled water advisory in Winnipeg? That's ironic, especially since the First Nations at Shoal Lake have been under a boiled water advisory for 17 years and Shoal Lake is the source of water that feeds the City of Winnipeg."
He then quipped: "Oh, well Winnipeg may have its faults but at least they have a hockey team that can win!"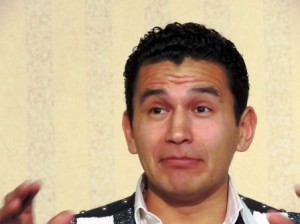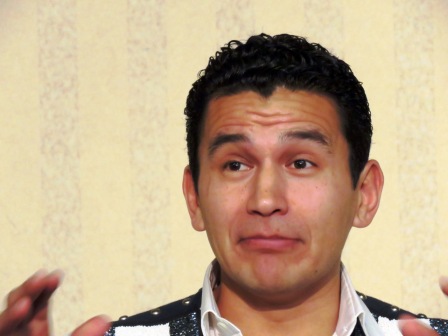 A few moans and groans did little to drown out the laughter.
"The changing role of education is what I really want to talk about today," he continued.
"Education, as we all know, is very important and that's primarily the reason there was so much controversy over it last year. Our communities realize how important education is and we want to make sure we maintain real control of education for Aboriginal people. Every Aboriginal culture that I am familiar with has a relationship to the land; it's often the starting point of your education. You learn from following your parents and grandparents through the bush, through cutting wood, building a fire. You learn from cutting wood, fishing, hunting, trapping, picking berries, seeking out medicine. You learn by talking to and listening to the Elders who tell stories and share their wisdom with the community.
"Many communities and many people in the communities still practice the traditional way of life. There are other methods of education as well; we all learn in different ways."
Kinew spoke about himself as a child and learning from his father and community Elders, noting that that's where he learned about customs and practices and special ceremonies.
"Our cultures also have special and beautiful ways of apprenticing young people. First you observe and then at a given point the Elder calls upon you to come into the circle; that's how you learn to conduct a ceremony."
Kinew said that is the interaction "between our youth and our Elders that have allowed our cultures to continue themselves since time immemorial."
The audience, obviously moved and in agreement, showed their appreciation with applause.
Kinew spoke about his father, who passed away several years ago, telling the audience that "he lived a remarkable life and he is an example of how education for Aboriginal people has changed (for the better) over the years."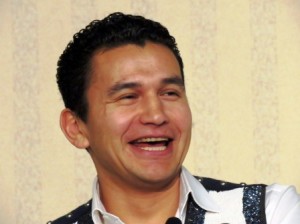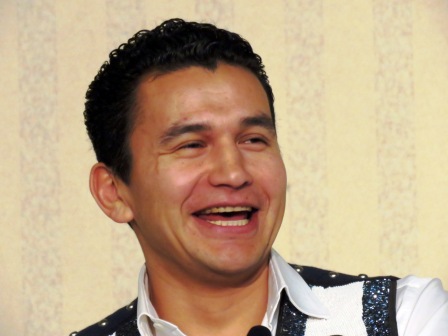 His father "grew up in one of the last traditional villages of my people, on an island in the middle of Lake of the Woods. It had a traditional medicine lodge at the centre of the village – this is before everyone in our community was pushed onto the reserve. He was just a child when he was called into the spiritual way of life" which began when he spent the night in a nearby cave.
"This is another element that shows the powers of an Indigenous education," noted Kinew. "Nowadays they call it experiential learning."
He talked about the fact that community Elders know they can only offer so much teaching.
"You can only learn so much by practicing and apprenticing with the older generation; at a certain point you have to go out on your own and learn knowledge for yourself. In our culture back home we do the Vision Quest, young women do the Berry Fast and then we also have the Sundance."
Kinew's father was eventually taken away and placed in a residential school. His name was taken away and he was given a new one (Peter Kelly) and he had a number, 54, so that "whenever a teacher or a priest or a nun said the number 54, he was supposed to get up and stand at attention. I don't want to dwell on the residential school because I know it brings back a lot of painful memories to you. Last year I was invited to be an honourary witness for the Truth and Reconciliation Commission Canada and to me this is more important than any honourary degree or award that I could ever receive because it is a responsibility on my part. That responsibility means that for the rest of my life I am committed to help share the stories of the residential school survivors. These are among the most powerful of any stories we have to share."
His father he noted "experienced the worst of what the residential schools had to offer and last year we learned that he was also probably a part of these 'nutritional experiments', one of which was at St. Mary's Residential School, where he attended. These experiments really bring to light the type of thinking that was going on in the residential school era, because what it really meant was that these children were starving inside these schools and government sponsored scientists came in and saw hundreds of starving children. They didn't say, hey let's feed these kids; no instead they said, let's design an experiment to run on these kids. It's all very disturbing and inhumane but it is an indication of what was going on in those schools during this era. This knowledge has given us some insight as to why this inertia remains in our communities today, why there is so much of a challenge when it comes to fixing the socioeconomic situation."
Wab Kinew broached various other subjects during his monologue, some with a serious tone, others with laughter. His presentation was one of the highlights of the conference; not a single person left the auditorium while he spoke.
Art Napoleon took to the podium as the last of the keynote speakers during the early afternoon of January 30. An award winning singer/songwriter, a rising star in the world of television and a former Chief of British Columbia's Saulteau First Nation, Art Napoleon, is an enthusiastic speaker who keeps his audience on the edge of their seats as they listen to his words, wait for the punch line and laugh like hell when he delivers it.
"My name is Art Napoleon and I want to party with you a little bit; maybe we can all pretend that it's 1491 or something like that," he began, adding that he is from B.C.'s West Moberly First Nation, a multi-language community with "at least one Cree speaker" who keeps the community in touch with the Aboriginal population in Alberta.
"We don't have salmon but we do have some mountains; we're sort of on the border of B.C. and Alberta, in no-man's-land, a member of Treaty 8 but not really a part of B.C. My mom is Cree and Denesuline and my dad is Irish – it's a sacred mixing of intertribal blood and precisely why I look like a Chinese Steven Segal or Don Burnstick on Steroids."
Talking about Maskwacis and Beaver Hill, ("I bet there's a lot of fertilizer there") and declaring them "both better sounding than Ed-mun-tun, where there's an equal number of bars and churches and you can go fine dining in sweat pants and Sorels (work boots)."
Noting that he appreciated being invited to Edmonton for the conference, Napoleon noted: "they brought me here, basically, to shatter the dreams and hopes of every youth."
To the laughter he responded: "No, really that's what I do; I did it to my own kids, I clipped their wings early. Keep your dreams and goals really low – then you won't have to pay much money. I'm an anti-motivational speaker and I piss everyone off equally. I am making progress though, my dad just won the 'inmate of the week' and I'm dating my parole officer. I think I'm getting better. It's hard to be an outspoken Indian at an AA meeting but I don't want to get all out of joint about it or anything."
Napoleon traversed the ages with a tongue-in-cheek comedy routine. He also presented a more serious side, especially when he spoke to the educators about the challenges of teaching and the responsibility of learning.
Laughter filled the room throughout Napoleon's presentation and though space is limited here, you can learn and listen to him online – just type his name into your web browser – and do the same for Wab Kinew.
Art Napoleon is an experienced hunter, conservationist, naturalist, faith-keeper and educator who interprets life through the holistic lens of traditional Cree knowledge, values and worldview. A strong and knowledgeable advocate who cites Indigenous approaches to education, leadership, curriculum development, governance, and cultural revitalization, Napoleon holds an MA degree from the University of Victoria in the area of Indigenous language revitalization. He has also appeared on numerous televisions shows, including Beyond Words, Rex Blues, Neyiyawetan and CBC's Winnipeg Comedy Festival. He tours regularly as a performer and speaker and also serves as a juror on many arts and culture organizations across Canada.
by John Copley