If you are a serious student of Metis ancestry who needs financial assistance in order to complete your education, it's time to send in your application for a Belcourt Brosseau Metis Award (BBMA); the deadline is March 31. Last year 226 applicants submitted their applicataions; 140 Métis students received between $2,000 and $7,000 in scholarship award money.
"Applications must be in on or before March 31," explained BBMA Communications Coordinator, Theresa Majeran, "and time is closing fast; we are only accepting online applications this year. You can check out the website  to learn about the criteria and to obtain and submit an application."
Scholarship recipients will be honoured at a BBMA gala which will be held on September 26, 2015 at the Double Tree Hilton West Edmonton Hotel. The awards gala and banquet is the highlight of the year for the organization, which has been celebrating the achievements of deserving Métis students since 2002 by providing scholarship funding that will enable them to continue their post-secondary education in a college or university where they are pursuing their careers.
To qualify, applicants must be of Métis ancestry, demonstrate financial need and intend to pursue a qualified program.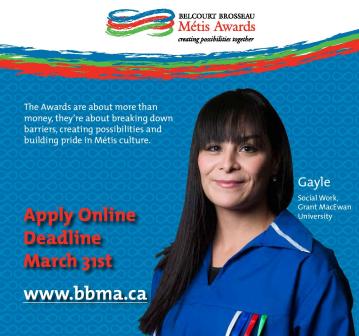 "The application process focuses on three main criteria for students seeking financial help to continue their education," noted Majeran. "Financial need is a prerequisite; another question we ask deals with commitment to community and culture. We also like to know what a student's career goals are and how they plan to pursue them. Awards are based on a holistic assessment of financial need, connection to the Métis community, likelihood of improved opportunities, personal circumstances, and references. Awards generally range between $2,000 and $7,000, and cover a portion of education-related costs such as tuition and fees. Priority will be given to students entering their first year of post-secondary education."
The annual gala, an important undertaking in an era that puts education at the top of society's priority list, has been growing bigger and getting better with each passing year.
"Thanks to the ongoing support of our many partners," noted Majeran, "Alberta's Metis students are breaking new ground and setting new precedents as they achieve their educational goals and move into the next phase of life. Many of our graduates have gone on to become leaders in their communities and their province. BBMA awards recipients have become doctors, lawyers, nurses, engineers, veterinarians, and much more. Our graduates are also getting the recognition they deserve from many of our sponsor organizations, who not only hire them but also continue to support this worth initiative."
Majeran applauded the "many resource companies such as Shell Canada, NEXEN, Syncrude and Enbridge who are not only helping us recognize the achievements of Métis youth, but are also tapping into the vibrant and fully educated resources of potential employees to fill the growing job opportunities in Alberta today."
She noted that last year more than "96 percent of award recipients completed their year" of studies, adding that "hundreds of our students are now employed across the province in all professions. With a strong foundation of education, former BBMA students are now contributing to their communities and their professions; their success also provides role models for their communities and mentorship for their peers."
This year's BBMA Awards Gala is expected to be bigger than ever. It continues to grow as more and more success stories about BBMA scholarship recipients are shared by the communities, business and organizations that hire them. Last September more than 400 guests attended the Belcourt Brosseau Métis Awards celebration, including 55 new sash recipients, family members, past recipients, Elders, Founders, panel members and sponsors.
"Corporate and community sponsors from throughout Alberta continue to help ensure that the event is big success," noted Majeran. "Many of our sponsors also donated to the endowment fund, which totalled $120,000 for 2014. An additional $3,700 was raised for the Marge Freidel Fund."
Established in 2001 at the Edmonton Community Foundation (ECF) offices by then-directors of the Canative Housing Corporation, Orval Belcourt, Dr. Herb Belcourt and Georges R. Brosseau Q.C., the Belcourt Brosseau Métis Awards initiative has awarded over 1200 awards to more than 900 Metis learners in 200 different post-secondary programs throughout Alberta. In all, more than $5.2 million in awards have been handed out.
Majeran says the BBMA Awards initiative continues to meet its four goals and its objectives, which include "helping students connect with their culture and each other as alumni; providing a sense of identity to enhance success rates in both educational endeavours and subsequent careers; offering our sponsors the opportunity to network and engage with recipients for future employment opportunities and encouraging Corporate Alberta to become more involved."
Other objectives include "showcasing success stories within the Métis community and increasing awareness of the BBMA among potential applicants and sponsors and through honouring the educational achievements of Métis students in their journey to be part of Alberta's strong economic future."
As the event grows so does the need for every more volunteers. "We have been very fortunate and do have a number of very dedicated volunteers who come out to support us each year, but we are always interested in hearing from others who would like to participate," concluded Majeran.
For more information see the website at: www.ecfoundation.org or call Theresa Majeran at 780-977-5515.
by John Copley