By Jeremy Appel, Local Journalism Initiative Reporter
(ANNews) – The First Nations' Educator's Conference is back for 2023, with in-person attendance an option for the first time since the COVID pandemic began.
The theme for this year's conference, which takes place on February 1 and 2 at the Calgary Airport Westin, is "Advancing First Nation Education."
The purpose of the annual event, which is in its fourth iteration this year, is to bring together educators from Treaties 6, 7 and 8 to discuss the positive impact of education for First Nations.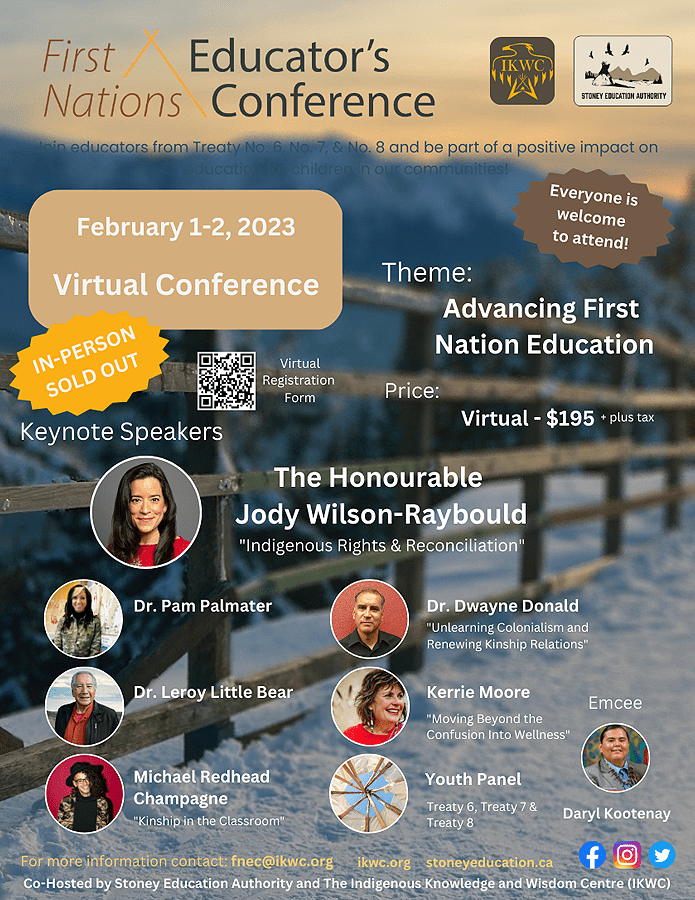 This year's headline speaker is Jody Wilson-Raybould, Canada's first Indigenous justice minister, who will deliver a keynote address entitled "Indigenous Rights and Reconciliation."
Wilson-Raybould was famously demoted from her cabinet role after resisting pressure from Prime Minister Justin Trudeau to not prosecute the Montreal-based firm SNC-Lavalin for fraud and corruption relating to $48 million in payments to Libyan government officials from 2001 to 2011. She detailed her experiences in her memoir, Indian in the Cabinet.
The other speakers are Pam Palmater, Dwayne Donald, Leroy Little Bear, Kerrie Moore and Michael Redhead Champagne, as well as a youth panel. Daryl Kootenay is the event's emcee.
The Indigenous Knowledge and Wisdom Centre (IKWC) is co-hosting the conference with the Stoney Education Authority.
IKWC CEO Clayton Kootenay told Alberta Native News that although the event is "operated by First Nations for First Nations," anyone is welcome.
There are 62 band-operated schools in Alberta, educating 18,000 students, highlighting the need for an Indigenous-oriented education conference to assist teachers working in those classrooms, Kootenay said.
In the past, attendees have included teachers, administrators, and support staff in the band school system, as well as the public and separate systems, from across Canada.
Last year, there were educators who tuned into the virtual event from Australia and New Zealand.
The event's speakers are selected by committee based on the conference's yearly theme. Kootenay said it made sense for Wilson-Raybould, who released a book last year called True Reconciliation, to instruct educators how to "enact reconciliation in the classroom."
After her address, Wilson-Raybould will have a question-and-answer session followed by a book signing.
In-person attendance, which has a capacity of 500, is already sold out, he added. But organizers decided to opt for a hybrid format this year, so people who are more COVID-conscious can still attend online.
Kootenay said last year's format had its limitations. With all the participants separated from each other, it lacked the social cohesion that is a major draw for professional conferences.
"You'll get that human aspect to it [this year]," Kootenay said.
He hopes attendees, whether in-person or online, will come away from the conference with "tangible tools" they can use in the classroom.
Virtual tickets cost $195 plus tax and can be purchased online at https://forms.gle/6pE69Y3cgdsatro37.