by John Copley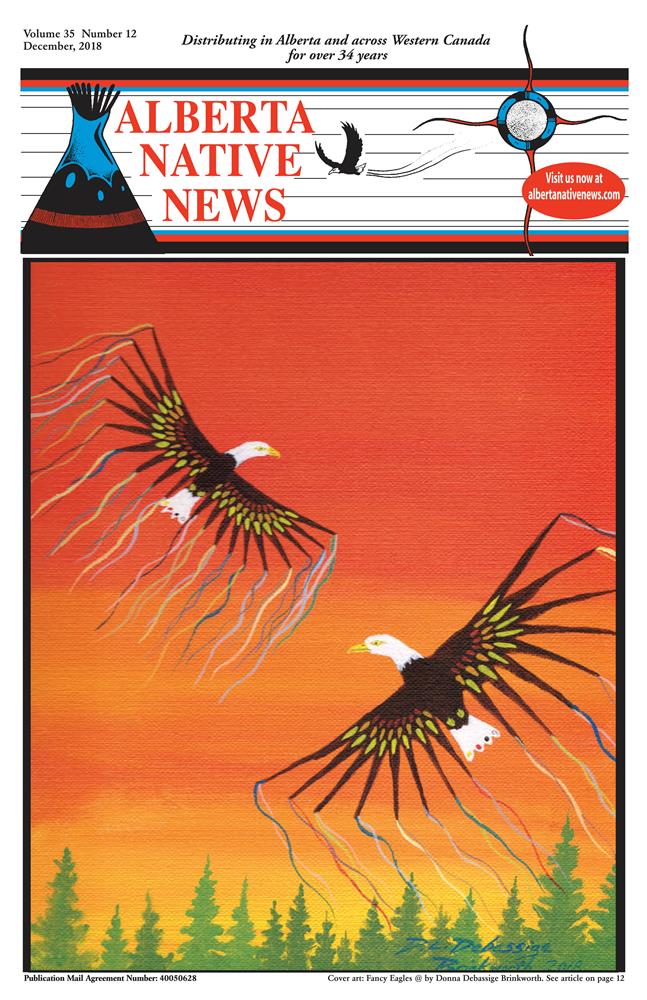 (ANNews) – Donna L Debassige Brinkworth's beautiful painting entitled Fancy Eagles, is on the cover of the December 2018 issue of Alberta Native News. Two eagles are soaring majestically above a a cover of evergreens and against a vivid orange sky. Eagles are often portrayed as strong, powerful and masculine but Donna's eagles in this painting evoke a feminine strength with the traditional ribbons flowing from their enormous wing span. The ribbons are a powerful symbol of empowerment and resilience and the image certainly leaves the viewer with a sense of feminine strength.
Donna Debassige Brinkworth is an Ojibwe woman, an outdoor enthusiast and artist who was born in Thompson, Manitoba. She moved to Edmonton about 15 years ago. Both of Donna's parents have passed on but she maintains contact and visits relatives every few years. Her brothers and sisters remain in Manitoba with one sister still residing in Thompson. Brinkworth's dad Ross Debassige, was a member of the M'Chigeeng First Nation, also known as West Bay, an Ojibwe First Nation located in Ontario's Manitoulin District; her mother, Florence Beaucage, was born on the Nipissing First Nation near North Bay.
Inspired by all of nature's creatures, and in recent years by the various birds and animals carved on Indigenous totems, Donna's work focuses primarily on nature's bountiful wildlife.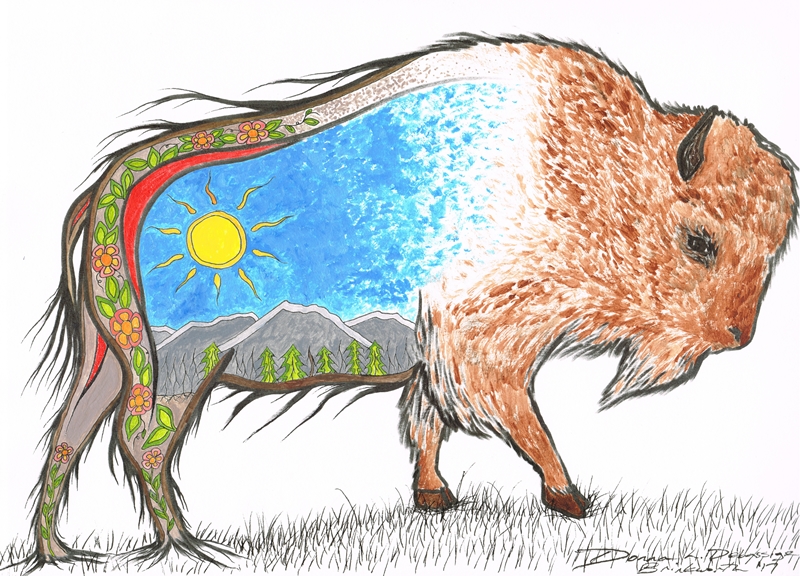 "I've always enjoyed nature – the animals, forests and fauna – and I've had a penchant for creating art most of my life, though I didn't officially begin painting until 2003," explained Brinkworth, who spoke about "giving back" as another element that gives her inspiration and keeps her creative juices flowing.
"I have a reliable income," she explained, "and as such my passion for painting allows me to donate the profits from my creations to worthy causes, notably to charities and environmental organizations such as The Nature Conservatory and the Wildlife Rehabilitation Society. These donations help to maintain natural spaces for future generations; they also assist animals in need."
During the past year, Brinkworth used those profits to participate in a medical mission in Tanzania, Africa, which provided medical care to isolated communities on Ukerewe Island.
Brinkworth said one day she'd like to see her work exhibited, either solo, or as part of a larger exhibition of art. Her work is peaceful and non-confrontational; she enjoys bringing peace and tranquility to her audience. She's never had aspirations that leaned toward fame and fortune via the art she creates, but she does have a goal.
"I want to share my art with others," she said, "and I'd like it to create a sense of cheerfulness for those who see it and buy it. I hope it will inspire them to take a moment to reflect on nature's beauty and to do their part in helping to protect our natural spaces."
Select pieces of her work can be seen and purchased on her website at ojibwe-art.ca. The paintings come in all sizes and shapes and viewers can browse through the nicely created site.
There you'll find an array of bears, eagles, ravens, owls and other wildlife – all created in beautiful acrylic colours, where the viewer can vision the spirit of the creature as it moves about in appreciation for the gift of life it has been given.
Most of the paintings on Donna's website range in sizes that include 4×6, 9×12 and 11×14 inches but she also creates larger pieces.
"The largest painting I've done to date is also one of my most meaningful," she explained. "The piece is entitled Seven Eagles and was created earlier this year for an exhibition I had at the St. Albert Art Gallery. It measures 4 by 6 feet and is on a piece of un-stretched canvas; I wanted to create the effect that it was painted on hide."
The artist describes Seven Eagles:
"Seven eagles soar into the sky, higher and higher towards the sun. Each one is in a stage of immaturity and the upper ones still have a hint of brown in their head feathers; it takes about four years for an eagle to reach adulthood. This represents the journey that each of us takes towards our own adulthood and working towards a goal, such as graduating from school or obtaining achievements at work. The number seven represents the seven grandfather teachings as well as having a personal significance since there were seven people in my family.
"The top has a piece of wood that a beaver carved; it was found at the creekside near my home. To keep a natural look, the painting hangs from a piece of sisal cord."
The online price for Seven Eagles is $5,000 – and includes shipping anywhere in Continental North America.
Brinkworth focuses primarily on her online sales but also attends the occasional community art show at local venues. Donna also offers her paintings on eBay.
"I've had the website since the beginning and it works out quite well," she noted. "I don't depend on it to pay the bills, but it is generating an income."
Most of her sales are local and regional/national but at least two of her pieces have been sold overseas (Iceland) and in South America.
"I am seeking an opportunity to have my work shown in local galleries and I am getting the word out but so far no takers. I have a few pieces at the Ahnisnabae Art Gallery in Thunder Bay. Louise Thomas runs the gallery, and their website is located at http://www.ahnisnabae-art.com/. I sent a few paintings to her this fall, but they haven't been added to their online gallery yet, although paintings that I submitted previously are still listed."
Brinkworth's work is also inspired by other well-known eastern Canadian Indigenous artists.
"I have been exploring the Northeastern Native or Woodlands style and have been inspired by such artists as Norval Morrisseau and Daphne Odjig for a number of years. The style is characterized by energy or spirit lines in or around the beings in the painting. I enjoy the freedom and abstract nature of this style, while still retaining strong links to nature. I particularly enjoy painting bears, ravens, and eagles, but I also enjoy painting all sorts of Canadian wildlife, and occasionally venture out to paint other animals in the world (this is a global age after all!).
"I offer my original paintings through this site and generally do not make prints. That way you get an original piece of work and know that there aren't dozens or hundreds of copies floating around out there."
Brinkworth will also accept commission work and is interested in hearing from Alberta Native News readers regarding particular subjects, especially as they relate to nature, wildlife and conservation. Having grown up in northern Manitoba, Donna gained an appreciation of nature and spent much of her free time drawing and experimenting with various media. In her early adulthood, she began to explore painting, eventually developing her own style of Woodlands artwork. She enjoys the freedom of the style and creating images with sharply contrasting colours or smooth blends.
"I recently have become inspired by Inuit soapstone sculpture and folklore. Northern Canada inspires much of my work. As a child, my family often went on fishing excursions, woodcutting, and explorations of Canada's pristine wilderness."
As a result, Brinkworth self-studied animals in great detail by reading every book she could find at the local library as a child, and in doing so developed "a great love for birds."
Donna lives with her husband, Lyndon, and her black cat, Maho. To learn more about Donna Brinkworth visit Ojibwe-art.ca. You can also find some of her paintings for sale on Etsy and eBay and interested readers can see her blog at: ojibwe-art.blogspot.com/